Summary
The image of a bride wearing a veil on her wedding day is as iconically bridal as it gets, but the look is not for everyone. If a traditional veil isn't your style, consider wearing a statement headpiece instead. Here are 8 alternative headpieces that may better match your wedding style.
1. Crystal Hair Comb
This bold look adds a touch of oh-so-romantic flair to any wedding day look; we love the modern vibe of metallic combs that boast nature-inspired details like leaves, flowers, and branches.



Wear It With:
Vintage lace and gowns in soft hues like cream, blush, and muted metallic. Bonus styling points for a bracelet or arm cuff featuring the same flourishes.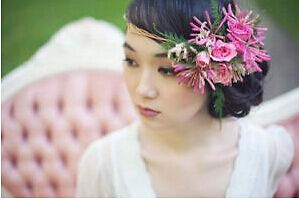 2. The Floral Halo
The floral crown is perfect for the bohemian bride, and it's one of the biggest trends in weddings right now! Have your florist craft one of these crowns to match your bouquet, or just tuck fresh blooms into your up-do.

Wear It With: A scoop-neck or off-the-shoulder style gown to play up your wedding day décolletage. Scale the flowers down if you plan on going with a glam makeup look, or let the colorful blooms rule if you plan to keep things natural.
3. The Fascinator
Fascinators
bring loads of personality to your bridal look and are our favorite option for vintage-loving brides. If you're feeling daring, add a pop of color to your look with a blue, blush, or mint green fascinator.
Wear It With:
A mod tea- or knee-length wedding gown. A bold red lip is a must as it will really help play up the old Hollywood vibe of this big day look.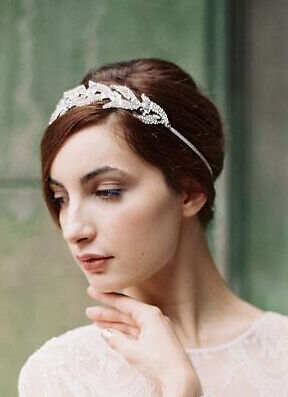 4. The Headband
Simple and elegant, a wedding headband adds a touch of glamour and an elegant vintage vibe. We love the look of gold and silver headbands with romantic, dainty details.
Wear It With:
A jumpsuit or crop top will take this simple accessory to the next level. Make sure to match the metals in your headband to your earrings, wedding band, and jewelry to keep the look cohesive.
More »
5. The Tiara
This style is definitely for the hyper-feminine bride. It will command attention the way a veil does without the traditional ties.
Wear It With:
It's only appropriate to rock a ballgown with this piece. Keep your hair simple; wear it down with beachy waves to keep things looking elegant and sophisticated.
More »
6. The Wedding Hat
Whether it's a
stylish floppy hat
to protect your face from the blazing sun or a structured pill box hat for a touch of vintage glam, get creative and put on a proper topper.
Wear It With:
Play up the romance of this piece with vintage and retro-inspired gowns. Try a smokey eye and a bold lip to add to the allure of your wedding hat.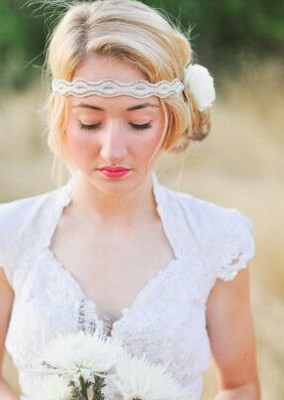 7. The Art Deco Headband
This accessory takes the traditional headband and flips it into one that works for weddings from Gatsby-inspired to bohemian chic.

Wear It With: A dress that plays off the headband's little details, the rosette or sparkly embellishments. Up the drama factor of this look with a matching lace shawl or fur wrap.
8. The Cage Veil
Cage veils offer the romance of a traditional veil without the fuss of a train length flowing (or blowing away) while you're trying to enjoy your big day.

Wear it with: A non-fussy hairstyle. Your partner will flip the veil back off your face and over your hair when it's "time to kiss the bride" -- so make sure to style your 'do