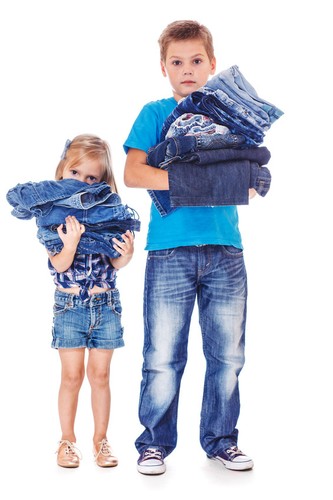 Jeans are close fitting trousers made of denim or denim-like fabric. They usually have decorative seams that are reinforced with rivets. Jeans typically have pockets that are more for fashion than function. Historically, jeans were work trousers, but today they are part of many women's everyday wardrobe. The colour selection is no longer restricted to shades of blue, and women can find jeans in pink, white, and many other colours. They can be worn casually, or in some cases dressed up for parties and nights out.
With such a wide variety of jeans available, it is no wonder that many celebrities opt for these garments and choose to wear jeans made by famous designers. Jeans are more comfortable than skirts and dresses and can be worn daily, but they are also very stylish. Looking to celebrities for inspiration is a good way to find new ways to wear jeans, and garments to create these looks can be found on eBay.
Style 1: Skinny Jeans For Boyish and Curvy Figures
Both slim and curvy women can look great in skinny jeans. Tall and thin women have the advantage of choosing almost any pair of skinny jeans, while curvy women may need to take a little bit more care. For women on the curvy side with wide hips, flatter the best parts of the body by wearing a long floaty tunic and a pair of boots. Opt for darker jeans because they visually slim the legs. Skinny jeans can support the tummy and thighs and produce a slimmer silhouette. Celebrities known for wearing skinny jeans include Sienna Miller, Kristen Stewart, Blake Lively, and Cheryl Cole.
Style 2: Straight Leg Jeans Lengthen Your Body
Straight leg jeans have the same width throughout their length. This cut is the classic style that has been around for many years. Straight leg jeans look great especially on women with curves or wide hips that they want to show off, because the jeans emphasise the hips and the buttocks. The straight cut lengthens the legs and work well on women with short legs or who are petite. Celebrities who wear the straight leg style include Kylie Minogue, Jessica Alba, and Kirsten Dunst.
Style 3: Flared Jeans Are Great for Everyone
Flared jeans or the boot cut jeans, have a hippy-chic look and are worn by celebrities, such as Cameron Diaz, Jennifer Aniston, and Rachel Bilson. These jeans hug the hips and thighs, and flare out below the knee. Boot cut jeans balance the proportions of curvy figures. The high waist tucks in the tummy and gives a slimmer look. Shorter women can wear flared jeans with heels in order to lengthen the legs. To complete the hippy-look, often seen on Kate Moss, pair the jeans with a floaty blouse and accessories like large wooden bracelets and big rings. Add a large tote bag, to look like Jennifer Lopez. Alternatively, go for the minimalist look with a simple white top, like Victoria Beckham.
Style 4: Be Fabulous in Boyfriend Jeans
Boyfriend jeans give a sassy tomboy look and fit loosely around the body. Boyfriend jeans are very versatile and can be worn regardless of the body type. They are known to add volume for slim women, and to lengthen the legs for short women. For women with curves, boyfriend jeans can be worn as loose fitting and comfortable trousers. With their relaxed look, boyfriend jeans are best for casual wear. Celebrities spotted in boyfriend jeans include Gwen Stefani and Kate Hudson.
Style 5: Tuck Your Curves Into High-Waisted Jeans
High-waisted jeans cover most of the tummy. This look is beneficial for women who want to draw in the midsection to create a sexy silhouette. It is much easier to control the tummy in high-waisted jeans than in low rise jeans, which can create the dreaded muffin top look. Celebrities who wear high-waisted jeans are Jennifer Lopez, Katie Holmes, and Mischa Barton.
Style 6: Revive the Eighties With Peg Leg Jeans
Peg leg jeans, also called cuffed or jogger jeans, are tight around the ankles, but wider at the hips, in a similar way to harem trousers. Wearing them can be a bit tricky because they exaggerate the hips, but they also show off slim ankles. The look can be balanced out by wearing a tight top. Peg leg jeans look best with heels. Keira Knightley wears them with high shoe-boots and Eva Longoria with peep-toe heels. Other celebrities who have sported the style are Kate Hudson, Diane Kruger, and Jessica Alba.
Style 7: Try Printed Jeans
Cheryl Cole wears camouflage jeans, which bring the military look into casual style. She pairs the jeans with black ankle boots, a jersey top, and a tailored jacket, that make the outfit a bit smarter. Other prints are equally trendy, such as Jessica Alba's rose printed jeans, which she paired with clothes in grey tones. Printed jeans are available in any cut from skinny to wide legged. When wearing eye-catching printed jeans, choose a monotone top in order to balance the outfit.
Style 8: Do Not Shy Away from Colours
Jessica Alba is often seen in yellow, pink, and green jeans. So, although blue is still a popular colour, the range of colour choices is vast. Be bold and wear bright colours like, emerald green, worn by Cheryl Cole, or sunshine yellow, worn by Kylie Minogue, who is not afraid to mix different colours.
Balance Brightly Coloured Jeans With Tops
When creating an outfit that consists of a bright pair of jeans, try to balance it with a top in a neutral colour. Follow Cheryl Cole who wears her emerald green jeans with neutral jackets. Another option is a simple black or white top, or navy and cream. Wear large print tops with coloured jeans, like Alexa Chung. For those brave enough to experiment, pair vibrant jeans with bright tops, especially when going to a party. Anna Kendrick uses gold-toned jewellery, a sheer blazer, and strappy sandals to upgrade her emerald green jeans to party wear.
Subtler Colours for Coloured Jeans
Coloured jeans do not necessarily have to be flashy, but could be as simple as the light grey that Rosie Huntington-Whiteley wears. Rachel Bilson's dark purple jeans also look stylish, especially with a smart black jacket.
Shades of Blue Jeans
For die hard fans of classic blue jeans, then try other shades of blue that resemble the classic jeans style, but still offer something new. Heidi Klum wears bright blue jeans in order to create a casual look that makes people turn their heads.
Buying Jeans on eBay
When buying celebrity-inspired jeans on eBay, then searching using the celebrity's name typically yields fewer results than looking for a pair of jeans by their colour or cut. Although you may get some result by typing "Victoria Beckham jeans," a more successful search will result if you know which styles she wears. Decide which celebrity inspires you, find out which jeans they wear, and then search for the specific jeans by typing a phrase into the search box on the main page.
Once you have found the jeans that you want to buy then read the item listing carefully, looking at the size, colour, material, and any interesting features of the jeans. The seller should provide information about the payment methods, delivery costs, and returns policy in the listing. If this information is not present, or if you have any questions, then contact the seller directly using the "Ask a question" link.
Consider looking for Top-rated sellers in order to receive the best service. Browse the seller's ratings and read the feedback before you make your purchase. You may even find a local seller. In this case, you may be able to arrange a collection and save on delivery costs. The seller will let you know if this is possible.
Conclusion
Historically jeans were work trousers worn by men, but today they have become the staples of many women's wardrobes. Jeans are comfortable and can be worn casually. Many celebrities have opted for a pair of jeans when out and about, during the day and in the evening. Cheryl Cole and Sienna Miller wear skinny jeans that accentuate their figures. Kylie Minogue benefits from straight leg jeans that lengthen her legs and emphasise her hips and buttocks. Jennifer Aniston balances her proportions with boot cut jeans that flare out below the knee. Relaxed boyfriend jeans give Gwen Stefani and Kate Hudson a sexy tomboy look, while Jennifer Lopez tucks her curves into high-waisted jeans. Eighties-inspired peg leg jeans that are tight around the ankles and wide at the hips are seen on Eva Longoria and Diane Kruger, while Cheryl Cole and Jessica Alba wear eye-catching printed jeans.
Many celebrities are also wearing very colourful jeans instead of the classic blue denim. The colour may be subtle like Rosie Huntington-Whiteley's light grey jeans or bright like Kylie Minogue's sunshine yellow jeans. These celebrity inspired jeans are available on eBay and can help any woman to make a bold fashion statement.