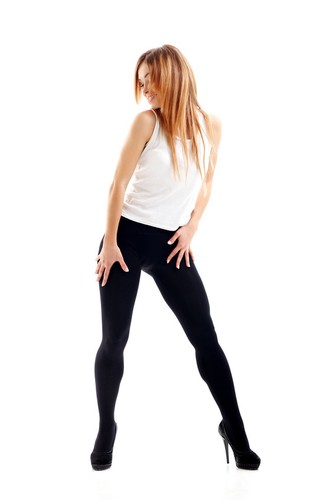 A modern fashion staple, leggings have established themselves as a necessary accessory in every woman's closet. These comfortable stretch pants are all-purpose items which can work well as a layering item in an ensemble. They can also add a dynamic touch of colour or texture to an outfit, in addition to providing warmth to legs under a skirt in winter.
As leggings are also becoming more and more diverse and stepping away from the traditional black or grey leggings of the past, this makes purchasing them a more complicated process than before. This guide looks into some basic do's and don'ts that women can reference in their search for a pair of leggings. Additionally, the guide highlights the qualities to look for in these stretch pants, referencing some useful fashion tips for women. The guide also offers suggestions for how one can find and purchase leggings on eBay, one of the largest online resources available for such items.
1. Don't Just Stick with Black or Grey Leggings
While women generally have a good black or grey pair of leggings in the closet to leverage as a staple, they should also consider the dynamic range of colours available in addition to standard grey or black when buying leggings. Bold and even odd colour matches are becoming more acceptable when assembling an outfit, and brightly coloured leggings can be just the statement piece a woman needs. Women should consider pairing a brighter legging with a neutral top, making the leggings the focal point of an ensemble.
2. Do Pair Leggings with the Right Shoes
The shoes worn with leggings can make or break a look. A classic, high-heeled pump does not usually look stylish with a legging and, instead, invokes a less than savoury aesthetic. For women who love to leverage height, a good platform shoe can be the answer. The volume of the shoe can also slim the line of the leg, making a woman's legs look longer and leaner. Ballet flats can be an excellent casual option, but they usually look better with taller frames. Ankle boots and knee boots can complement almost any fall or winter leggings ensemble. Smaller women, however, should make sure that a large boot does not overwhelm a petite frame.
3. Don't Buy Leggings Thinking They Are Jeans
Leggings are not jeans and therefore should not be worn as standalone pants. That is to say, they are a layered item that should be worn with a tunic top, a dress, or a shirt that comes down to at least mid hip. Leggings do not have finished or tailored waistlines and can look quite inappropriate when worn instead of pants The top of a pair of leggings should be covered by a top or sweater. If a belt is worn, it should be worn over the top or sweater and not be used to create some sort of waist detail on leggings.
4. Do Pay Attention to Texture and Sheen When Buying Leggings
Getting the right texture or sheen in a legging can enhance a look. A too-shiny legging might look out of place with a knit sweater, for example, while leggings with a heavy textured knit might look odd when matched with a cotton tee. Matching or optimally contrasting textures can be a great way to make an outfit work, so women should pay special mind to these details. Wet look leggings, for example, can be a great way to introduce a dynamic element to an outfit.
It is also important for women to make sure that they do not go in for see-through leggings, or tights that are masquerading as leggings. A pair of leggings should have a knit or construction sturdy enough to hide a panty line.
5. Don't Go Skin-Tight Head to Toe with Leggings
Tight on the top and tight on the bottom never works, no matter a woman's build. Leggings work better when paired with shirts and sweaters that follow a wide or loose line. A pair of leggings matched with a skin-tight top can leave a woman looking cheap and lacking style.
Women should not get fooled by length, either. If a shirt goes past the hip area, but is skin-tight, it still probably cannot work as a look. Women should look for tunic tops, shirts with dolman sleeves, and any top or sweater that provides a contrasting silhouette to skin-tight leggings.
6. Do Make Sure That Leggings Fit Well
Fit still matters, even when stretchy items such as leggings are at stake. Taller women should look for leggings with longer cut from crotch to the natural waist, helping to ensure that leggings do not slip down or create any unwanted creases. Depending on the shoe worn, tall women should also keep an eye out for leggings that run all the way to the ankle or below. Women with fuller frames should make sure that they wear leggings that gives them room to breathe at the waist. Very slender or petite women should stay away from larger leggings that might end up looking like sweatpants on their tiny frames.
7. Don't Forget Dresses on Top of Leggings
With the popularity of tunic tops and their other loose and flowing cousins that can mimic the look of a dress, many women forget that an actual dress can look just as nice with leggings as these voluminous shirts. A loose-cut A-line mini dress or a shift dress can both look particularly well with leggings. Again, women should avoid skin-tight options and instead look for dresses that provide a contrasting silhouette to narrow leggings.
8. Do Go For Patterns
Many leggings come in fun and bold patterns that can work as great accent or focal pieces in a woman's wardrobe. These dynamic leggings should not be worn with a patterned top, unless a woman is very confident about going for an extremely funky look. Instead, a safe bet is to pair patterned leggings with a solid-coloured belted tunic or other neutral piece on the top. Women should keep in mind that some patterns can make legs look thicker. They should keep an eye out for patterns that emphasise the vertical and not the horizontal axis.
9. Don't Overindulge in Comfort
As one of the most comfortable accessory items around, leggings can often lead to a slouchy, casual look. Just because a woman is wearing a pair of leggings does not mean that she has to sacrifice her sense of style. In fact, wearing leggings can be a great way to experiment with a look, via layering, playing with patterns, or mixing and matching textures. Instead of thinking of leggings as a comfy break from jeans or trousers, women should look at leggings as a way to explore creative opportunities that just happens to have the bonus of being comfortable.
Shopping for Leggings
Leggings can be found in some variety at local shops and clothing stores. These retailers offer a seasonal selection and adjust their range of choices based on major trends and dominant colours that are in fashion at the moment. This can make their offerings quite limited for a woman who is looking to explore a wide range of creative options when it comes to leggings. Women in search of a larger selection of leggings may benefit from the much more diverse catalogue offered online at sites such as eBay.
Buying Leggings on eBay
To begin a search for leggings on eBay, you can start off by running a search term with the search bar located at the top of any page on the site. To get an idea of the overall range of leggings available on eBay, you can run a search with the term, "leggings". If you already have a particular colour or texture in mind, you can run a more specific search such as "red leggings". When you run a search, eBay also offers related search suggestions which can help narrow a search or open up new possibilities that you may not have considered.
Getting to Know Your Sellers on eBay
When buying an item on eBay, it is important that you take the time to get to know more about the sellers from whom you are interested in purchasing items. You can do this by reviewing a seller's history including past auctions and looking through the feedback they have received from other customers. You should also look at the sellers' payment requirements, shipping methods, and shipping costs before making a decision. Feel free to ask questions of your seller to ensure satisfaction with your purchase.
Conclusion
The ubiquitous pair of leggings have become a can't-miss item, forging a prominent place for themselves in modern fashion. Given their flexibility, diversity, and comfort, these stretch pants provide women with a relaxing way to attempt a number of looks and styles. As leggings come in different types of material, colours, and patterns, this can make shopping for them a bit more difficult. However, if a woman adheres to a few crucial do's and don'ts as elucidated in this guide, she can easily find the ideal leggings that she can add to her wardrobe.
When shopping for leggings, women have a range of options available to them. The online fashion listing aggregator, eBay, offers one of the most wide-ranging resources for leggings. By looking through the extensive catalogue of items on eBay, a woman can easily gain access to everything from patterned leggings to wet look leggings in her search for this fashion staple.