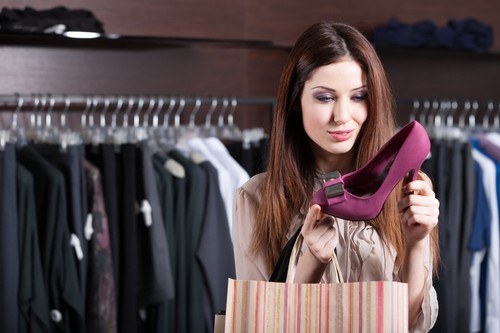 High heels are well established as a way for women to make a fashion statement and feel attractive and appealing doing so. These tall, elegant shoes add length to the leg and dress up an outfit to make it a real eye catcher. Buying all the heels a woman needs or wants can put a lot of demands on her wallet, however. Fortunately, a large market for used heels has developed, allowing women to access an enormous range of on-trend and classic heels that can supplement a shoe wardrobe. When beginning a foray into the used heel marketplace, it can be helpful for a woman to be armed with some tips and tricks for purchasing used heels. Practical issues such as size and wear can factor in, as well as more ephemeral issues such as the trendiness of a pair of heels. It can also be of use for a woman to have a clear idea of the retail options she has at hand, in addition to understanding how one can utilise an online auction site such as eBay to obtain a great pair of used heels.
1. Do Ask After Repair Work on Used Heels
Many used women's heels can go through bits of repair work, including being re-soled and re-heeled. While this type of work can be very well done and make a shoe like new, it can behoove a woman, nonetheless, to check on the repair work that has been done. Women who buy re-heeled shoes want to make sure that a shoe is not breaking because it was poorly constructed in the first place.
2. Don't Go for Used Heels That Are Too Trendy
A good deal on last year's trendy heel may save a woman money, but it can leave her looking out-of-date in no time at all. Women on the lookout for used heels should look for classic options that transcend trends. A classic work pump or a moderate platform heel with clean lines can look stylish and refined for years to come.
3. Do Get Used Heels to Transition to a Higher Heel
Women often need to train themselves to walk in higher heels. With the exceptionally high stiletto-style heels around in the market, there are more than a few women who need some practice sessions before being able to walk in 5-inch heels. Buying a pair of used heels is an excellent and cost-efficient way to transition up to a higher heel. With a used pair of heels, a woman need not worry about damaging them when perfecting her new walk or feel guilty if she needs to transition down to a more moderate heel height.
4. Do Indulge in a One-Off Set of Used Heels
Given that used heels can be a more responsible way to shop, women can afford to indulge in an extraordinary pair of heels that they may only wear on very special occasions. Even women who never go above a medium heel might, on occasion, enjoy indulging in a super-high and super-delicate heel. Women should take the opportunity to responsibly indulge in a heel choice that they might not otherwise want to invest in, given its limited applications.
5. Don't Bypass Vintage Used Heels
Vintage heels from bygone eras can be an excellent way to add a unique and eccentric touch to a woman's wardrobe. For women looking for an eternal and classic look, refined heels from the 1940s can bring a distinct touch of class to a work ensemble. For a woman with a good deal of flair, disco platforms from the 1970s might be a one-of-a-kind way for her to work a club or dance floor. A large range of vintage heel choices are available today, providing a rare fashion statement that complements a woman's sense of style.
6. Don't Hesitate to Ask Questions About Used Heels
When buying a used item, especially one that can be as well-used as a heel, it is important for women to take the time to ask questions about the provenance and quality of a pair of heels. When buying from an individual seller, women can ask about the settings in which the shoe was worn, repair work, and the comfort level of a shoe. Even though a pair of used high heels can be a cost saver, there is no reason for a woman to run after a pair of used heels without learning the details.
7. Don't Forget Insoles
Even the most well-worn and broken-in pair of heels can require a bit of added padding and comfort. After all, heels push feet into unnatural positions that can strain even an experienced heel wearer. Accessory items such as an insole pad or an arch pad can make a pair of heels much easier to wear. If a woman is buying from an individual seller, she might ask about the items the seller has used to make the shoes work and then incorporate similar choices in her own experience with the heels.
8. Don't Assume All Sizes Are Equal
Nothing can end a love affair with a pair of heels faster than a bad fit. Before buying a pair of used heels, a woman should make sure that she has an accurate understanding of her own foot size and that the purchased shoes accurately correlate with that size.
Measuring a Foot
To measure a foot for sizing, a woman should stand on a piece of paper and trace the heel line and toe line of her larger foot. She should then measure a straight line from the centre of the heel to the tip of the big toe. This length can then be used as a general reference in sizing her foot.
Size Averages for High Heels
The following chart lists the average measurements for common women's shoe sizes. Women shopping for used high heels may come across options in UK sizes, European sizes, and US sizes and should be aware of conversions between the various size categories.
| | | | | |
| --- | --- | --- | --- | --- |
| US | Europe | UK | Australia | Centimetre |
| 5 | 35 | 2.5 | 3.5 | 22.8 |
| 5.5 | 35.5 | 3 | 4 | 23.1 |
| 6.5 | 37 | 4 | 5 | 23.81 |
| 7.5 | 38 | 5 | 6 | 24.45 |
| 8.5 | 39 | 6 | 7 | 25.08 |
| 9 | 40 | 6.5 | 7.5 | 25.4 |
| 9.5 | 41 | 7 | 8 | 25.72 |
| 10 | 42 | 7.5 | 8.5 | 26.04 |
| 10.5 | 43 | 8 | 9 | 26.34 |
| 12 | 44 | 9.5 | 10.5 | 27.3 |
| 13 | 45 | 10.5 | 11.5 | 27.9 |
| 14 | 46.5 | 11.5 | 12.5 | 28.6 |
| 15.5 | 48.5 | 13 | 14 | 29.2 |
It is important to remember that sizes can vary greatly from one manufacturer or brand to another, and sizes should be confirmed with sellers during the purchasing process. Prospective buyers may ask if a shoe runs small or large. If purchasing from an individual who wore the shoes herself, ask after how the shoes compared to the seller's other shoes in terms of size.
Shopping for Used Heels
In terms of local offline options, women may be able to access a small stock of used heels at second-hand shops and vintage boutiques. The shoe stock available at these types of locations are often well worn and can be limited in terms of offering a wide range of styles. One is more likely to find a more comprehensive resource in the online auction site and fashion aggregator, eBay.
Buying Used Heels on eBay
To begin shopping for used heels on eBay, you can start by running a general search on the website. Searching for a term such as "women's used heels" can give you a clear idea of the overall range of items available for auction on the website. If you have a specific style of heel in mind, run a search using a more focussed term, such as "used black stiletto". The site itself also makes related search suggestions that can open up other options that you may not have considered in the search.
An important part of the purchasing process on eBay is getting to know the seller from whom you wish to make a purchase. By looking through a seller's past auctions and reviewing the feedback a seller has received from other customers, you can be more confident about receiving the exact heels you want within the desired time frame. Taking the opportunity to communicate with the seller and confirm crucial details regarding size, condition, etc. can also ensure that you receive the ideal pair of used heels.
Conclusion
Buying used heels is an easy way for any woman to supplement her shoe collection. Whether in search of a reliable pair of work heels that can be worn day in and day out or an extraordinary pair of heels that can make an effective, one-of-a-kind statement, women can find a wide range of choices in the used marketplace. By carefully weighing her options and asking the right questions, a woman can access a pair of used heels that are as lovely and well put together as a brand new pair of shoes. eBay represents a great online retail option that offers a comprehensive range of used heels for women. On this website, women can review countless listings for used heels and communicate directly with sellers to review essential statistics regarding size, repairs, and more. With the power of the wide-ranging eBay catalogue and her own savvy, a woman can find the perfect pair of heels in no time at all.