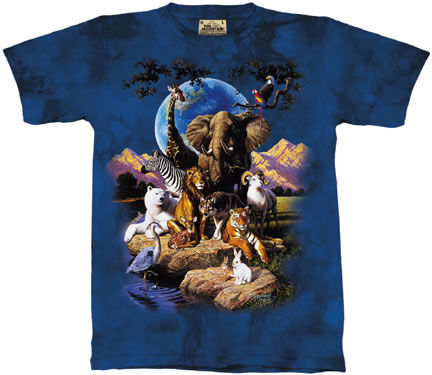 Graphic T-shirts are becoming more and more popular among today's public. They are a great way to express individuality through fashion or even to inject some humour into everyday clothing. Graphic T-shirts range from minimalist-inspired abstract designs to full-blown prints that cover almost the entire garment. With the right kind of prints, a plain and boring T-shirt can be turned into a very trendy top.
Men across all age groups can wear graphic T-shirts; however, there are some kinds of graphic T-shirts that are better suited for specific demographics. Moreover, some designs may be trendy in some situations, but are totally inappropriate in others. With the dizzyingly wide variety of graphic T-shirts in the market today, coupled with the many considerations when buying clothing articles, choosing the right kind of graphic T-shirt can be a daunting task. Thus, this guide presents the eight most important do's and don'ts when buying graphic T-shirts for men.
The Do's and Don'ts: A Bird's Eye View
When buying a graphic T-shirt, there are a few basic ideas to take into consideration. Considerations such as personality and fashion preference will go into which graphic T-shirt is purchased.
| Do | Don't |
| --- | --- |
| experiment with V-necks | be afraid to show a little skin |
| think about the target audience | wear extremely confusing designs |
| choose age-appropriate designs | be a show off |
| try non-branded pieces | be a fashion victim |
In a nutshell, these are the eight major do's and don'ts when buying graphic T-shirts. The next paragraphs discuss each of them in greater detail.
1. Do Experiment with V-Neck Graphic T-shirts
Most graphic T-shirts have round necks and there is nothing wrong with that. However, round-neck shirts tend to be unflattering to the wearer's figure and are simply all too common. This is especially true if the wearer has a flat chest, wiry arms, or a slightly bulging tummy. Alternative V-neck graphic T-shirts accentuate the wearer's chest, making it look bigger and fuller, and they are also great for those with very thin, wiry arms. The graphic diverts people"s attention from one's body and adds a touch of fashion to an outfit, so the graphic T-shirt can even be worn in more dressy situations. Note, however, that turtlenecks generally look better when plain and unadorned, so men should be extra careful when buying turtleneck graphic T-shirts in order to avoid fashion disasters.
2. Don't Be Afraid to Show a Little Skin
If the wearer has a lean body type, graphic T-shirts should fit the body snugly, they should neither be too tight nor too loose. Loose-fitting shirts make the wearer look bloated, while extremely tight-fitting shirts tend to reveal too much. The shirt's sleeves should sufficiently cover the underarms because the basic rules of fashion require top garments to make up their mind: they should either be sleeved or sleeveless, but never anywhere in between. Moreover, the lower hem should be long enough to cover the navel area when the wearer stands upright. Intentionally undersized T-shirts are best left to George Michael in the 1980s.
3. Don't Go for Extremely Cryptic or Confusing Graphic T-Shirt Designs
Graphic T-shirts, just like other kinds of clothing, are designed to complement and bring out the wearer's wonderful personality. That is why buyers should avoid T-shirts that have extremely confusing designs. These kinds of men's graphic T-shirts tend to distract other people who are trying to engage the wearer in a meaningful conversation. The rule is simple: a man should always seek to wear something understated yet elegant, though not necessarily minimalistic. Sometimes, graphic T-shirts with simple designs can do more wonders than a shirt that is riddled all over with random prints.
4. Do Choose Age-Appropriate Graphic T-Shirts
There are different kinds of designs for different age groups, and this is what buyers should keep in mind. For example, 30-year-old men should leave low-cut V-neck shirts to 20-somethings, in the same way that octogenarians should leave tank tops to the next generation. In this respect, vintage or vintage-looking graphic T-shirts are a great choice because they can look good across all age groups. Moreover, the wearer can also balance T-shirts that have daring prints (e.g. tribal motifs) with dressy khakis or straight-cut jeans.
5. Do Think About the Target Audience
Unless the graphic T-shirt is worn on a Goth party where everyone is expected to be apathetic about everybody else, the wearer should take certain social norms into account. For example, statement graphic T-shirts that contain offensive language may be appropriate to wear during youth-oriented activities where most people would not mind seeing them, but the same shirts should never be worn if there are older people around. Moreover, some graphic T-shirts with political themes may also be offensive to certain groups. However, shirts that advocate universally recognised causes such as peace, freedom, and equality (e.g. freedom for Burma's Aung San Suu Kyi), may be acceptable for most people.
6. Don't be a Fashion Victim
Just because a certain T-shirt is trendy does not automatically mean that it will look good on everyone wearing it. Besides, the David Bowie's Glam Rock era is long gone. Remember that fashion is all about expressing oneself, so a man should choose only those designs that hold some meaning for him. This way, the resulting outfit will feel more natural to wear, making the wearer exude confidence all around.
In this respect, vintage graphic shirts are a great choice, especially those that are related to something in the wearer's past. For example, someone who spent his childhood in early 90s can wear a vintage Manchester United graphic T-shirt, because everyone back then supported this team even if they did not care about football. Even graphic T-shirts with cartoon characters from the past (e.g., the Ghostbusters) can be a humorous and interesting choices and they can light up any gloomy group of people.
7. Don't be a Show-Off
While buying graphic T-shirts from famous brands like Nike, Adidas, or Armani is a good idea, shoppers should make sure that the tags and labels are not too prominent. It is fine for people to see the tags upon closer inspection because it will let them know that the wearer has good taste in clothing and is someone who knows how to dress to impress. However, walking around town wearing a T-shirt with huge prints of the brand's name is just tacky, and people will think that the man wearing it is desperate for attention. It is true that getting other's attention may be a good way to gain new friends, but wearing these rather tasteless T-shirts will not be of any help.
8. Do Try Unbranded Graphic T-Shirts from Independent Designers
Branded items can give shoppers a certain degree of assurance when it comes to quality; however, non-branded graphic T-shirts made by independent designers are usually more creative and sometimes unique. As a bonus, they may even cost less than the mainstream competition. For one, independent designers are quicker to adopt new design ideas. This is why Internet meme-inspired graphic T-shirts are usually non-branded, since mass-producing such T-shirts may be impractical as Internet memes are usually fleeting in nature. Moreover, independent designers are usually trying to make a name for themselves, so they are less likely to cut back on the quality of the fabric and other materials just to reduce production costs.
How to Buy Graphic T-shirts on eBay
eBay offers tens of thousands of graphic T-shirts for men of all ages. To get a complete listing, just type "men's graphic T-shirt" in the search box on eBay's home page. To refine the results just add keywords that are relevant to what you are looking for. For example, using the search term "vintage graphic men's T-shirt small" generates a list of small-sized vintage graphic T-shirts. You may also add keywords that target specific brands, designers, design topics, and the like. Just append these additional keywords to the original search term and click "search". For example, typing "Superdry men's graphic T-shirt" will return a list of all graphic T-shirts by Superdry.
Do not forget to read the complete text for the seller's returns policy before checking out your shopping cart. This way, you will be sure that you can return or exchange the merchandise in the future if necessary. To learn more about this, just click the seller's name, and then click on the "contact" link on the seller's page.
Conclusion
The perfect graphic T-shirt is both comfortable and fashionable to wear. Graphic shirts usually have round necklines, but many people prefer V-necks because of they make them appear slim and look more sophisticated than the usual round-neck T-shirts. Showing a little skin is fine, but men should make sure that the T-shirt is large enough to provide sufficient cover for the armpits and long enough to cover the lower abdomen.
Many graphic T-shirts are very colourful, but buyers should be careful not to go over the top. Moreover, some types of graphic T-shirts are more appropriate for certain ages. A buyer should also consider the situation in which the T-shirt will be worn, since there are some designs that might make other people uncomfortable. Furthermore, the shirt should reflect the personality of the wearer, so buyers are discouraged from blindly following trends. To make this easier, there are many independent designers that offer unique, creative, and oftentimes rare T-shirt designs.