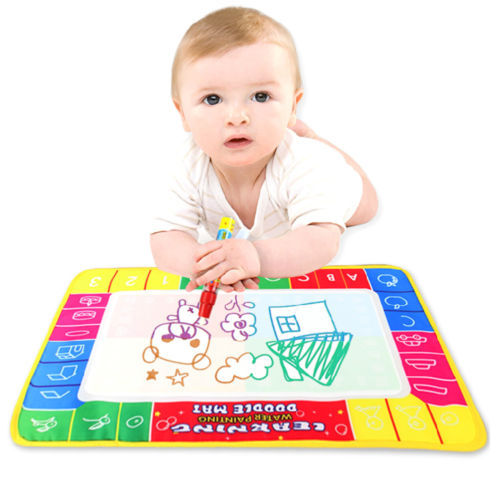 Children are creative human beings from the second they are born. It's astounding the ability that children can display at a very early age. The role as parents is to encourage and nurture our children. By offering them creative outlets, we are giving them the opportunity to grow as individuals and make sense of the world around them. Creative or expressive arts are often broken down into 3 main categories:
* Arts
* Crafts
* Music
This guide looks at these three main categories, and will express the toys that can be beneficial to your specific child. eBay, the world's leading online marketplace offers a fine selection of arts, crafts, and music for children of all ages.
How to Choose Drawing and Painting Toys
The 'arts' category usually involves a 'hands on' component for the activity, for example, drawing and painting. Drawing and painting are great ways to offer children the opportunity to explore and encourage creativity. The activities themselves are also extremely accessible. All that is needed is a desire to participate and simple art materials.
However, choosing these art supplies and toys can sometimes be overwhelming. There is a wide variety on offer, choice is plentiful and the market is literally saturated with different products.
So, where to begin when choosing drawing and paint toys for children? Generally speaking it is important to take into consideration a few points at the beginning of your search. Ultimately this easy to use guide will help identify the must have drawing and painting toys for children, but only you know your child intimately. Take into consideration these points before purchasing any products.
* How old is the child? This will eliminate certain toys and help you plan ahead as the child grows and progresses. For example, the child in question may be too old for one of the products outlined below.
* What are the child's likes and dislikes? For example, do they like getting dirty, or mess on their hands and clothes?
* What is the personality of the child? This one seems rather cryptic, but ultimately they will have an opinion on what they want. Take note of this.
Drawing and painting materials can be split into three main categories:
* Materials
* Technology (Software)
Drawing and Painting Materials
Non-Toxic Easy Washable Felt Tip Pens
Washable felt tip pens are easy to use and come in a variety of sizes. The larger tip pens allow the user to create large or small lines which makes them ideal to create light and shade when colouring in. With washable ink and being easy to grip means they are suitable for a wide age range.
Hot Tip
* Always use water based markers with children. They are easier to clean up as well as being safer!
Non-toxic Ready Mix Paint
Ready mix paint comes in a variety of brands and colours. The formula is tested to provide excellent colour and coverage. All that is needed are the primary colours, red, yellow and blue along with white and black and the user will have hours of fun painting. With painting there are also other products that are required to enjoy the craft. These include:
* Paint brushes (large and small)
* Paper and/or other materials to paint on like canvas
Children should always use water-based paint products. Beware of:
* Oil based products containing chemical solvents (methyl alcohol and toluene) that emit dangerous volatile organic compounds or VOCs
* Avoid paints coloured with pigments made from highly toxic metals
Non-toxic Pencils
Traditional colouring pencils are a must have in every household as well as every child's school pencil case. Simple, easy to use and enjoyed by all. With endless choice, there is something for everyone with affordable options.
Beware of:
* Some pencils use chemical based pigments and may be coated in toxic varnish. Always read the label.
Modelling Clay Materials
Available in almost every colour -modelling clay can be purchased in individual packets and in sets. Traditional modelling clay is designed to set when exposed to the air over a long period of time (slow drying). Also under this category are other types of modelling clay, like plasticine and Fimo (oven hardening clay) which are great for more advanced users.
Chalk
Chalk is no longer just used for blackboards and concrete footpaths. Chalk is available in many different colours and sizes, making it suitable for a variety of different ages. As a versatile toy, chalk can be used indoors and out on a variety of different surfaces. It is an accessible and affordable art toy.
Craft Sets
Aqua Doodle
Aqua doodle sets are non-toxic and ink free water based drawing tools. When filled with water, they are then used to draw on the accompanying specially made mat. As the drawing dries out, it disappears ready for the next time.
All in One Stationary Sets
All in one stationary sets come in a variety of shapes and sizes designed to suit every personality type. With a choice of materials, there really is an all in one stationary set for everyone. Most products will have an age guide printed on the back, so be sure to check the suitability for your child when purchasing.
Painting Technology
With the communication age upon us, technology and software has become a large part of our everyday routine. We work on computers, laptops, mobile phones and electronic devices every single day of our lives. The creative industries have not been left behind. Allowing children to express themselves creatively using painting and drawing software can not only assist them in their creative development but also in their grasp on technology.
Given the myriad of choice available, the question boils down to which programme to choose. There are a couple of rules to apply in order to find the best product to suit the child.
1. Is the programme interface user friendly?
2. Does the device accommodate for the developmental age of the child?
3. Are the tools used with the programme (i.e. buttons, pens etc) large and user friendly?
4. Will the programme grow with the child as their skill increases? Or is there progression to another programme?
5. It is also a good idea to look if the programme can be customised by the child. This will mean they can add settings and features that reflect their own personality and creativity.
Some software programmes to consider are:
* Kea Colouring book
* Tux Paint
* Art pad
* Magic Pen
* Doodle toy
* Art my kid made
Protective Clothing
As enjoyable as drawing and painting is, it can also be messy. In order to protect clothing and skin, it is important to wear a smock. These can be old, disused clothes found in any wardrobe, but there are also specifically made garments on the market.
Safety
Children as young as 8 months can enjoy drawing and painting. It is an excellent way to begin teaching cause and effect as well as unleashing their creative self. However, young children require supervision at all times when engaging in these types of activities. When purchasing these types of, always remember:
* Supervise the activity. Young children enjoy putting things in their mouth.
Leading children's art brands that are safe (i.e. use safe non-toxic products) for young children include (but not limited to)
* Crayola
* Faber Castell
Hot Tips
* If you schedule painting and drawing activities for just before bath time, it doesn't matter if they get dirty.
* Keep the artwork in a folder or book to enjoy in the future together.
* Have an 'Arts and craft' cupboard. This is a nice way to keep all your must have painting and drawing toys together in one designated place!
Buying Products On eBay
* Drawing and painting products can be purchased at stores on the high street, in shopping centres, as well as online. Auction sites like eBay offer hundreds and thousands of different drawing and painting products. All of which can be accessed through the Art category. This portal will offer you further choice to hone in your search and identify the desired product. Another great reason to use eBay is the flexible payment options.
* If the desired creative toy is unknown, it is easy to search eBay using the search tab. This is located on page. Some users, who have an idea of what they are after, but not the exact toy, will search for a general product like 'drawing toys for under 2s'. Using the search features will help find exactly what you are after.
* When searching through listings, carefully review all the data. Make sure the item matches what you had in mind. Look over the photographs a couple of times. Feel free to Ask the Seller a question if you want additional details. Visit the Buying Tips page for more information.
* Once you're ready to buy, either place a Bid, Buy it Now, or put down your Best Offer. Buying with PayPal will ensure the transaction will go smoothly. eBay users are protected by the Buyer Protection Program.
Conclusion
Drawing and painting are fantastic activities for children to engage with. With a few of the simple toys outlined above, they can literally spend hours upon hours creating works of art. The wonderful thing about creative toys is that they can be reinvented every time they are used.
eBay is a great way to find these products and find an affordable option for you.