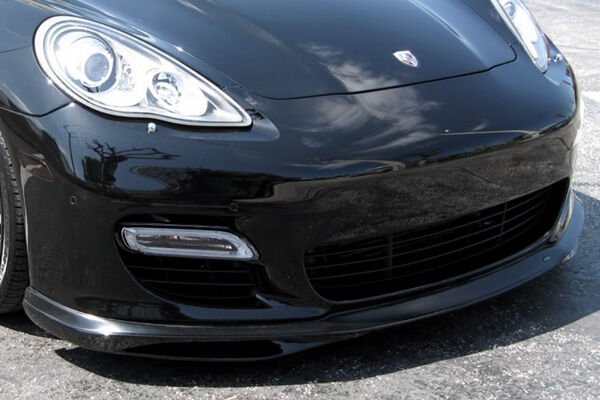 Since Ferdinand Porsche and his son, Ferry, designed and built the first car in 1948 with just 200 workers, Porsche has always been associated with great sports cars. Its sleek design, its minimalist interiors, its superb road handling, and its groundbreaking technologies have all combined to make Porsche one of the most instantly recognised, and most sought after cars on the road today.
This tradition is preserved in the Porsche Panamera. Named after the Pan American race, unusual for Porsche, it is a four-door model, yet is far away from a 'traditional' family saloon car. Whatever their financial circumstances, those looking to purchase a Panamera should look carefully before choosing the perfect Porsche. There are eight basic model variants in total, ranging from the entry-level Panamera to the top of the range Panamera Turbo. Each model has its advantages and drawbacks, and by learning about these, buyers can hopefully be able to make an informed choice of just which Panamera is suitable for them.
Factor 1: Fuel Economy
Generally, owners of Porsches do not consider the fuel consumption of their cars, but in these times of heightened awareness of the ever-escalating price of fuel, and with the general slowdown on the world's economy, fuel economy is becoming an increasingly important factor. Gone are the days of simply turning up to a petrol station, and almost not caring how much fuel is needed to fill the tank.
Thanks to decimalisation, rather than measuring fuel economy in miles per gallon, these days it is rated in litres per 100 kilometers. Whereas in the past, potential Porsche purchasers would look for the highest possible miles per gallon, it is now classed as l/100 km (litres per one hundred kilometers). Buyers are now looking for the lowest possible number for easy comparison.
The entry-level, 6-cylinder Porsche Panamera is quoted by Porsche as being capable of 11.2 l/100 in an urban setting, with a mere 6.8 l/100 for 'extra urban'. The combined figure is quoted as 8.4 l/100. The top-of-the-range 8-cylinder Panamera Turbo has an urban figure of 14.7 l/100 with a combined figure of 10.2 l/100. Obviously, the extra cylinders and the turbo increase the fuel consumption.
Factor 2: Top Speed, Acceleration, and Braking
Porsches are renowned for their straight line speed. Generations of youngsters have dreamed of owning what, for some, is the ultimate in driving prestige and pleasure. The top of the range Panamera Turbo comfortably achieves 305 km/h (189 mph), which is more than adequate for British motorways and 'A' roads. The Turbo's acceleration from 0 to 100 km/h (0 to 62 mph) is a breathtaking 3.9 seconds with the Sport Chrono Package installed.
The entry-level Panamera is no slouch, though, either. Its top speed is 259 km/h (160 mph), with acceleration to 100 km/h in only 6.3 seconds, even without the Sports Chrono Package installed. For a four-doored saloon car, this is among the best of its class.
All models of the Panamera come with front and rear disc brakes as standard. This means the car can quickly decelerate safely, making driving around Britain's country roads as thrilling as driving a two-seater sports car.
Factor 3: Emissions
With modern vehicles now having to undergo a series of environmental tests, vehicle emissions are a hot topic, and many potential purchasers of sports cars are put off purchasing Panameras due to the possible damage their cars may do the environment. Porsche is very aware of this, and so it has designed and built engines for its cars that are, while still very much fun to drive, much more environmentally aware than its predecessors.
The Panamera S E-Hybrid, in particular, which combines an electric motor for stop-start town and heavy traffic driving with a conventional petrol engine for longer runs, has a CO2 emission of just 71 g/km. This is comparable with many small to medium sized cars.
Factor 4: Gearbox
Porsche has always prided itself on the craftsmanship of its cars, paying particular attention to both the engines and gearboxes. The entry-level Panamera is fitted with the Porsche Doppelkupplung (PDK) gearbox. This is a 7-speed model featuring a dual-clutch system. In practice, this means that as the driver is accelerating through the gears, the gearbox senses this, and automatically engages the next gear before the driver changes up. This leads to faster, smoother acceleration, and hence the extraordinary acceleration figures. The diesel model and hybrid models employ an automatic Tiptronic S 8-speed gearbox. This ensures the engine revs are consistent with the engine's maximum performance and economy.
Factor 5: Model Comparison
Below is a chart detailing the different models, engine sizes, gearboxes, and performance figures for the entire basic Panamera range. Of course, there are all sorts of optional add-ons that can be specified when purchasing a new model.
| | | | |
| --- | --- | --- | --- |
| Model | Engine Size (cubic centimetres) | Gearbox | 0 to 100 km/h (seconds) |
| | 3,605 | PDK | 6 |
| Panamera Diesel | 2,967 | Tiptronic S | 6.8 |
| Panamera 4 | 3,605 | PDK | 5.8 |
| Panamera S | 2,997 | PDK | 4.8 |
| Panamera S E-Hybrid | 2,995 | Tiptronic S | 6.8 |
| Panamera 4S | 2,997 | PDK | 4.5 |
| Panamera GTS | 4,806 | PDK | 4.4 |
| Panamera Turbo | 4,806 | PDK | 3.9 |
Note that the 0 to 100 km/h times are for Panameras with the Sport Chrono Package, where applicable. The Tiptronic S gearbox is only available for the diesel and S E-Hybrid models.
Factor 6: Drag Coefficient and Weight
Whilst the generally large engines add quite a lot of weight to the car, with the basic Panamera weighing some 1,770 kg the drag coefficient is an impressive 0.3. This is thanks to the aerodynamics of the front and rear, and means the car is spending less energy propelling itself through the air, leaving more power to give the thrill of acceleration as the full power is applied on an open road.
Factor 7: Depreciation
Traditionally, buyers of Porsche sports cars have had to suffer from high levels of depreciation in their cars, but because this is a four-door model, and therefore almost classed as a 'family car', this should not be the case for the Panamera. Experts generally agree that buyers cannot pick up a secondhand Panamera cheaply, as they hold their value much better than previous Porsche sports cars.
Factor 8: Size
The Porsche Panamera is by no means a small car, being 5 metres long by 1.9 metres wide, in comparison with the Porsche 928, which is 4.45 metres long by 1.8 metres wide, but it does boast the two extra doors for the rear passengers. These extra doors make for happier back seat passengers though, as there is no need to pull the front seats forward to allow for these passengers' often undignified entrance or exit.
How to Buy a Porsche Panamera on eBay
Purchasing your Porsche Panamera on eBay is very easy. Using the menu system, buyers can easily select the year and model they want, and go from there. You should always look through as many adverts as you have time for, as there are sometimes real bargains to be had, or options that you might not have previously considered.
Navigating the eBay Website
To begin your journey in buying a Porsche Panamera, all you have to do is find the search box found at the head of any eBay page and type in exactly what your desire, such as " 2011 diesel Porsche Panamera " or " 2012 Panamera S". Also, if you see two or three listings that you cannot decide between, then you should check out the extras that these vehicles have fitted. Some vehicles may feature special sound systems that are factory installed, or there may be other extras such as a leather interior or special paintwork that are mentioned.
You should also check the listings to see if a service history is mentioned. Many previous Porsche owners only have their cars serviced by fully trained Porsche mechanics and authorised dealers, and the service history should be officially stamped to show this.
Conclusion
As there are so many different models within the Porsche Panamera range, buyers should consider each point carefully before purchasing their chosen model. With many different factors to consider, it is important to choose between the entry-level Panamera, which are still capable of 259 km/h (160 mph), with a 0 to 100 km/h (0 to 62 mph) acceleration time of 6 seconds with the Sports Chrono Package installed, to the 305 km/h (189 mph) Panamera Turbo.
Of course, there are models in between, so the choice is also that of economy, such as with the Panamera S E-hybrid, with its low l/100 km fuel consumption figure, or the Panamera GTS with its 7-speed PDK gearbox for extra acceleration. Whichever model buyers choose, they can be assured that the Panamera of their choice is Porsche. As generations of buyers have found, that means fun, excitement, and a real sense of adventure when behind the wheel, whether simply driving around town, cruising down a motorway, or on an adventure in the open countryside.