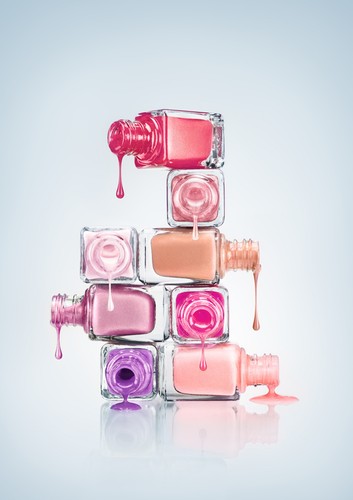 Nail polish is an essential beauty product for the fashion conscious, ranking highly in importance alongside a good mascara, foundation, and lipstick. While many choose to go to salons to get their nails painted, it is just as easy and less expensive to perform a manicure at home. Properly painted nails add sophistication to a business suit or a level of glamour to an ensemble for a night out.
A small collection of eight nail polish colours means that there is a ready option for any occasion, including classics such as a neutrals, white, black, and red. These timeless colours can be restyled in several ways to create a new and trendy look. Wearers can build on the classic collection with a dark hue, a playful colour, a metallic polish, and a colour appropriate for the season. This ensures that buyers' wardrobes are never without at least one perfect nail polish.
Before purchasing the must-have colours, buyers should consider the types of nail polish. Nail polish is available from nail boutiques, chemists, department stores, and online from eBay, which has a large selection of colours, including those that may be out of season in bricks and mortar shops.
Types of Nail Polish
Before stocking up on nail polish it helps to understand the different types that are available. When painting nails at home, invest in both a clear base coat and a clear top coat, which help to prevent the coloured polish from chipping. Coloured nail polishes come in several varieties, including quick drying, long-lasting, growth enhancing, and all-in-one.
Quick Drying Nail Polish
Quick drying nail polish is convenient for those with little spare time because it dries much sooner than conventional polishes. In theory, this minimises the likelihood of smudging and other flaws in the final result. The actual drying time varies, so research the details of products before buying.
Long-Lasting Nail Polish
Long-lasting nail polish is designed to resist chipping, leaving a manicure intact for a week or longer. To ensure the best performance, it may be necessary to reapply a clear top coat every couple of days.
Growth Enhancing Nail Polish
Growth enhancing nail polish is designed to help nails to look their best. It has a strengthening formula that aims to prevent nails breaking or splitting. For the best results, growth enhancing nail polish should be applied every two to three days, which means that it requires frequent upkeep.
All-in-One Nail Polish
All-in-one nail polish offers convenience by incorporating a base coat and top coat in the same bottle as the coloured polish. This means that less time is required to paint the nails, but multiple layers are still needed for the polish to look its best.
Must-Have Nail Polish Colour 1: Neutral Shade
Neutral shades are the perfect choice for job interviews and other professional environments where a bright pink or blood red may be inappropriate. They provide barely-there coverage that is understated and sophisticated. Beige and nude colours are good examples of neutrals, but buyers can also consider a very pale pink or champagne.
Must-Have Nail Polish Colour 2: White
White is a classic, versatile colour. It can be used as a base for a number of designs, including splatters, stripes, or creative nail art. An opalescent white is a great way to add a touch of glamour without being too elaborate. When combined with a neutral shade, white can be used as part of a French manicure.
French Manicures
For a French manicure, the main body of the nail is painted a neutral colour and the tip of the nail, which is the part extending beyond the skin, is painted white. It is possible to paint the tips freehand, but for greater precision, buy a French manicure kit, which has adhesive separators that help to produce perfectly smooth lines.
Must-Have Nail Polish Colour 3: Black
When used correctly, black nail polish can be chic and elegant. It can inject some edginess into an otherwise very feminine outfit. Black nail polish is also a great colour for nail art. However, buyers should be careful about the length of nails. Long, pointed nails may not be the best shape for this particular colour. Instead, stick to a medium length with a squarish nail edge.
Designs for Black Nail Polish
The possibilities to add a little bit of glamour or colour to black polish are nearly endless. A strip of silver across the nail works well, as do decorative stones on the tips. Paint the entire nail one bright colour, then allow it to dry before layering thin strips of tape on the nail and applying a coat of black polish. When the tape is removed, the colours should peek through for a bright splash. Black is a great colour to use to experiment with matte nail polishes. Apply a matte black to the base of the nail, and a glossy black to the tip for a creative spin on the French manicure. Alternatively, paint just the tips of the nail black and leave the body of the nail clear or painted with a neutral tone.
Must-Have Nail Polish Colour 4: Red
Red is the colour associated with femme fatales, passion, love, and danger. So, every woman should have at least one red nail polish in her collection. Red nail polish is bold, but classy, and the perfect accompaniment to a little black dress for formal occasions. Red also works well for casual, everyday wear.
Louboutin Nails
Give the classic manicure a makeover by recreating the signature soles of Louboutin shoes. Paint the underside of the nails a brilliant red hue, with black on the surface of the nail. Apply a top coat to the underside of the nail to prevent the red nail polish from chipping. This style is best for long nails, including false nails, and requires some maintenance.
Must-Have Nail Polish Colour 5: Dark and Mysterious
Black may not work for everyone, but there will be a dark shade of nail polish that looks good. Choose a deep plum, rich sapphire blue, or hunter green for the same edgy effect, without being too dramatic. If the nail polish collection already contains a true red, do not hesitate to choose a deep blood red to use as a darker alternative.
Must-Have Colour Nail Polish 6: Fun and Flirty
Buyers can balance the dark colours in the nail polish collection with a fun and flirty hue. Tropical and neon shades require a little bit of coordination with an outfit, but they work well to celebrate the arrival of warm weather, open-toed footwear, and bare legs, or just as a reminder that those days are sure to return. The best fun nail polish is one that makes the wearer feel happy.
Must-Have Nail Polish Colour 7: Metallics
Buyers can use metallic nail polishes to add a touch of glamour to any outfit. In addition to gold and silver, consider copper or pewter for something less conventional. There are even metallic polishes that contain other colours, such as green or blue. Be careful to coordinate a metallic polish with jewellery and makeup to create a tasteful rather than a gaudy look. Metallic nail polishes can be mixed and matched, but avoid using too much of one colour to keep the look balanced.
Must-Have Nail Polish Colour 8: The Season's Hottest
Buyers can look through their fashion magazines to check the season's hottest colours. Any new clothes should be easy to coordinate with the new colour of nail polish to eliminate the worry about wearing a colour that is out of season. Specific colours rise and fall in popularity, but as a rule, certain hues are best suited to a particular season. Pastels are associated with spring, whereas jewel tones are better suited to autumn and winter. However, always remember that fashion rules are made to be broken, so experiment and see what works.
How to Buy Nail Polish on eBay
eBay is a thriving online marketplace and community. To make a purchase, you must first register for an account. Then you can sign in at any time to access favourite searches, watch items, and communicate with other members. If you have never made a purchase on eBay before, visit the buying basics page in the eBay Help Centre to learn more about the whole experience. One thing to always bear in mind while browsing for items is the seller's feedback history. You can gauge a seller's reliability and quality of customer service easily by checking his or her ratings and comments left by previous buyers.
Searching for Nail Polish on eBay
eBay has a large selection of beauty products available, including an array of must-have nail polish colours. Visit the site's home page and enter a phrase in the search box to find the available items. If you know what you are looking for, try more specific keywords, including brand names, such as "Urban Decay nail polish", or specific colours, such as "Essie Wicked". Filter the results by category to find the most relevant items.
Conclusion
With eight must-have nail polishes always on hand, it is easy to complete an outfit for a job interview, a night out, or just a day with friends. However, it is important to have the right combination of colours. A neutral shade such as beige or champagne does not attract much attention, making it a good choice for any ensemble. White and black are classic and versatile, and it is easy to update the look of a manicure by mixing these colours with other fun polishes and nail art. To complete the range of classics true red, is a bold, but sophisticated choice for any woman.
Any basic nail polish collection should have one dark colour other than black, a fun and flirty colour, a metallic polish, and a colour that is appropriate for the season. When stocking up on must-have nail polish colours, shopping on eBay is a great way to find a large selection at great prices.