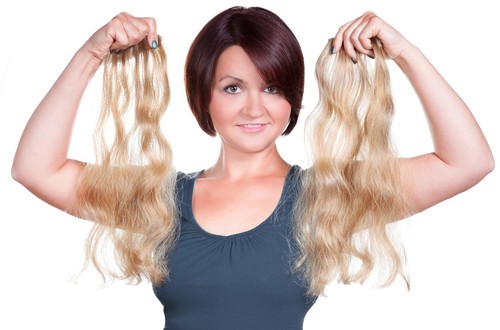 In the days of the Egyptians, hair extensions were worn by both men and women for fashion and cosmetic purposes. Having long hair has been associated with youth and beauty for generations. Women have always wanted longer, fuller hair and have worn wigs to achieve that look. Today, what so many have desired can now be achieved with the use of hair extension. In a matter of minutes, short, thin hair can become long, lush and full. With hair extensions,, a woman's hair can be changed to any colour, style or length that suits her. For the occasions when she wants to look better than her very best, she should try out a new look by buying hair extensions and having them professionally applied.
When a formal occasion requires that a woman look exceptionally classy and distinctive, she should choose hair extensions that will lengthen and fill out thin hair for a stylish and youthful appearance. Or for fun, she can change her hair colour in minutes from blonde to red with coloured hair extensions. When a woman is planning to buy hair extensions, it is important to research and understand the different types of extensions, what materials they are made from, why it is a good idea to buy hair extensions, and how to buy hair extensions on eBay.
1. A Natural Look Can Be Attained With Hair Extensions
The goal of using hair extensions is to keep hair looking extremely natural, so it is important to select only the finest quality hair extensions available and have them applied by a professional. A hair care specialist can ensure accurate application and minimise any damage to a woman's natural hair while maximising the benefits of having great extensions.
Hair extensions are sections of 100 per cent human hair,, 100 per cent synthetic hair,, or sometimes mixtures of human, synthetic, and animal hair. Extensions can be found in short or long lengths, and in a variety of colours and textures, as well as straight or curly versions, helping any woman to create a very natural look.
2. Hair Extensions Can Be Applied in a Number of Ways
Hair extensions are applied by either permanent or temporary application of small pieces of hair extensions onto a woman's natural hair. There are nine traditional, methods of applying hair extensions.
Bonding
For temporary weaving, additional volume, and streaks, small sections of hair called tracks are glued to the roots of a woman's hair with special glue. In order to keep hair from being damaged, these tracks should only be left in the hair for a week. There are two methods of bonding: soft bond is created by a specific type of glue that dries to the consistency of malleable rubber, and hard bond, which dries like superglue. Soft bond works for most women, but sometimes this bonding method will not hold. For those women who find that soft bond will not work, the next option is hard bond.
Tracking
This method involves thin sections of hair being braided in circles on the head. 8 to 15 extensions are then sewn to these braids. The number of extensions depends on the degree of fullness a woman desires.
Fusion
With fusion, which is the most versatile and natural-looking method of applying extensions, something similar to a glue gun is used to adhere human hair extensions to a woman's natural hair, creating a very authentic look and feel. This method can be quite expensive and is a time-consuming, but a woman can can style these extensions just like her own hair.
Suspension Application
With this application method, two pieces of thread are joined to the natural hair and then the extension is sewn in with two other pieces of thread. This is what is known as trusses and bridges, or suspension application, and is the least damaging form of extension application. The effect is so natural that the hair can even be pulled up into a ponytail immediately after application.
Netting
With the application of extensions through netting, hair is braided under a fine net and the extensions are sewn onto the netting. This style of extension should last up to three months. One of the disadvantages of this attachment method is that mildew can grow under the netting if it is not dried very carefully after washing it.
Tree Braiding
Extensions are merged into natural hair with cornrows completely incorporating them into the natural hair. Extensions of 70 cm are the best length to use for this method.
Clip-In and Clip-On Hair Extensions
This method of applying extensions is only meant to be temporary but has none of the disadvantages that other methods have. With clip-ons,, small sections of hair are sewn to toupee clips on the head. The extension is then clipped on to the clips and can be worn for extended periods of time with no discomfort, and can be removed easily when the wearer wants to change her hairstyle.
Lace Application
With lace extensions, hair extensions are woven into a light and breathable cap. This method results in a natural and realistic look that can be attached to the hairline with special glue. The head is measured prior to creating this weave to ensure a proper fit.
Micro Braiding
Micro braiding is a popular method of incorporating a long extension look without actually using hair strands. This style of extensions can last for several months and takes between three to 15 hours to apply.
3. Hair Extensions Allow You to Experiment
Every woman wants to try different hairstyles, but when that involves cutting hair that has been painstakingly grown out over several months to a year, the thought of cutting her hair can make her think twice before taking that irreversible step. But what if she could try that short hairstyle without having to cut her hair? With short extensions, a woman can try short styles without the need to cut her long hair. If a woman has short hair and wants to experience the allure of long hair, she can buy extensions that can be clipped into the hair for a night out, then easily removed when she is ready to go back to her shorter style.
4. Hair Extensions Can Be Coloured and Cut Like Natural Hair
With human hair extensions, a woman can try out a new shade without resorting to using a permanent dye. She can also try various highlights with extensions. These sections of coloured hair can be used whenever she want a different look, and the highlighted extensions can be easily removed when she is done with them. Instead of colouring hair with permanent dye that will last for several weeks, she can clip in and out coloured extensions for a bold look whenever she wants to.
5. Hair Extensions Allow You to Grow Natural Hair While Enjoying Long Hair
Having long gorgeous hair does not have to take take years of dedicated growing. With hair extensions a woman can experience long beautiful hair immediately. If she has been trying to grow her hair out for a long time and is tired of waiting for her hair to grow out to a satisfying length, she can apply extensions to her hair and within minutes she will have the long hair of her dreams in a matter of minutes. She can let her natural hair grow out while enjoying the look of her new, long hair. For blondes, they should consider medium brown human hair extensions with wavy curls to feel what it is like to be a brunette for a night.
6. Hair Extensions Add Additional Volume to Thin Hair
Maybe a woman already has long hair but her natural hair is thin and straight. If she's been longing for thick, full hair with a tonne of volume, she should buy hair extensions that will plump up her hair and give her that effortlessly full head of that movie stars have.
7. Hair Extensions Help You Look Younger
As they get older, many women cut their hair for convenience sake. But the truth is that longer hair is equated with youth, and that youthful look can be achieved with hair extensions. Many older women have thin hair that is limp and unattractive. With extensions, hair will not just appear fuller, it will actually feel that way too.
8. Hair Extensions Let You Style Hair in Any Fashion You Like
Because of the high quality of some hair extensions, many types of hair extensions can now be styled like natural hair. A woman can create fashionable updos or simply enjoy the longer, wavy hair afforded by hair extensions. She can feel free to colour, style, or even cut hair extensions if she chooses, because hair extensions are versatile to wear and style, making them a welcome addition for anyone who wants to try different hairstyles without having to wait for their natural hair to grow out.
9. Permanent Hair Extensions Create a More Natural Look
Although permanent hair extensions may be more expensive than temporary hair extensions, they create a more natural look that justifies that expenditure. Permanent extensions can be glued to one's natural hair strand by strand, or can be braided into the hair in wefts, much like the process involved in weaving cloth, however with hair extensions, hair is woven into hair. With permanent hair extensions a woman can pull her hair into a ponytail or leave it down just like she would her natural hair because they not only look more natural, they wear that way too.
How to Find Hair Extensions on eBay
To start your search for the perfect hair extensions, simply enter keywords that describe what you are looking for into the search bar at the top of any page on eBay.. For instance, if you go ahead and type 'long red human hair extensions&' into the search bar and press the 'Search' button, a results page will appear with all the listings for that specific type of hair extension. The more specific your search query, the more honed the results, but if you would much rather browse the listings, simply use a more generic search phrase. You can sort the listings by type of hair extension, colour, shade, and hair type. You can also sort the listings to only show listing for hair extensions posted by top-rated sellers. These are sellers who consistently score high feedback ratings. You should make sure to read the item description very carefully. If you need more information to help you arrive at a purchasing decision, you can always contact the seller by going into the member profile and clicking on the contact link.
Conclusion
No matter what particular look you may be going for, whether it's a long curly look or a short sassy look, you can achieve these looks by buying synthetic or human hair extensions. Whether you choose to have temporary or permanent extensions, having your extensions applied by a professional for proper fit and long wear is a good idea. When you have an important meeting with a potential client and need to look your best, buy hair extensions that will create a more confident and sophisticated look. Or, if you want to look years younger in minutes, choose a long ponytail hair extension. Women can change their appearance to match their inner vision of themselves simply by having hair extensions applied to their hair. A woman needn't commit to a radical dye job or a severe haircut. With hair extensions you can try out a look for a day and if you feel it isn't quite you, in a matter of minutes you can transform back into your old self. eBay offers shoppers a world of hair extensions in every conceivable shade and texture.