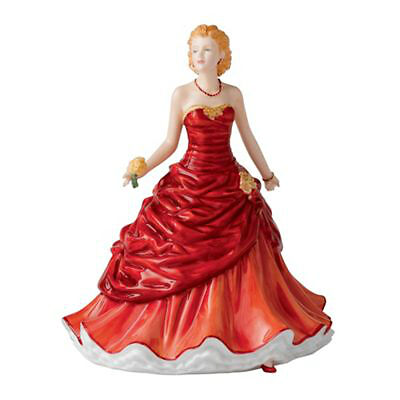 Royal Doulton is one of the respected and renowned brands in the United Kingdom. For many years, the company has designed, produced, and sold gifts, dinnerware, glasses, curtains, and other items for the home. The company had the distinction of obtaining a Royal Warrant in the early 20th century, which enhanced its success and increase the visibility of its products.
Collectors often favour Royal Doulton's line of lovely figurines . Made of porcelain or bone china, these delicate pieces showcase craftsmanship and artistry. They often celebrate elements of British history, government, or culture. If buyers are interested in expanding or starting a collection of Royal Doulton figurines, they can obtain these pieces from many online retailers, including eBay. First, however, buyers should understand eight important points about Royal Doulton figurines, including the rich history of the brand, the quality of the pieces, the required marks of authenticity, and various factors that affect their value.
1. Origin of Royal Doulton Figurines
Royal Doulton came into being in London. In the year 1815, three individuals partnered in the opening of a factory at Vauxhall Walk. The original owners, John Watts and John Doulton, began with a line of stoneware, their own brand of sewer pipes, and a few decorative items.
During the coming years, John Doulton's son and successor, Henry, started a pottery studio and hired students from the Lambeth School of Art to work for him. The type of products that the Doulton Company produced, as well as their quality, quickly improved, and the company rose to prominence. In a smart marketing move, the Doulton Company designed, created, and donated an elaborate pulpit, font, and altarpiece to the newly constructed St. Alban's Church in Copenhagen. A couple of decades later, a Royal Warrant from King Edward VII enabled the company to take the name Royal Doulton.
The company was newer than well-established brands like Royal Worcester, Wedgwood, Spode, and Royal Crown Derby. However, its wares were similarly high end. The items produced and sold by Royal Doulton included glassware, jewellery, window treatments, lighting, linens, and cookware. The company also made dinnerware and a variety of collectibles.
Following the closing of its factories and some ownership changes, Royal Doulton became insolvent. Today, the company is part of WWRD Holdings Ltd.
2. Quality and Materials of Royal Doulton Figurines
Royal Doulton used specific materials and a carefully streamlined process for the production of their pieces. The primary ingredients were calcined bone ash, Cornish stone, and china clay. These ingredients, combined with a few minor materials, rendered the pieces durable but gave them a nearly translucent beauty. The Royal Doulton figurines are painted in rich, beautiful colours and glazed for a shiny, polished look.
3. Series Placement and Importance of Royal Doulton Figurines
Some collectors purchase any Royal Doulton figurine they can find. Others prefer to collect all the pieces within a specific product line. Over the years, Royal Doulton presented many serial collections. One was designed by artist Charles Dana Gibson and was labelled the Gibson Girl series. Between 1911 and 1945, Royal Doulton paid homage to Charles Dickens with a series of figurines based on characters from Dickens' novels. Other popular serial wares, along with the year of introduction, are included in the chart below. As buyers shop, they should be aware of the series in which each figurine belongs and its importance in that series.
| | |
| --- | --- |
| Series | Date of Introduction |
| Robin Hood | 1914 |
| Shakespeare Series #1 | 1914 |
| Shakespeare Series #2 | 1906 |
| Nursery Rhymes | 1930 |
| Bunnykins | 1933 |
Individual pieces within some of these lines are very valuable, and multiple pieces or entire collections are more valuable still. Consumers who possess several valuable Royal Doulton figurines should consider insuring their collections against loss or theft.
4. Aesthetic Appeal of Royal Doulton Figurines
Royal Doulton figurines are all beautifully designed and painted. However, buyers are free to exercise personal preference in the collection of their figurines. Some collectors may prefer "The Balloon Man" over the "The Old Balloon Seller," for instance. Others may want the figurines as part of the decor of a specific room in the home. In that case, all the figurines need to fit in with the atmosphere of the room and existing colour scheme. A child's room might feature the Bunnykins series, while a teenage girl's room could include elegant figurines of women and girls such as "Peony and Violet," "Delight," "Belle of the Ball," or "Kirsty." A professor of literature might enjoy figurines from one of the Shakespearean lines or from the Dickens series.
5. Authenticity of Royal Doulton Figurines
Beginning in 1882, Royal Doulton stamped all its pieces with a special mark. Usually, this mark consisted of a crown with the words "Doulton Burslem." After 1902 and the Royal Warrant, the full mark featured a lion standing atop a crown. The crown has five points, and the lion's feet rest on the second and fourth. On pieces manufactured since 1920, the words "Made in England" appear under the crown, in a circular curve. Beneath that, on all pieces since the Royal Warrant, are the curved words "Royal Doulton, England," encircling a figure of interlocking shapes. This constitutes the authentic Royal Doulton mark. Additional words beneath the mark give more information about the product. Buyers of plates or other wares may see phrases like "English Translucent China, T.C. 1045" or "English Rose, D. 6071".
Since figurines are so small, they may not have the full Royal Doulton mark with the lion and the crown. Instead, they typically feature just the circle section with the name and the interlocking design. They may also have a small handwritten notation by the artist. From 1902-1920, the Royal Doulton figurines featured a code called the HN number. They also had the name of the figurine written on the bottom. Beginning in 1959, the words on the figurines were no longer handwritten. Instead, the figures were each stamped with the Royal Doulton logo, the name of the piece, the HN number, and the registration number.
6. Value of Royal Doulton Figurines
As with most collectibles, certain Royal Doulton figurines are more costly than others. For instance, a figurine from the Bunnykins line that was autographed by designer Barbara Vernon is very valuable. In fact, figurines signed by the Royal Doulton artist automatically have a higher value. As buyers look for figurines to add to their collection, they should watch for good deals on autographed pieces.
7. Age and Rarity of Royal Doulton Figurines
Older Royal Doulton figurines typically command fairly high prices. This is especially true if the piece is rare and difficult to find. Early Royal Doulton figurines have historical as well as aesthetic value, making them highly sought after by collectors. It is very difficult to determine the precise date of manufacture of a Royal Doulton figurine unless the artist made a handwritten note. However, a skilled appraiser should be able to tell owners the general period within which a figure was made, within a span of two or three years. One of the more valuable and rare of the Royal Doulton figurines is the very first, a figure called "Darling", modelled after Queen Mary and marked "HN1".
8. Condition of Royal Doulton Figurines
In addition to a figurine's age and series value, its condition plays a large part in determining the appropriate price. Before paying top dollar for a vintage figurine, a potential buyer should inspect the piece carefully for nicks, scratches, and dull spots. The buyer should ensure that no part of the piece is cracked or broken. The piece should stand firm and steady on a smooth surface.
Buying Royal Doulton Figurines on eBay
eBay typically has a large collection of Royal Doulton figurines available. Simply enter a search query for "Royal Doulton figurines" or specify a particular figure. Depending on your search, you may find a few dozen or a few thousand results. Narrow your search using eBay's search filters. When you select search parameters such as condition, price range, and item location, eBay automatically eliminates all results that do not match your specifications, shortening the list of products and making it more manageable.
In case you cannot find what you are looking for, eBay provides a "save a search" feature. When you select this option, eBay sends you notifications every time a product matching your search is posted on eBay. You can also check eBay Shops, another section of eBay's website, for more products.
As you shop, look for listings that include free shipping, bundles, package deals, and other incentives. Listings that bear a Top-rated seller seal are especially appealing to buyers, since the sellers have top feedback scores and are recognised as reliable and professional eBay merchants.
Conclusion
Royal Doulton products are timeless classics, whether they were made decades ago or within the last year. From the original "Darling" figurines to the modern "Pretty Ladies" and "Birthstone Petites" lines, Royal Doulton figurines continue to inspire admiration and creativity. The figurines can be displayed on shelves, in shadow boxes, or on the fireplace mantle, adding a touch of class and beauty to any room.
Collectors may choose to shop for current Royal Doulton figurines, or they can opt for vintage pieces instead. Buyers need to be vigilant to avoid fake Royal Doulton figurines or figurines that have suffered significant damage. If an online seller has not posted many photos of the piece, one should feel free to ask for additional images to confirm the item's condition, authenticity, and quality. With a little research and careful shopping on eBay, buyers should be able to secure a collection of Royal Doulton figurines that can be passed down to children and grandchildren.