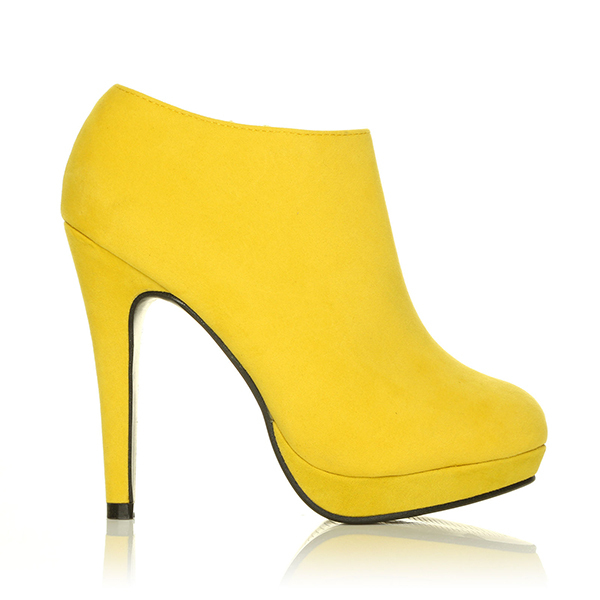 Footwear is the finishing product of an outfit. It has the power to transform a dull look into a fabulous one. When it comes to style, there are no lack of options because of the many varieties of shoes. However, few shoes have the ability to be highly fashionable, comfortable, and as exotic as ankle boots.. They are truly everything in one. Ankle boots can be worn with both dressy and casual attire, yet they are warmer and more comfortable than the majority of classy shoes. Women love them because the shoes are so versatile that they can go from wearing them with jeans one day, to sporting them with a cute cocktail dress the next.
Ankle boots generally encase the entire foot and reach just above the ankle bone. They come in flat styles as well as high heel styles and provide more support than the traditional high heel shoes. Ankle boots can be found in a wide range of colours, materials, and with many embellishments. Their cost ranges from affordable to exorbitantly expensive for the designer brands. Regardless of tastes and price ranges, though, ankle boots are fun to shop for because they add a unique finish to apparel that no other shoes can. The following are 9 do's and don'ts tips that women can keep in mind while shopping.
1. Do Find the Right Size and Fit
To find shoes that fit attractively, follow these two steps. First, ankle boots come in many styles and one of the biggest differences is how tight they are around the ankle. It has recently become very stylish to wear boots that have a wide ankle. In order to figure out which ones will look best, women need to decide what they will wear the shoes with. For example, boots with a tight ankle have to be worn underneath trousers, while trousers can be tucked into the shoes with wide ankles. Next, find the right size. This is especially important when wearing high heels because if the shoes are too big or small, they can cause serious injury. To find a shoe size, look at an old pair of shoes that still fits, or measure the bottom of the feet from the back of the heel to the furthest toe out.
| | | |
| --- | --- | --- |
| UK Sizes | Centimetres | Inches |
| 2 | 20.8 | 8.1875 |
| 2.5 | 21.3 | 8.375 |
| 3 | 21.6 | 8.5 |
| 3.5 | 22.2 | 8.75 |
| 4 | 22.5 | 8.875 |
| 4.5 | 23 | 9.0625 |
| 5 | 23.5 | 9.25 |
| 5.5 | 23.8 | 9.375 |
| 6 | 24.1 | 9.5 |
| 6.5 | 24.6 | 9.6875 |
| 7 | 25.1 | 9.875 |
| 7.5 | 25.4 | 10 |
| 8 | 25.9 | 10.1875 |
| 8.5 | 26.2 | 10.3125 |
| 9 | 26.7 | 10.5 |
| 9.5 | 27.1 | 10.6875 |
| 10 | 27.6 | 10.875 |
Keep in mind when measuring that socks should be removed even if they will be worn with the shoes.
2. Do Purchase Leggings with a Dress
The great thing about ankle boots is that they can be mixed with more creative outfits. Wear them with leggings and a dress for an extra edgy look.
Jumper Dress
For casual occasions, make an outfit out of ankle boots, leggings, and a jumper dress. Ideally flattering ankle boots look best with this combination.
Baby Doll Dress
Create a cute look by purchasing a baby doll dress with matching leggings and high heel ankle boots. Also try brighter colours for a younger, party look with a hint of 80s retro.
Mini Dress
Mini dresses with a tight pair of leggings and high heel ankle boots make the legs look long and the body slender. The more form fitting dress will draw attention to height and make the slightly bulky ankle boots stand out more.
3. Do Consider Skinny Jeans
Ankle boots can be paired with skinny jeans any day of the week. Most fashion experts prefer that the jeans be tucked into the boots or that they stop just short of the top of the boots. Skinny capri jeans can also be perfect for a sophisticated casual look.
4. Do Pair Them with Skirts
Skirts and ankle boots compliment each other nicely. Knee-high and mini skirts particularly go well with the boots. Shop for either solid colour skirts and embellished shoes, or simple boots with patterned skirts.
5. Do Colour Coordinate
Ankle boots come in just about any colour. This means that ladies need to look for colours that they can easily match with their trousers and tops. Browns, blacks, and greys go with the most outfits. Just remember not to put brown and black together or grey and brown together.
6. Do Try Different Styles
Like other footwear, ankle boots can be found in numerous shapes. The following chart lists the most common styles of ankle boots to select from.
| | |
| --- | --- |
| Style of Ankle Boot | Description |
| | Combat ankle boots have a flat sole, a lot of tread, and a bulky design. They are made to look like they are ready to withstand rough terrain, though most of them are just for show. They can only be worn casually with trousers |
| | Many ankle boots have a flat sole and they range from casual to dressy. Naturally, these are the most comfortable but are also harder to dress up. If worn with a skirt or dress, the flat boots tend to make the legs look stumpy |
| | Peep toe boots have the very tip of the toe cut out of the shoes. These are generally dressy but they can still be worn with jeans |
| | Platform ankle boots have heels as well as a thick sole on the toes to add even more height. While these can be worn with jeans, they are mostly dressy |
| | Pointy toed boots come to a point at the front of the shoe. These are considered to be more classy and traditional |
| | Stiletto ankle boots have a long, thin heel. They are dressy and can be very flattering on women who want their legs to appear longer |
Keep in mind that no one is limited to just one pair of ankle boots. Create a diverse wardrobe by getting several different styles.
7. Don't Clash Materials
It is a common mistake to purchase shoes that end up clashing with the outfits they are worn with. Matching shoes is not just limited to colours. The materials must also go with the materials of the trousers, skirts, or shorts. Jeans can be worn with any material but avoid pairing fuzzy or textured shoes with textured bottoms. For example, do not wear suede boots with corduroy bottoms.
8. Don't Get Ankle Boots with a Wide Opening
Although ankle boots with wide openings are highly fashionable, they have a tendency to only flatter bare legs that are tall and athletic. The wide opening makes large calves look wider and slender calves look more skinny. If getting a pair of wide boots, wear them with trousers to be safe.
9. Don't Go Outside Your Budget
Women often have trouble staying within their budget when shoe shopping. The reason for this is that they often times end up seeing the perfect pair of shoes that just happen to be outside their budget. Fortunately, there is a way to avoid this if shopping on eBay.
How to Purchase Women's Ankle Boots on eBay
By shopping on eBay, women have access to thousands of shoes and other apparel items. The biggest bonus, though, is that eBay makes it possible for them to stay within their price range as well as shop for the best deals. Shopping online saves ladies the hassle of having to go all around town looking for shoes and that extra time saved can be spend comparing prices and styles online.
To get started, all you have to do is go to the eBay website and type what you are looking for into the search bar. For example, enter something like "Ankle Boots&", "Leather Ankle Boots&", or " Suede Ankle Boots&".
Now select your shoe size, the particular style that you are looking for, whether you want used or new shoes, and enter your price range. This will narrow down the listings to a more manageable number because only the shoes within your criteria will be shown. If you like, you can save the products shown into your My eBay page. This will allow you to access these shoes at another time without reentering all your information.
As you compare the boots you like, keep in mind that any shipping costs will add to the overall price of the shoes. However, you can save money by ordering multiple products from one seller. They often charge less shipping since they can send the shoes together in one box. This works well if you find a style of boots that you want in multiple different colours.
Conclusion
Ankle boots are an easy way to add style and variety to a wardrobe. They do not require a lot of planning because they can be worn with nearly any clothing. In addition to this, these are appropriate in the summer as well as the winter because they remain warm but are not too hot to wear in the warmer months. The only prior preparation needed before putting them on is making sure that the colour and material of the boots don't clash with the outfit. By following the simple tips provided above, women can select shoes within their budget, find several attractive styles, get the right size, and shop at a place that saves them the time, money, and hassle of having to travel around town.