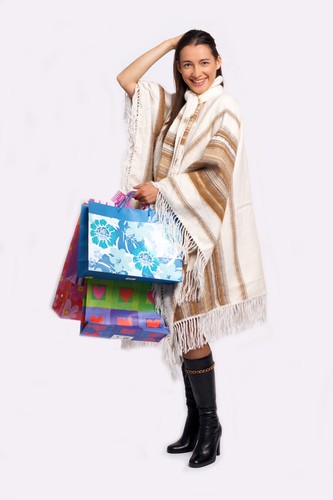 The poncho as a garment dates back to ancient cultures of Central and South America. This rectangular- or square-shaped piece of woven cloth was worn by men and women, and often with designs indicative of wealth, status, and familial associations. Ponchos were later incorporated into many military uniforms, often in rainproof cloth that served both as an outer garment and as a sheet on which to sleep. In the late eighteenth and early nineteenth century, capes and cloaks became popular fashion. The poncho-clad heroes of spaghetti westerns in the 1960s and 1970s, along with a bohemian fascination with ethnic styles, contributed to the poncho's popularity during those decades. The early 2000s saw a reemergence of the poncho on fashion runways, which testifies to the enduring popularity of this comfortable, practical garment.
How one wears a poncho depends on many factors. Women who love head-to-toe retro fashion may have a different styling ethos than those with a more contemporary sensibility. So, while not all of the do's and don'ts apply to everyone, there are some general guidelines that stylists recommend when shopping for and wearing a poncho.
Tip 1: Do Explore Different Poncho Styles
Shoppers may be surprised how many different styles of ponchos there are. Some are tailored for a simple, elegant line, perfect for formal occasions, professional attire, or those with a chic personal style. An added bonus is that these ponchos work with nearly everything in one's wardrobe. On the other hand, many ponchos are more boho, coming in chunky knits, colourful patterns, and sometimes featuring fringe. With their carefree retro style, these ponchos can be a vibrant, cosy alternative to fall coats. Still others are heavily inspired by their heritage, coming in thick wool with beautiful Aztec prints. For a sportier alternative, shoppers can search for down-filled puffy ponchos.
Tip 2: Do Find a Flattering Neckline
Ponchos come in many different necklines, the choice of which should be informed partly by how much coverage is desired, and partly by which neckline flatters the individual's shape. Necklines create focus by framing the face and upper body. Common poncho necklines include turtleneck, cowl-neck, V-neck, boat-neck, crew-neck, and scoop-neck. Cowl necks, scoop necks, and V-necks are virtually universally flattering, except for longer necks. V-necks are especially good for women with broad shoulders or a large bust, as they have a slimming effect.
Boat necks and crew necks tend to make the chest and shoulders look wider, making them more suited to women who are narrower through the bust and shoulders. Turtlenecks provide more warmth but can have a shortening effect through the neck and face; unless this is desirable, mock turtlenecks or cowls are a better choice for those wanting more coverage.
Tip 3: Do Choose a Poncho to Fit Your Frame
Ponchos attract the eye as a wardrobe centrepiece, and, as large garment, a poncho should flatter a woman's individual figure. Fortunately, ponchos come in a range of styles, including those that work for petite and plus sizes. Petite women should beware of long ponchos; they can be quite dramatic, and are a good choice for tall women, but they overwhelm petite frames. Women who want an elongating line should opt for ponchos that fall no lower than two centimeters above the knee. Plus sizes are best suited by ponchos with straight tailoring in neutral colours.
Tip 4: Don't Rule Out Various Closure Types
While many ponchos pull on over the head, there is still a range of other closure types available. Cardigan ponchos with zips, buckles, buttons, or toggles are all fashionable variations. Asymmetrical closures or double-breasting add a contemporary or classic touch, respectively. Alternatively, some ponchos have an open front, and sometimes sides.
Tip 5: Do Consider Buying a Poncho with a Hood
For autumn and winter wear, a hooded poncho gives women the option of extra warmth and protection from the elements. When selecting a hooded poncho, pay attention to the shape and size of the hood. It should be large enough to fit comfortably over the head and nicely frame the face. When worn back, it should fall in a smooth line.
Tip 6: Do Be Selective About Prints
Ponchos look their best when uncluttered. Women who want a poncho in a print should keep that guideline in mind. Plaids, Aztec designs, and subtle patterns all work well, provided the colouring is subtle and the print is not too large. Shoppers should try to avoid patterns that are too large, cutesy, or garishly coloured.
Tip 7: Do Match a Poncho with the Outfit
A poncho can be a beautiful, eye-catching addition to many outfits, and even create the illusion of being more dressed up than one really is. That said, it is important to do a little work ahead of time to make sure the whole ensemble works together. Slim-fitting trousers, skinny jeans, or leggings look sharp under a poncho, and balance its volume. Likewise, pencil skirts and slim-fitting mini skirts can be worn underneath. Knee-high boots, ankle boots, and high heels are good footwear matches, as they elongate the leg line.
Many stylists recommend dressing the poncho monochromatically, particularly all in black. Ponchos in neutral tones like camel, beige, grey, olive green, or burgundy are likely to match nearly everything in one's wardrobe, whether or not they are the same colour. If wearing a patterned poncho, keep the rest of the style simple, in solid, neutral colours.
Tip 8: Don't Go Completely Retro
The poncho itself is reminiscent of retro styles, and a nod to past eras is a stylish fashion choice. However, some of the more retro styles, or indeed genuine vintage pieces, may be too much for contemporary tastes. For those who love vintage wear, they should balance them with neutral, contemporary garments.
Tip 9: Don't Overload on Accessories
Because the poncho calls a lot of attention to itself, it needs to be balanced by a careful selection of accessories. The overall look should be clutter-free. If chunky jewelry is a preference, it should be limited to rings or bracelets. Delicate knit hats or berets may work in colder weather, but brimmed hats tend to look over-the-top with a poncho. As for handbags, shoulder bags and crossbody styles can be awkward or impossible to manage with a poncho, and interrupt the garment's drape. Therefore, satchels or clutch purses are a better option to carry with a poncho.
Guide to Poncho Sizes
Ponchos come in a range of sizes, from petite to plus. Because they are designed to be roomy, they usually come in general sizes: XS, S, M, L, XL. The following chart is a general guide for finding a poncho size according to bust and hip measurements.
| Size | UK Size | Bust (cm) | Hip (cm) |
| --- | --- | --- | --- |
| XS | 6 | 79-81 | 81-84 |
| S | 8/10 | 81-86.5 | 84-91.5 |
| M | 12/14 | 86.5-94 | 91.5-100.5 |
| L | 16/18 | 94-101.5 | 100.5-107 |
| XL | 20/22 | 101.5-109 | 107-117 |
Shoppers should keep in mind that sizes can vary according to the manufacturer. The best way to make sure the poncho fits is to try it on. If buying online, consult the brand or retailer sizing information prior to purchasing.
How to Buy a Poncho on eBay
If you are looking for a stylish poncho at an affordable price, eBay has a wide selection of new and used items from which to choose. To browse the ponchos on eBay's auction website, begin by typing keywords into the search bar on eBay's home page. Your keywords can be general, like "poncho", or specific, such as "red wool poncho". Either way, eBay lets you refine your original search results by selecting size, colour, brand, seller location, and other limiting factors.
Steps Before Bidding
Once you have found a poncho you are interested in, read the product description carefully: it should contain information on material, item condition, size (UK or otherwise), and the seller's return policy. Check the shipping fees, too, and remember you will pay those in addition to what you bid. If you have any questions, you can contact the seller through eBay.
Finally, get a better sense of the seller's experience and reliability by checking their feedback rating and reading comments left by previous customers. Top-rated sellers have a long track record of completing transactions with a high level of customer satisfaction.
Conclusion
Ponchos are a stylish, comfortable, and practical fashion accessory that can add elegance even to casual outfits. Inspired by the traditional garments worn by indigenous peoples of the Americas, the fashion poncho today comes in a variety of styles and fabrics to keep warm in cool weather. With their full cut and long lines, ponchos draw a lot of attention. For that reason, shoppers should keep several guidelines in mind when setting off in search of a poncho.
First, women should find a poncho that looks right on their figure. This includes a flattering neckline and cut, as well as the right size and length. Many different closure styles are available, and selecting one is a matter of personal preference. Next, shoppers should be careful in selecting a colour or print. Neutral colours are more versatile; prints and patterns can be an beautiful accent but should be balanced by a toned-down outfit. Finally, accessories should be discreetly paired to the poncho so as to avoid cluttering the overall look.
Following these basic do's and don'ts should help women find a poncho to match their style, and wear it effortlessly.