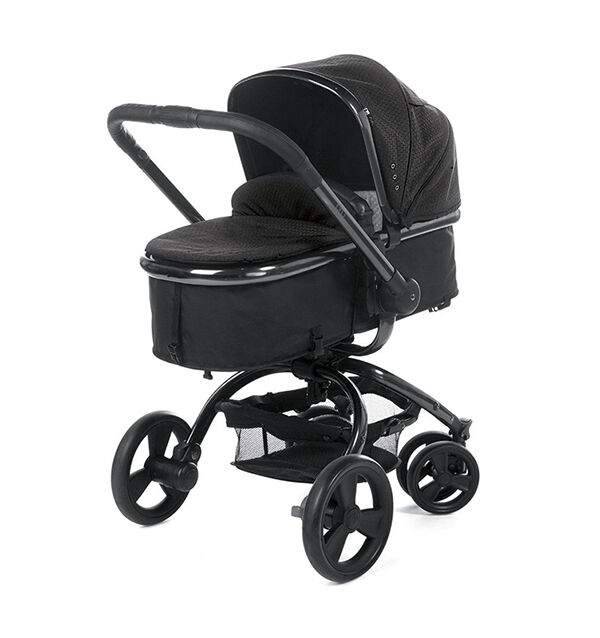 New parents, and even those who have already had a child, have many concerns. It is always a challenge to fit a newborn baby into any lifestyle. Common occurrences that were once very simple become much more treacherous and stressful with a baby in the picture. One of these scenarios, of course, is any type of travel. Even a short trip to the market can become a headache without the proper baby transportation.
Whether it is for short walks, comfort at home, or another purpose, a pram can be a very good choice for a newborn. Prams, which normally have the baby able to lie down comfortably and facing the parent, are widely available from baby item retailers and online on eBay.. While the same baby transportation solutions are not right for every parent and child, knowing the general rules of how to choose the best pram for any scenario helps to make the buying process simpler and more efficient.
1. Do Know the Origin of Prams
A traditional pram, also known as a coach-style pram, is essentially a rolling cot intended for newborns and young infants. The construction of these types of prams includes a large, sturdy frame, and tall wheels. In many of these traditional-style prams, the basket where the baby lies is detachable and can be carried separately. In that case, that piece of the pram is known as a carrycot. While some terminology today maybe find many types of baby transportation being referred to as a "pram", it is this traditional style that is most accurately described with the word.
2. Don't Confuse Pram with Pushchair
When shopping for a pram, it is important not to confuse the terminology, which only makes the search that much more difficult. A pushchair or stroller is made for infants and toddlers who can sit up on their own. Therefore, these types of transportation are only appropriate for older infants, usually after the age of six months. Prams, on the other hand, are designed for babies to lie down in, which means they are appropriate for an infant of any age, including newborns. Some parents even let prams double as a portable crib, allowing their child to nap or sleep in a pram.
3. Do Consider Portability
There are a number of things to consider when shopping for a pram, not least of which is the lifestyle of the parent and his or her child. This includes considerations about local geography, transportation, and habits. Traditional prams can be quite large, heavy, and bulky. Because of this, a traditional design is most likely not an appropriate choice for those parents who need a great deal of portability. For example, a large pram would be difficult if not impossible to take on public transportation and may be difficult to load into the boot of a car.
Collapsible Prams
While pushchairs and baby carriers are an option for portability, there are also some prams that are designed with travel and storage in mind. These collapsible prams, which may fold up into more easily transported shapes, can be a good choice for parents who travel frequently and want to take their pram along.
4. Don't Buy More Pieces Than Necessary
It is natural to want to have every accessory and item necessary in order to protect a new baby. However, in some instances, less is more, and this can hold true for prams and other baby transportation. It is possible, for instance, to purchase a separate pram, pushchair, baby carrier, and car seat. However, there are also many prams that convert to meet the needs of all these individual pieces.
Baby Travel Systems
Baby travel systems are, just as the name suggests, a complete system designed for travelling with a baby. While these do not always include a pram configuration, they often do. These systems can be converted from a rear-facing pram to a front-facing pushchair and have a removable basket that can be used both as a baby carrier and snapped in a car as a car seat. They can be an all-in-one solution for any baby travel needs and are usually quite durable as they are designed to grow with the baby. A travel system can be more costly than any one piece on its own, but overall may be a cost saving measure.
5. Do Choose a Direction
Another consideration when purchasing a pram is which direction the baby faces when in the pram. In some cases, prams are convertible and can be configured so that the baby faces backwards, towards the parent, or forwards, away from the parent. While the classic configuration has the baby facing the parent, this may not always be desired. This decision is a matter of personal preference on the part of both the parent and this child and should be decided before a pram is purchased.
6. Don't Necessarily Buy New
Every parent wants his or her child to have the very best in life. However, it is always important to keep in mind that the best things are not always the most expensive. Childhood is transient in nature and therefore so is the usefulness of a pram. This means that there are many prams available for sale that have been used for only a number of months. In the case of traditional prams, they were designed and constructed to last through generations. While they may not have the most modern style or accessories, purchasing a used pram can be a great way to give a baby the best possible pram at a much lower cost, and it is worth considering.
7. Do Think About Exercise
While not all new parents are eager to get back into an exercise routine, some look forward to getting back into shape. For those parents who want to make their newborn a part of their walking or running routing, a specially-designed pushchair is probably the best choice. These types of pushchairs provide the necessary security for the child's bumpy ride. But because most jogging pushchairs do not recline, they are not appropriate for newborns under six months of age. These younger babies are, instead, better off in a pram.
8. Don't Forget About the Weather
Not all prams go outdoors on a regular basis as they may be merely indoor decorations or napping cots, but most do go outside at least on occasion. Indeed, this was the original intent of the pram. But even more than when the pram was first introduced, we now know the importance of protecting babies from the elements. This means any pram that is taken outdoors should have appropriate shading from both the sun and any precipitation. For wet conditions, a pram should have a plastic rain cover that fits over the open areas of the pram to protect the baby from moisture and keeps him or her warm while still allowing oxygen to circulate. A pram's sun canopy should allow the baby to lay in the pram without being exposed to any directly sunlight.
9. Do Consider Accessories
A classic pram consisted of little more than a carrycot and wheels. Today, most parents expect a bit more out of their baby accessories, including prams. Be sure that any pram has the accessories that make the parents' lives easier. This may include a shopping basket under the cot for carrying a diaper bag, a drink holder, or even a bumper or handle to which baby toys can be attached.
How to Buy a Pram on eBay
Once you have chosen the features that are most important to you when it comes to a pram, you should be able to easily find a pram that meets your needs on eBay. If you have a specific style or brand of pram that you know you want, use those search terms to sort through eBay's results. For example, enter "2-in-1 pram" or "Graco pram".
However, for more general results you can simply search for a "pram&", then use the eBay filters to narrow down results by brand, colour, price, and other options. When buying a pram on eBay, you should also ensure you are aware of any shipping charges you may incur, since prams can be quite heavy. While this should be indicated clearly in any listing, you can send a message directly to the seller, using the eBay interface, if there is any question remaining about shipping costs.
Conclusion
Using this list of do's and don'ts is a great start to shopping for the perfect pram for any lifestyle. It can be difficult, particularly with a first child, to know exactly what types of transportation accessories are going to fit into a family's everyday life. While it may seem, at first, that it would be ideal to carry the baby everywhere in a sling, some parents may find this is simply too stressful on the back, knees, or other body parts.
For very young children, under six months of age, this can mean a pram is the best choice for transportation. Of course, that is hardly the end of the discussion since there are so many types of prams available for purchase. Prams can be a wonderful tool for taking babies for leisurely strolls or for allowing them to nap in different areas. Just be sure that the baby is always supervised. No matter what type of pram is ultimately bought, the comfort of any baby depends on the parents paying attention to his or needs and rising to meet them.