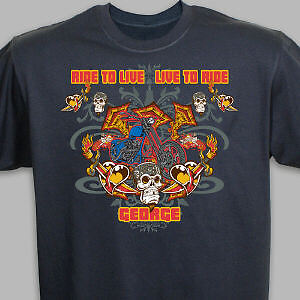 Wearing a graphic T-shirt can be a creative and fun way for a woman to introduce a bit of colour, dynamic form, and style into her personality. Ranging from the slogan tee to the art T-shirt, graphic T-shirts are wide-ranging items of clothing that present myriad opportunities for women to explore and define new looks and ensembles. Of course, getting a graphic T-shirt look to work calls for using certain details to get it right. Women should keep in mind some key do's and don'ts when it comes to wearing a graphic T-shirt. Details such as pairing graphic tees with other articles of clothing, choosing the right shirt for each individual, and accessorising these colourful and bold items are just some of the factors to consider. Several purchasing options are available to women when it comes to graphic T-shirts, and they include online retailers. The auction website and fashion aggregator, eBay, is a great resource and offers extensive choices for a woman who is looking for a graphic T-shirt.
The Do's and Don'ts of Wearing Graphic T-Shirts
The following tips can help any woman put together an ideal graphic T-shirt ensemble. The do's and don'ts guide women through the process of choosing and accessorising graphic T-shirts and creating looks that are unique, fashionable, and true to their own sense of style.
1. Do Go for Tasteful Graphics
Many graphic tees can involve imagery or slogans that may be off-colour or inappropriate. To create a chic look, women should eschew graphics that are in bad taste or slightly aggressive. Of course, if a woman is attempting to create an edgy look, she can test the boundaries, but in general, these types of graphic T-shirts should be left on the wayside. Graphic T-shirts with crass sayings or artwork are particularly inappropriate for work and school settings.
2. Do Wear Graphic T-Shirts with Jeans
Nothing complements a graphic T-shirt like denim. Whether in a pair of jeans or in a mini skirt, denim is the perfect neutral accent and style choice to match up with a graphic T-shirt. Larger T-shirts can be belted over a pair of jeans with a thick, oversized belt to create an extra-funky look. Another great option is to pair a longer graphic T-shirt with a pair of leggings. Women should make sure to select solid-coloured leggings, as a patterned legging can create too much visual interference with the busy graphics of these tees.
3. Don't Wear Graphic T-Shirts with Cut-Off Shorts
The so-called "Daisy Duke" short, the micro-mini of denim shorts, is often paired with graphic tees by adolescent girls. However, this look does not really work well on women over the age of 21. Besides not leaving much to the imagination, this style can also look slouchy, messy, and overly casual. A woman can create a much more polished and stylish look with a pair of jeans that is just as sassy without being childish. Skinny jeans are a good, edgy option that ramp up the sex appeal without showing too much skin.
4. Do Consider Place and Context When Wearing a Graphic T-Shirt
If a woman works at an advertising company, she may well be able to get away with wearing a graphic tee with a nice pair of jeans or a cute skirt. If she works at a financial firm, she might not. When building an outfit around a graphic T-shirt, women should take the time to consider how appropriate a particular T-shirt is for an event or location. While the graphic T-shirt has become ubiquitous in the world of fashion, one must still consider the times and places where these dynamic items of clothing can be worn.
5. Don't Forget to Be Age-Appropriate with Graphic T-Shirts
Older women should look for graphic T-shirts that levy a bit of refinement and do not exude too young an ethos. Slogans, artwork, or logos that are more appropriate for a 20-year-old can make a more mature woman look out of place or silly. There are plenty of graphic options for women who are not straight out of adolescence. Many vintage graphic T-shirts with logos or styles from a woman's own adolescence can be a fun way to reference youth and look stylish without diverging on too childish a path.
6. Don't Over-Accessorise a Graphic T-Shirt
A graphic T-shirt is the statement piece in an outfit. It does not need to compete for attention and should not be paired with large or busy earrings, printed pants or skirts, or any other item that creates another point of focus. The only area that can work with a bit of dynamism is at the wrist. A set of chunky bracelets worn on one arm can set off a graphic tee nicely and add just a bit more colour and excitement to an overall look.
7. Do Wear Art Shirts
Branding elements, slogans, and logos do not need to rule the day when it comes to graphic T-shirts. Art shirts can provide a stylish and chic way for women to indulge in the graphic tee trend. Art shirts can feature art and designs from artists of almost any era, including current street artists or classic painters of the past. These options are fun and creative choices for a woman to make which add a level of culture to an ensemble and depth to a woman's style.
8. Do Explore Other Silhouettes
A graphic T-shirt does not have to adhere to just the classic short-sleeved, crewneck tee. Many graphic T-shirts can be found in other silhouettes, including tank tops, off-the-shoulder tees, and dolman-sleeved cotton tops. Different silhouettes can add another level of experimentation to a graphic tee look and can also offer women dressier and more polished options than the classic tee.
9. Don't Forget to Improvise
Wearing a graphic T-shirt introduces a wide array of creative options. Women looking to wear these engaging tees should use their creativity to explore new ideas when wearing these bright items of clothing. Graphics do not always have to stand on their own, for example; they can go great under a blazer or even with a suit. Women dressing up for an event might pair a graphic T-shirt with a bold, tulle skirt, mixing aesthetics and creating a unique way to address a formal ensemble. Whatever her approach, women can access a real range of artistic fashion options with graphic tees. In all of her endeavors, a woman should always work to create a look that is true to her own innate sense of style; in this way, she can create an ensemble that is compelling and rings true.
Shopping for a Graphic T-Shirt
Women who decide to begin a shopping search for a graphic T-shirt can consider looking through local retail shops. Local clothing stores and vintage shops can have a small range of selections that can at least serve as an introduction to the graphic T-shirt. However, the availability and range of these options can, of course, change from season to season or even from month to month. For women who are looking for a wide-ranging catalogue of graphic T-shirts, online auction sites such as eBay are a far more multifaceted and reliable option.
Buying a Graphic T-Shirt on eBay
When beginning a search for a graphic tee on eBay, you can begin by running a search for the term "graphic womens T-shirt." This gives you a good overall idea of the diverse range of options that are available on the website. When you run a search using the search bar at the top of any page on the site, eBay makes related search suggestions that can help further refine a search. If you have a particular type of graphic T-shirt in mind, you can use a more specific search term too, such as "women's grey graphic T-shirt."
Getting to Know the Sellers on eBay
When shopping for any item on eBay, it is important to take the time to familiarise yourself with the sellers you are interested in purchasing from. You can access the seller's page by clicking on the name on the auction listing page for an item. There, you can review the seller's past auctions and the feedback they have received from other customers. In this way, you can ensure that you are working with sellers who hold good track records and be confident when you make your purchase decision.
Conclusion
Women who are on the lookout for the perfect graphic T-shirts to incorporate into their wardrobes have a wealth of options before them. The marketplace is filled with a wide range of graphic tee options, including vintage T-shirts, logo shirts, and art shirts. Any one of these choices can add just the touch of fun and style a woman is looking for when choosing a graphic T-shirt. When putting together a graphic T-shirt ensemble, there are several factors a woman should take into consideration, including her own age and what the T-shirt should be paired with. When shopping for a graphic T-shirt, women may find that their local retailers offer limited selections. For a larger catalogue of options, women can leverage no more dynamic resource than eBay. At this online auction site, a woman may peruse thousands of listings and find the perfect new or vintage graphic T-shirt to introduce to her closet.