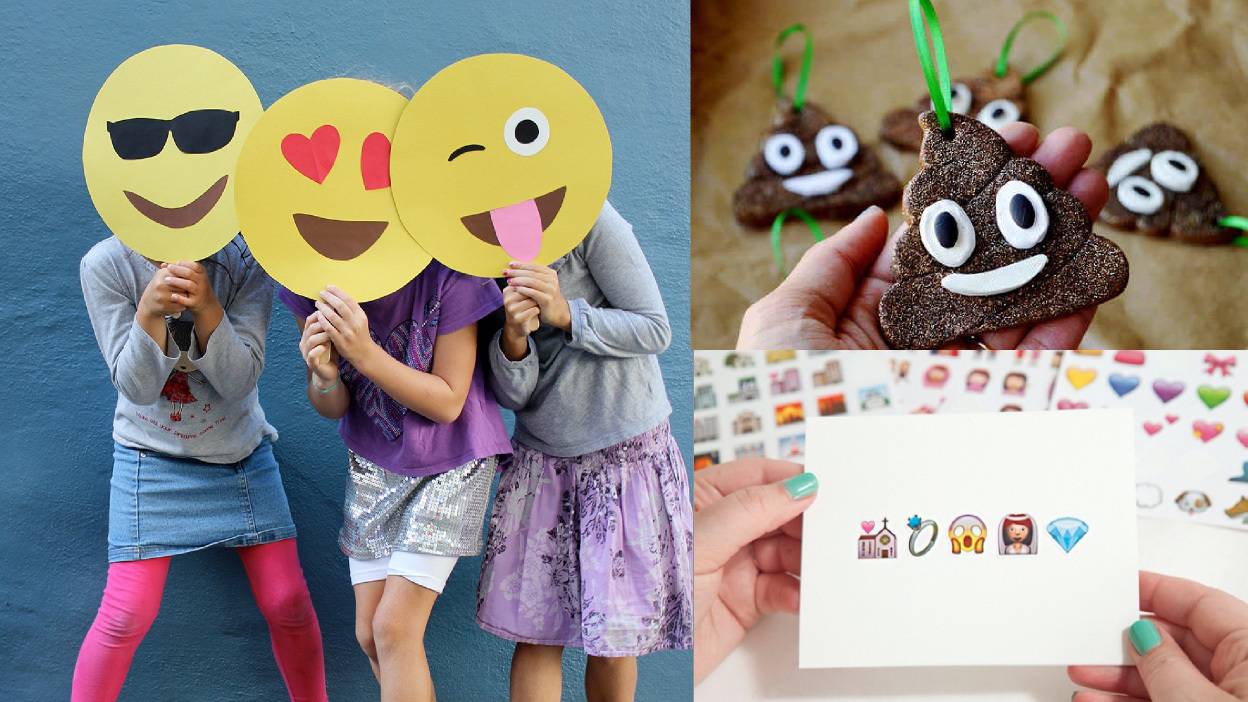 Love 'em or hate 'em, emojis have become an essential part of everyday communication. They say a picture speaks a thousand words, so whether your emoji of choice is the smiling poopy face, the cheeky monkeys or an aubergine, we have rounded up 9 of the best crafty projects to put a (winky) smile on your face!
Emoji Masks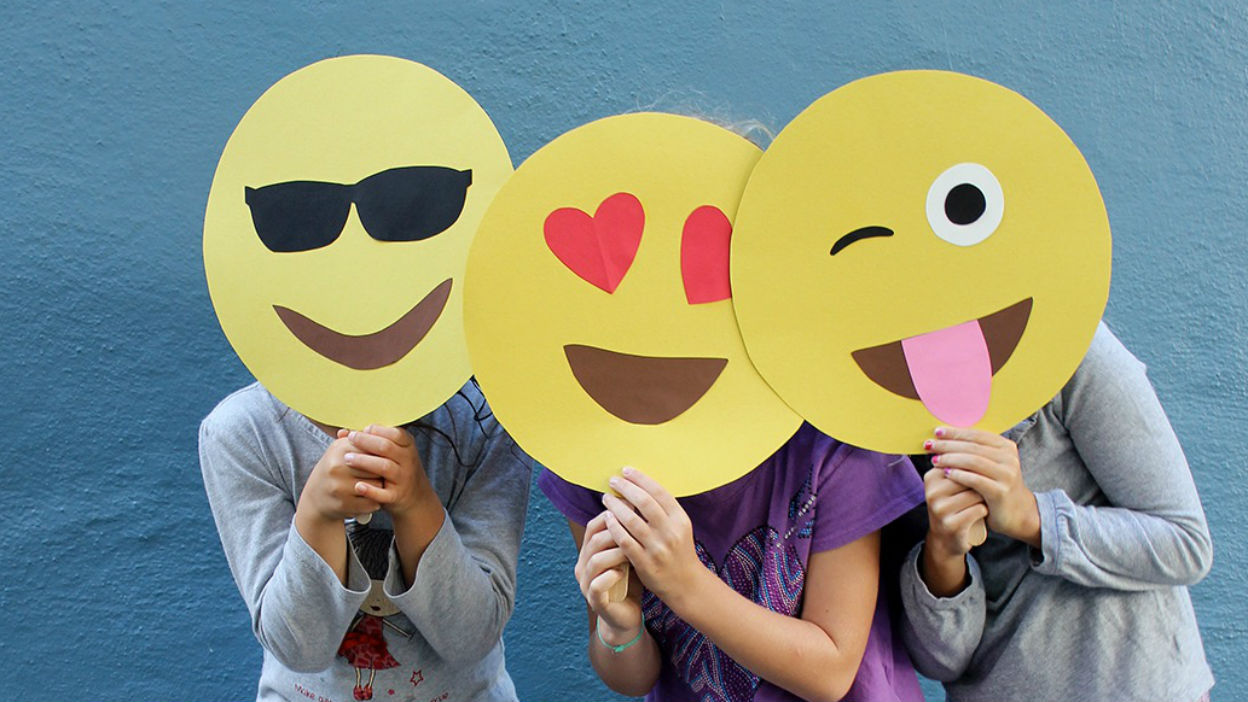 Image by Pinterest/Alice & Lois
These life-size emoji masks are really great fun! They are so simple to make and a great project to do with the kids.
Draw round a dinner plate on the back of a piece of yellow card and cut out. Choose your favourite emoji face to recreate, then draw the features on to coloured card and cut out. Arrange the mouth and eyes on the face and stick in place.
Attach a straw or pencil to the base of the mask at the back with tape, then use it to hold your emoji mask up. Now it's time to jump around and act all silly!
Emoji Pots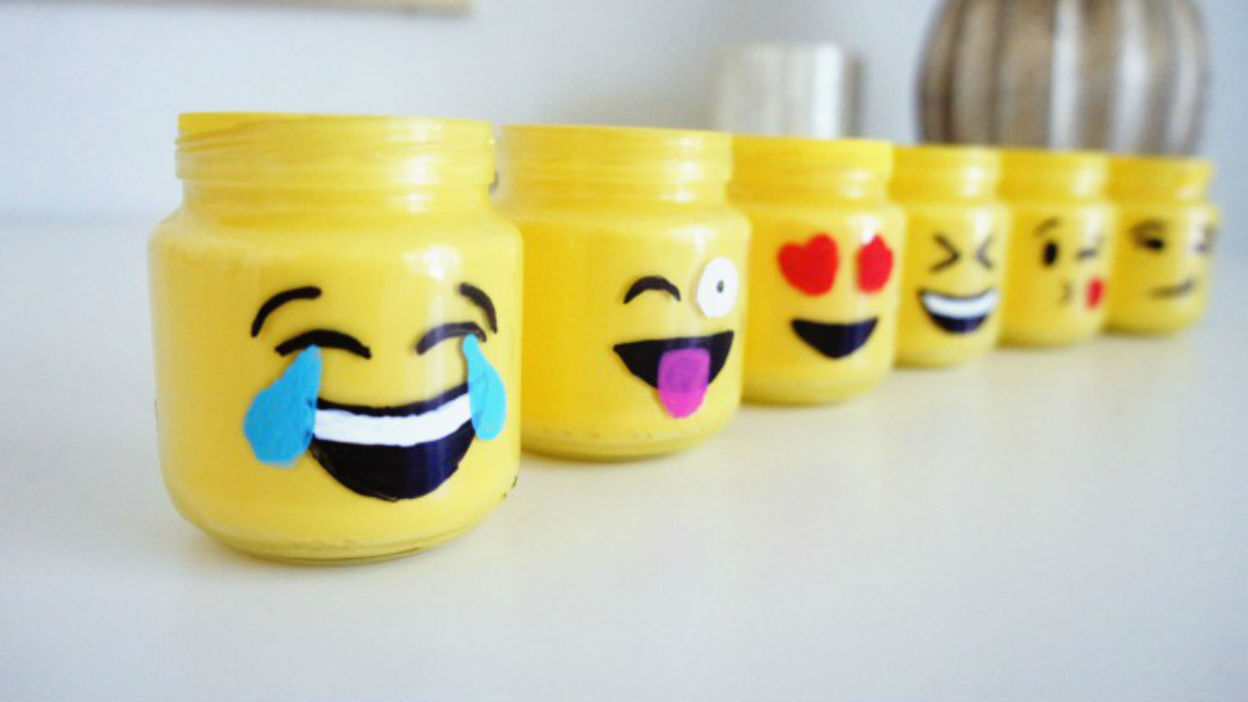 Image by Kristyn Cole
Create these funky little emoji pots by upcycling old jam jars with paint. Line them up on a shelf and use them as storage jars, or pop in a tealight for a warming glow.
Give your jam jars a good clean with soapy water and dry thoroughly, inside and out before you get started. Pour in a little yellow paint, then tilt the jar so the paint covers the inside. Replace the lid and turn the jar upside down to coat the inside of the rim too. Draw the emoji faces onto the outside of the jars with either glass paint, porcelain pen or stick on pieces of coloured card or paper. Wait until the paint inside is completely dry before filling them with goodies.
Emoji Shoes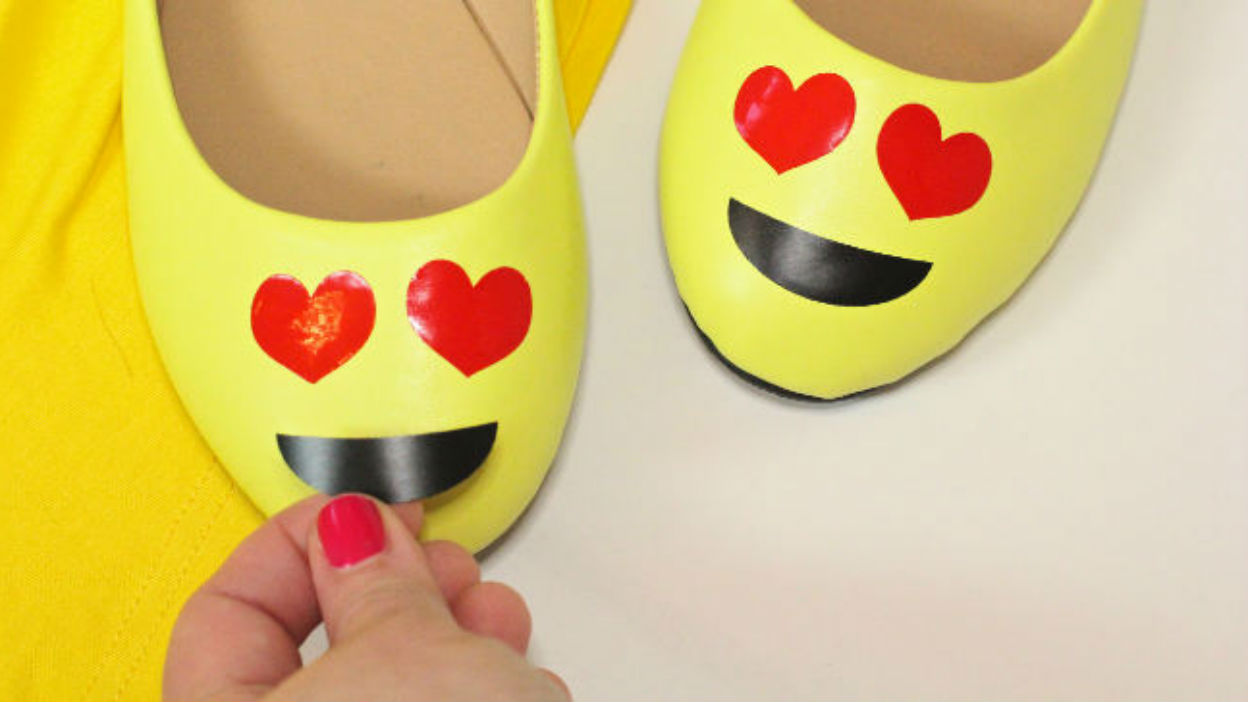 Image by Brite & Bubbly
Check out these happy feet! And it takes no time at all to re-create these fun and funky shoes.
On the back of a piece of either red sticky-back plastic or adhesive vinyl, draw four hearts of equal size - you might want to create a template to draw round so that they are all the same size - and carefully cut out.
Cut out two smiley mouths from black plastic or vinyl. Peel off the back of the vinyl and position the pieces onto an (ideally yellow!) pair of ballet pumps, and voila, shoes to fall in love with.
Smiley Poop Decorations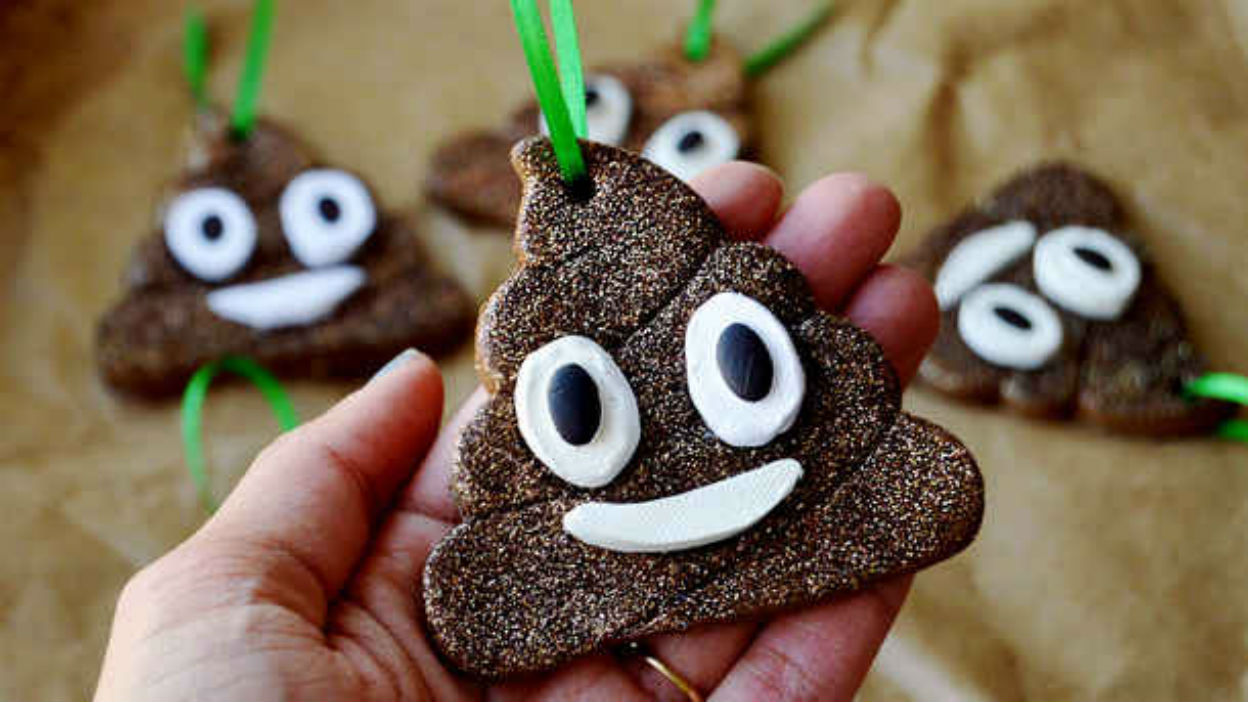 Image by Rachel W. Miller
Guaranteed to raise a smile or two, these poop emoji decorations can be attached to presents as a fun greeting tag, hung from a hook or door handle, or used as a decoration to adorn your tree at Christmas.
Create a poop template from card and cut out. Roll out a piece of brown Fimo (or air drying clay) then place on to the template and cut around, either with a knife or a small pair of craft scissors and dust with glitter. Cut two eyes and a mouth from white Fimo and two pupils from black Fimo.
Draw the details onto the poop and create a hole at the top with a skewer. Place on the eyes and mouth then, following the manufacturer's instructions, bake the poops in an oven. Once they have completely cooled, thread a short length of green ribbon through and hang them up round the house.

Emoji Cards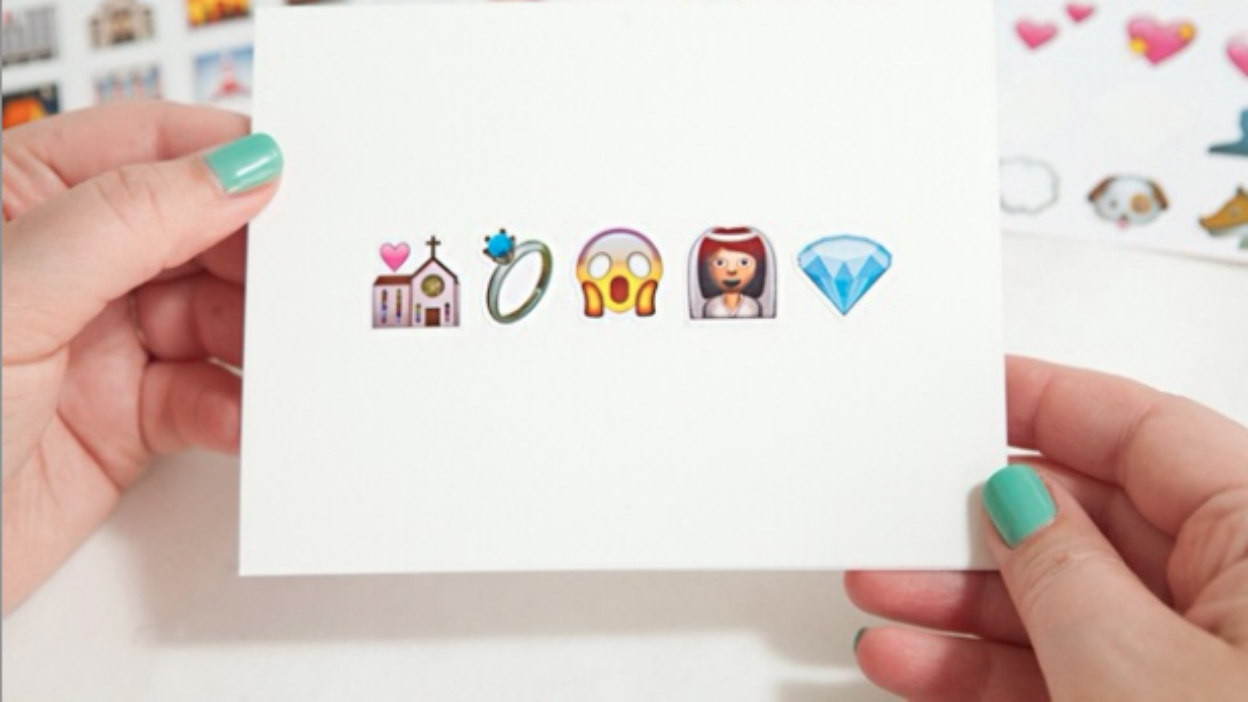 Image by Something Turquoise
It's fun creating elaborate story messages using only emojis, so it makes sense to send happy messages in the form of an emoji greeting card. Clapping hands and a ring for 'Happy Engagement'; thumbs up and a smiley face for 'Thank You'; a row of rainbow hearts and a kissy face for 'I Love You', the possibilities are endless....
Decide on the message you want to create, and which emojis you will be using. Draw a very faint pencil line across the centre of a blank card with a ruler. Then, using this line as a guide, peel off the emojis and stick them down onto the card front. Carefully rub the pencil marks away. You could also attach an emoji sticker to the envelope to create a coordinated set.
Foam Emoji Hands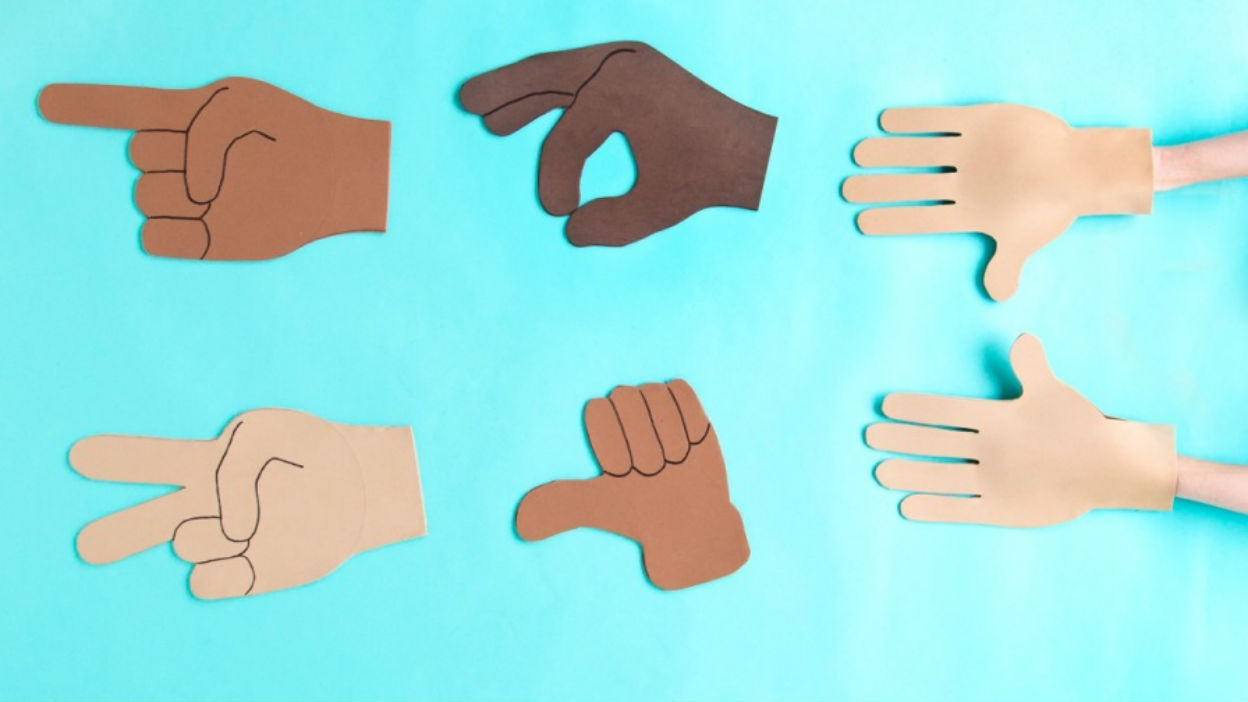 Image by Studio DIY
In the same vein as the giant foam fingers seen at baseball games, these foam emoji hands are totally awesome and so much fun to make - high five!
Take two pieces of flesh-coloured thin foam, and place one on top of the other, clipping them together with bulldog clips. Carefully draw a hand emoji with pencil onto the foam then, picking up the two pieces, cut through both layers of foam with scissors or a Stanley knife.
Open the two pieces and apply PVA glue over one of the cut hands, leaving a section unglued at the bottom for inserting your hand later. Press the two hand pieces back together again and leave to dry. Finally, add detail with a black marker pen or paint, then simply pop it on your hand and punch the air while singing 'Another One Bites The Dust.'
Emoji Wrapping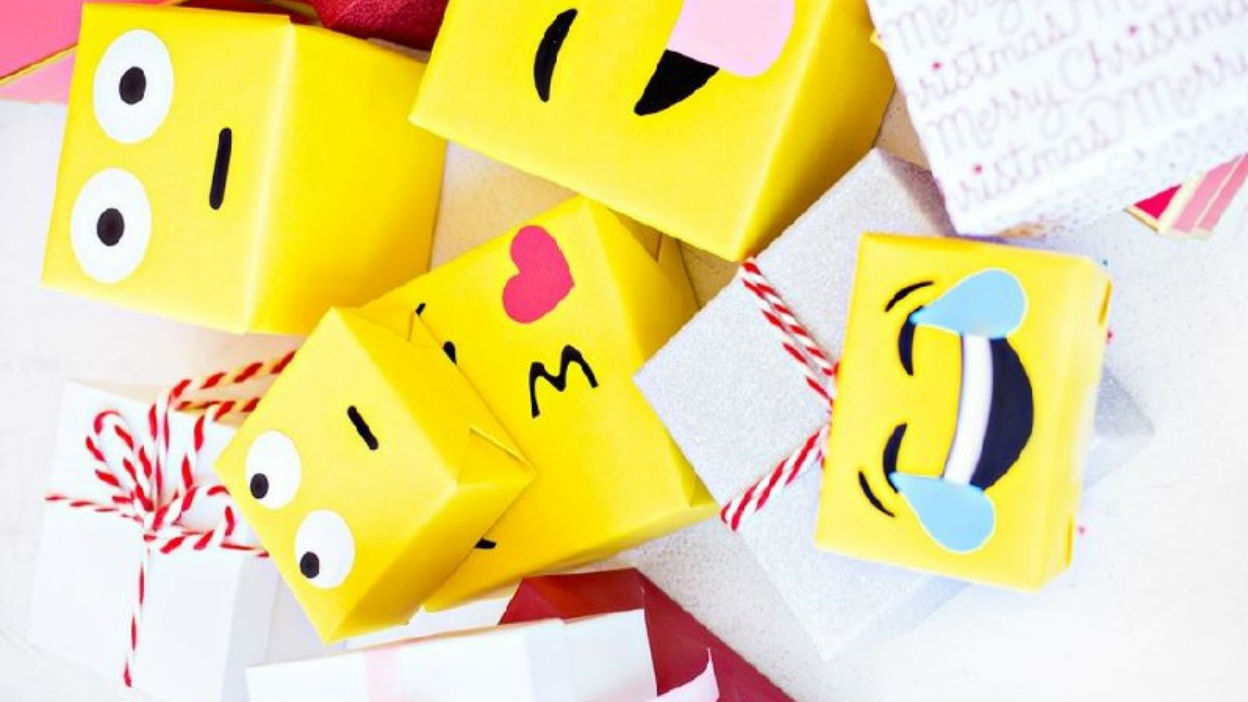 Image by Studio DIY
How's this for a cool present wrapping idea? Boxes are much easier to cover than other shapes, and if you don't seal the lids then you can use them over and over again! Or re-use them as storage boxes.
Get an old (or new) box you want to cover, preferably one with a lid, then place the lid on some yellow wrapping paper. Cut a piece of the paper big enough to cover the sides, fold all the pieces up and secure on the inside with glue and tape. Do the same with the base of the box.
If you can't find yellow wrapping paper, simply paint a large sheet of white paper yellow. Cut out the eyes and mouth of an emoji - if you are covering multiple boxes you could have a selection of emojis - and stick them on to the lid of the box. Then pile them up ready for the birthday boy or girl!
Emoji Hair Clip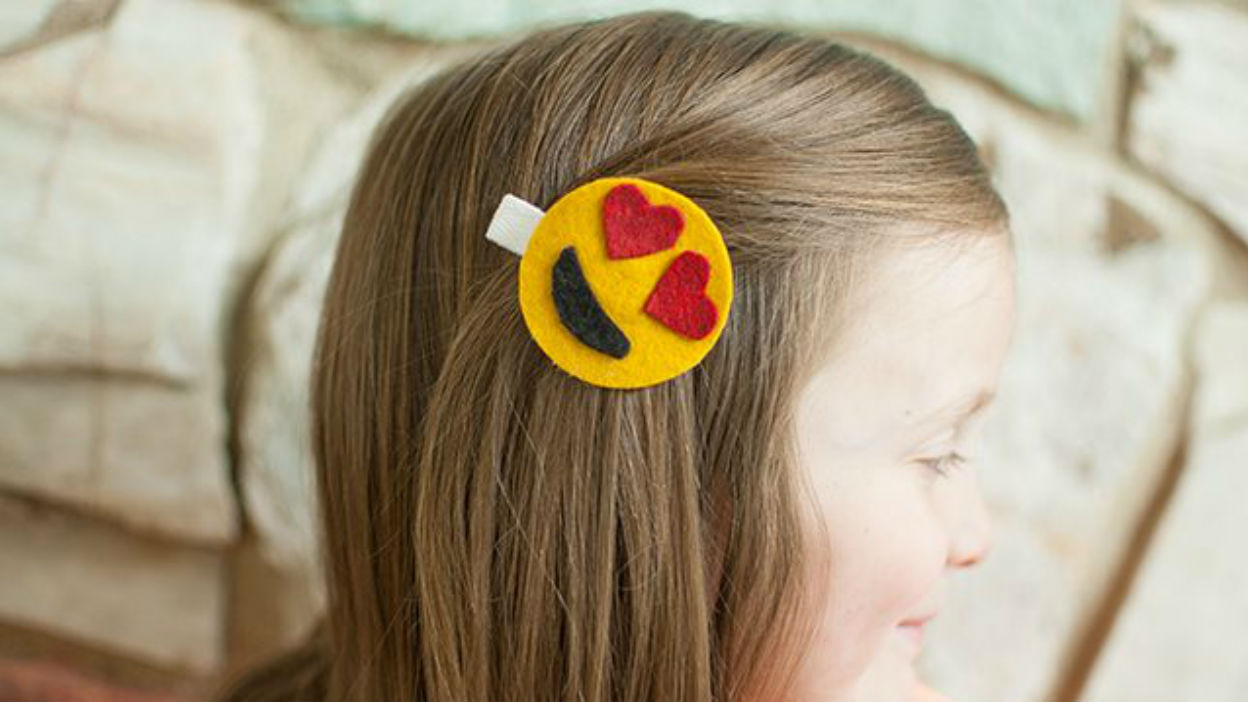 Image by eHow
Create this cute hair clip for a child using felt and glue. You could even attach the emoji to an old hair clip that otherwise would have been thrown away.
Cut a 5cm diameter circle from yellow felt - you could use the base of a tumbler to draw around - then cut out. Cut two hearts from red felt and a smiley mouth from black felt, then stick the pieces on to the yellow circle. Use a strong glue or a hot glue gun to attach the circle to a hair clip. And there you have it - happy face, happy hair!
Emoji Plate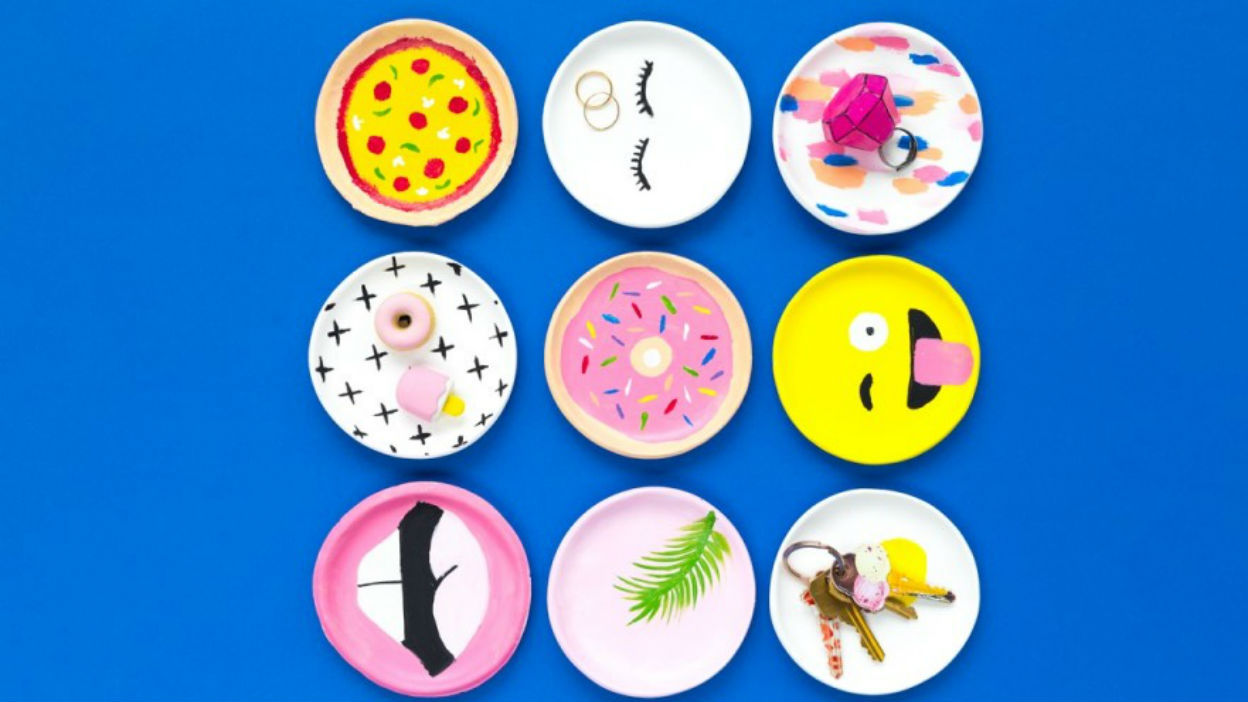 Image by Studio DIY
These little dishes are ideal for popping on a dresser to hold all your bits and bobs. Or, if you're very proud of your plate, why not hang it on the wall for all to see? It's very important they are not used for food though!
Roll out a piece of white air-drying clay so it's around 1cm thick. Place a small plate on the clay and cut round with a knife. Then place the clay onto the plate and press down to create the lip.
Dip your finger in some water and smooth out the edges, then leave the clay to dry on the plate to prevent it sagging. Once dry apply a coat or two of yellow acrylic paint, then leave to dry. Then paint on your emoji design. Apply a coat of PVA or Mod Podge to protect the surface.
Looking for More Tips for Packing, Organising And Moving House?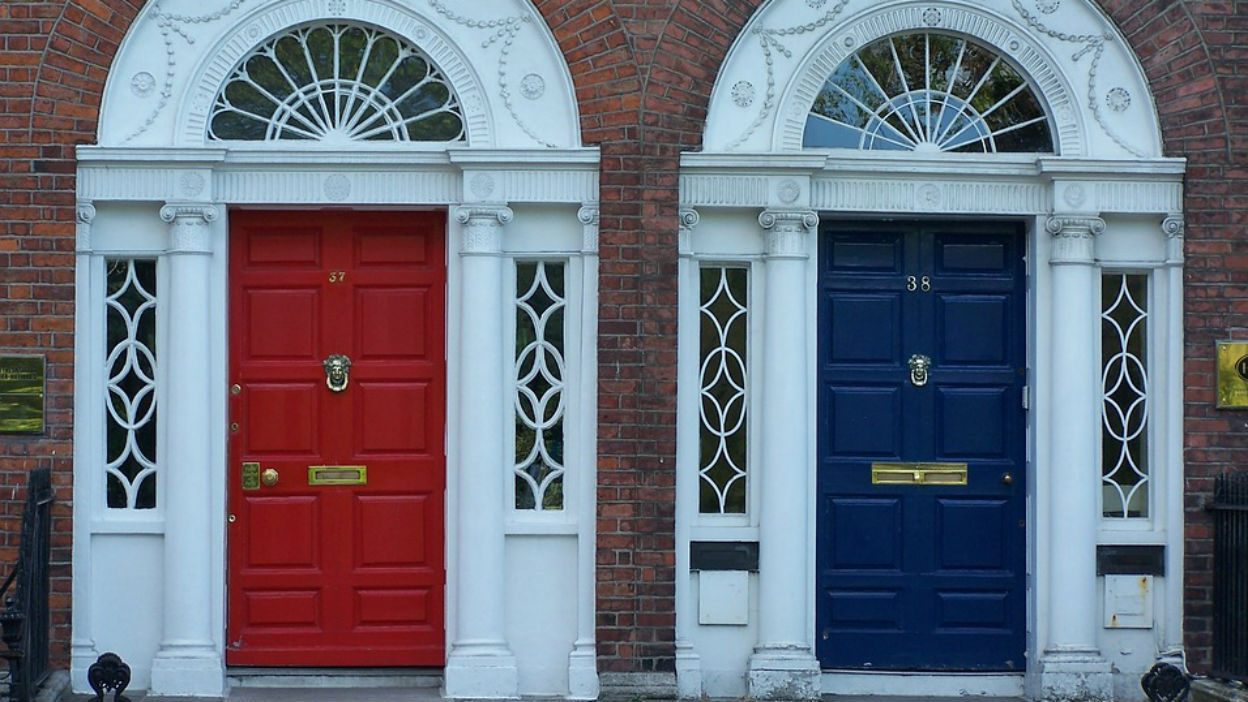 Whether you're looking for affordable ways to add value to your house or completely redesign your new home, we've got everything you'll need.