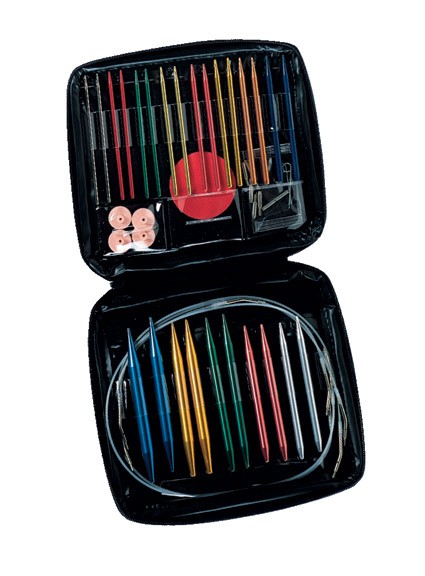 At times, figuring out the basic elements of a new hobby or craft can seem daunting to beginners. While knitting itself is not difficult to master with practice, the sheer number of needle sizes available can make a person's head spin. Some beginners have the benefit of a skilled knitter to guide them, but others are not so lucky. With so many yarn and needle options to consider, shoppers can easily become overwhelmed before they even begin. To make matters worse, many new knitters start with projects that are beyond their skill level, and get frustrated when they cannot complete the pattern perfectly.
Beginner's should find it helpful to have the mystery taken out of selecting the proper knitting needles. They need to learn how to choose the right needles to practise knitting basics. Though there are many sizes and materials from which to choose, in most cases, the scope and size of the knitting project dictates the proper needle size. Knitting needles are sold in most craft shops and high street department stores. They are also available through a variety of Internet vendors, as well as online websites like eBay.
Knitting Needle Basics
The two most important knitting supplies are needles and yarn. Even without a pattern, a beginner can use these tools to practise such knitting basics as the slip knot, the knit stitch, and the purl stitch. Knitting needles are generally purchased and worked with in pairs. As a knitting project progresses, stitches move back and forth from needle to needle as the item increases in size. A closer look at the diverse world of knitting needles can help beginners select a pair that bolsters their success.
Exploring Knitting Needle Options
Shoppers looking to purchase their first knitting needles are often surprised by the huge number of options available to them in terms of size, format, and production materials. Some react impulsively, buying a pair based on inconsequential details such as colour or packaging, only to find out later that the purchased needles are less than ideal for beginners. Rather than approaching this initial purchase blindly, it is best to learn as much as possible about the different types of knitting needles. This way, buyers can focus on finding a pair that fits both their personal preferences and current skill level.
Knitting Needle Sizes
Shoppers must consider the diameter and the length of potential knitting needles. Needle diameter influences the resulting stitch size, while length determines the number of stitches that can fit on the needle. The diameter dimension is often etched on the base of each needle for easy reference. Because knitting needle diameter sizing is not necessarily intuitive, confusion often arises. This is compounded by the fact that size standards are not universal. Beginners should note that U.S. needle sizes are not the same as U.K. sizes. Thankfully, many manufacturers now list an easy-to-understand metric size along with the traditional size. New knitters are advised to find a needle size that fits their hands comfortably without feeling awkward. For this reason, a medium-sized pair is a sensible place to start.
Knitting Needle Formats
The most common knitting needles, known as single-pointed, often resemble oversized carpentry nails. They are tapered sharply at one end, and feature a flat cap or round knob on the other end to keep the stitches in place. Standard straight needles are ideal for beginners. As their skill level increases, knitters can explore variations such as double-pointed needles, which are designed for making seamless, tube-shaped items. Another type, known as the circular needle, includes two straight needles joined by a flexible plastic cord. These needles are useful for a variety of projects, especially those that are quite large. For added flexibility, shoppers can opt for an interchangeable needle set with removable tips in different sizes. There are also knitting sets that include single-pointed straight needles in a range of sizes.
Knitting Needle Materials
Knitting needles are most commonly made from wood, metal, or plastic. Less common are needles made of glass or resin. For the most part, material is a matter of personal taste. At the same time, certain materials have distinct characteristics to consider. For example, bamboo knitting needles feel warmer to the touch than metal ones do, and they are lightweight, as well. In general, wooden knitting needles are less slippery than metal, which can benefit beginners who tend to lose stitches. On the other hand, some people prefer metallic knitting needles because they allow stitches to move more quickly. Plastic needles are affordable and easy to find, making them another viable choice for new knitters. Beginners are urged to try various materials in order to learn which type feels most comfortable to them.
Knitting Needle Size Conversion
As previously noted, there are definite differences between U.K. and U.S. knitting needle size standards. If shoppers come across knitting needles from across the pond, this handy conversion chart can help them figure out unfamiliar sizing. Metric knitting needle sizes are also included for quick reference.
| U.K. / Canadian Sizes | U.S. Sizes | Metric Sizes (mm) |
| --- | --- | --- |
| 14 | 0 | 2 |
| 13 | 1 | 2.25 |
| 12 | 2 | 2.75 |
| 11 | -- | 3 |
| 10 | 3 | 3.25 |
| -- | 4 | 3.5 |
| 9 | 5 | 3.75 |
| 8 | 6 | 4 |
| 7 | 7 | 4.5 |
| 6 | 8 | 5 |
| 5 | 9 | 5.5 |
| 4 | 10 | 6 |
| 3 | 10 1/2 | 6.5 |
| 2 | -- | 7 |
| 1 | -- | 7.5 |
| 0 | 11 | 8 |
| 00 | 13 | 9 |
| 000 | 15 | 10 |
| -- | 17 | 12 |
| -- | 19 | 16 |
| -- | 35 | 19 |
| -- | 50 | 25 |
This information is equally helpful for beginners using a knitting pattern from the States. By looking for the suggested U.S. needle size in the chart above, shoppers see the corresponding U.K. needle size.
More Helpful Tips for Beginning Knitters
With practice, beginners eventually get a feel for the way needle size affects their knitting gauge. Gauge is defined as the number of stitches in a given measure of knitted fabric. Patterns often list the gauge necessary to achieve a certain look. Since yarn tension, which varies from knitter to knitter, also plays a role in knitting to gauge, the needle size listed in a particular pattern is only an approximation. To ensure comfort and success, beginners must pay close attention to their hand grip, which affects yarn tension. They are also advised to stick with the basics until truly ready for more advanced projects.
How to Avoid Painful Hand Cramps
Needle-holding techniques vary according to geographical location and personal preference. Learning how to hold knitting needles loosely yet securely is often one of the hardest skills for beginners to master. While there is no right or wrong way to hold knitting needles, an overly strong grip can lead to tense hands and tight stitches. By choosing a set of needles they find comfortable, novice knitters are off to a solid start. After that, the key is remembering to relax and take breaks as needed. This way, beginners learn to let the stitches flow more freely while preventing unnecessary hand pain.
Think Big, Start Small
While intricately knitted items can inspire people to learn how to knit, they can just as easily cause new knitters to give up entirely. Sadly, this happens when novices become frustrated with their inability to follow complex knitting patterns. Instead of setting themselves up for failure, beginners are cautioned to start small. After finding a suitable set of beginner's needles and easy-to-follow knitting instructions, the next step is simply practising the basic stitches. When they are ready to move on to a small project, such as a scarf, there are plenty of beginner-level knitting patterns to guide people.
Buying Knitting Needles on eBay
Using the eBay search platform and shopping tools, you can gather all the supplies to start knitting in no time. Whether you are a seasoned knitter or just a beginner, eBay offers an extensive collection of knitting needles in every imaginable variation. By searching the eBay Shops and product listings, you can browse this wide variety of options from the comfort of home. To get started, choose keywords that relate to the item you are looking to find. For instance, type "knitting needles" into any eBay search box to see a large number of options. Alternatively, by adding more words to your search, such as "bamboo knitting needles" or "pink knitting needles", you can locate listings relating to your current preferences. To find the best possible prices, add potential purchases to your Watch List and compare them.
How to Watch and Compare Items
By becoming a member of the eBay community, you have the ability to keep track of and compare the items you want to buy. When you find an item you like, add it to your Watch List from the item page. From My eBay, you can then check on watched items or compare them side-by-side. These tools speed up the shopping process and help you find the best possible deal on the knitting needles of your choice.
Conclusion
Knitting unique apparel and keepsakes by hand is a beloved pastime for many people. Beginners certainly have a lot to learn, but this should not deter them from making the most of their new hobby. A solid knowledge base allows novice knitters to select the appropriate tools and supplies. There are many material, size, and format options to consider when selecting a first pair of knitting needles. While trial and error is often the best approach, there are a few general guidelines to keep in mind. As they increase in skill, knitters come to understand which needle size and format work best for them.
By searching the eBay Shops and product listings, shoppers can find a wide range of knitting needles to explore. Single-pointed straight needles in a medium size are the standard choice for many beginning knitters. Neither too small nor too large, this size tends to sit comfortably in a beginner's hands. Less slippery than metal needles, bamboo or wooden options can be easier for some learners to work with. Most importantly, beginners must feel comfortable holding their needles while learning to knit.