Wedding tables decorations were introduced long time ago. Until last year natural or artificial flowers in combination with beaded and crystal garlands and wreaths were amongst the most popular items used as table decorations and centre pieces, draped across mantlepieces and mirror or simply to complement an elegant candle. Table crystals by influence of Holliwood's celebrities rapidly became a very popular addition for scattering on wedding reception tables to give it a fabulous sparkle and bling to any event. They are perfect for adding a touch of elegance to wedding receptions.
Ideas of Composition
We suggest around 100-200 3-4mm crystals per table. However, quantities depend on personal taste and perception, the size of the table and a design of the composition. If you are unsure in your ideas just buy a small pack to check a general idea of coverage.
By mixing the smaller and bigger sizes or even different colours together you will add that extra sparkle onto your wedding reception table, they will look fantastic and brilliantly stunning.
Placing on tables small mirrors with crystals scattered on them will induce power of the light that would reflects back on them.
Materials and Manufactures
There are many applicable kinds of table crystals that differ by materials and manufacturers:
Acrylic, made from a plastic mould. Its reflective capacity is low and to compensate it the used quantities must be increased dramatically. Acrylic crystals mix well with each other but we don't recommend mixing with other glass or lead glass items as they will look really cheap in
Preciosa® crystal beads follows centuries old Bohemian glass traditions. Quality of crystals is good. However, due to geometry of the cut and quality of crystal lead glass they lacking real sparkle.
Swarovski®, for more than a century, has been the world's leading supplier of the finest crystal products available. Swarovski® produces the highest quality jewelry components that have eye-catching brillance through a wide spectrum of colors consistent through every size and shape. The purity of every crystal is the key to creating optimum clarity in each piece. Machine cutting and polishing insures that the facets are perfectly cut at precise angles and the best dispersion of light through the piece.
Terms and Definitions
Rose Cut
In order to best utilize a gemstone's superlative material properties, a number of different cuts has been developed. The basic rose cut has a flat base (no pavilion) and a crown composed of triangular facets in symmetrical arrangement, which rise to form a point.
Xilion
Swarovski has once again brought down to earth a bright star, from the galaxies above, opening up our desires beyond the limit of the skies – the Xilion. It is the brightest and latest innovation in the galaxy of Swarovski crystals.
Alternating facets of different sizes and a specially designed table face produce perfect refraction and particularly intense light distribution. As a result of its pioneering cut, the environment friendly, Xilion has a unique brilliance. The different sized facets reflect light with an unequalled intensity. The unique Xilion cut is available on Chaton and Channel designes.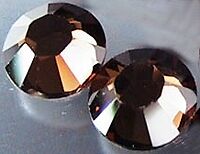 Chaton
Swarovski produce Xilion Chatons 1028 crystals that have pointed backs. Unfortunately, there is only a limited range of colours available with unfoiled pavillion. These are the sparkliest kind of Table Crystals.
Channel
Swarovski produce Xilion Channel 1128 crystals that have no pavilions but rose cut crowns from both sides. They have a very large range of colours.These are the second best choice of Table Crystals.

Crystal Finishes
Swarovski crystals are mainly produced in three finishes. The colour, or regular finish, the AB and AB-2X. There can also be many combinations of colours and finishes.
COLOUR

(regular finish) - these are the crystals most of us are familiar with. They come in a large variety of colours, sizes, and shapes (or components). Some popular colours include Clear, Light Siam , Peridot , Rose and many more. The regular colours can be found in a Swarovski Crystal colour chart. The colour finish crystals can be found in the plain color and also a light version but keep in mind, not all colours have a corresponding light version that is being produced. An example of this would be Emerald ( there is no Light Emerald) .

AB

(aurora borealis) - is a finish in which a colour has been coated. The AB finish is an outside coating on an existing crystal colour that covers about half of the crystal face. When you turn the crystal you will see the crystal color on one side and the AB finish on the other. If the crystal has many surfaces the reflection will appear as you turn the crystal. The reflection is best described as a rainbow effect as you turn the bead. As with the light colour, the AB's are not made in all colours. AB finishes are a little more expensive than the colour crystals because of the extra process they go through during production, but they have a brilliant shine to them.

AB-2X

(aurora borealis, two times) - this finish can be described as two times coating. The AB-2X covers the entire crystal, and is the same outside coating of an original colour just as the AB. These, like the AB are not made in all colours and sizes. This is a more rare type of finish than the AB and is also more expensive than the AB.