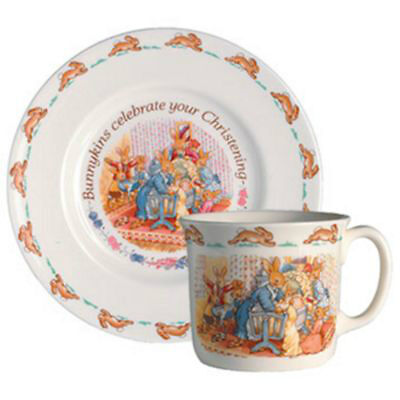 Inspired by the Brambly Hedge characters created by Jill Barklem for her series of children books, Royal Doulton's Brambly Hedge figurines are among the company's most popular creations. In the 1990s, the books were also adapted into a TV show, which greatly increased the figurines' popularity. The original books' illustrations were extremely detailed and artistic, and they also inspired the creation of a variety of china pieces featuring images from Brambly Hedge.
Depicting a community of charming rodents who live in the English countryside, the Brambly Hedge saga has given rise to lots of different merchandise items, but Royal Doulton's figurines and china sets remain the most popular of the lot. Any willing collector of these items needs to learn some basics about condition considerations, popular series and patterns, and collection building, in order to succeed in the adventure.
Brambly Hedge Basics
Jill Barklem spent several years doing research and drawing inspiration from the people and places of the English countryside before she started writing her books. Her chronicles of life among the hedges of a familiar pastoral landscape thus became not only a work of fiction, but also a tribute to rural traditions. The first four books in the series were named after the seasons: Spring, Summer, Autumn, and Winter. Barklem later published another set of four books entitled The Secret Staircase, The High Hills, Sea Story, and Poppy's Babies.
The first Brambly Hedge TV show aired in the UK in 1996, while the last one was broadcast in 2000. In 2008, a DVD compilation of all the episodes in the series was released. Merchandise connected to the books and the TV series has been around in the UK since the early 1980s, but the TV shows' international distribution helped spread the popularity of Brambly Hedge figurines to the US and many other countries.
Brambly Hedge Characters
Royal Doulton's most popular Brambly Hedge figurines depict some of the stories ' main characters including:
| Brambly Hedge Characters | Description |
| --- | --- |
| Alf and Betony Toadflax | With their four children, Clover, Catkin, Teasel, and Wilfred, they lives in the Hornbeam tree; Wilfred, who wants to be an explorer, is the most adventurous of the children and often gets into mischief |
| Pip and Flora Apple | Alf and Betony's neighbours; live at Crabapple Cottage; |
| Lord Quercus and Lady Daisy Woodmouse | Live with their daughter, Primrose, in the Old Oak Palace; as the head of Brambly Hedge Lord Quercus often plays a part in the seasonal celebrations |
| Dusty Dogwood | The local miller; married to Poppy Eyebright |
| Old Mrs Eyebright | The oldest mouse in Brambly Hedge |
Brambly Hedge figurines and china pieces are usually marked with the Royal Doulton inscription, which includes the designer's name and the year of production. Some of these coveted collectibles have been known to sell for thousands of pounds on the online market.
The Royal Doulton Company
Royal Doulton is not only one of the most traditional, but also one of the largest manufacturers of premium ceramic tableware and giftware in the world. With an annual turnover of hundreds of million pounds and employing thousands of craftsmen and operators in the UK, the company has several signature brands, including Royal Doulton, Minton, and Royal Albert.
Combining tradition with modern marketing know-how and cutting-edge technology, Royal Doulton has managed to stay ahead in today's global economy, while maintaining its brand values of heritage and Englishness. Often appointing famous designers to work on its signature lines of tableware, glassware, and giftware, the company has also succeeded in maintaining a high quality standards over its 200-year history.
Royal Doulton produces 40 per cent of all English bone china and nearly half of the UK's ceramic figures. The company has been known to hold contracts to supply chinaware for famous hotels and premium airline services, such as British Airways' Club World and Emirates Airlines. Over the years, Royal Doulton has had many bestsellers, most notably, its Old Country Roses tableware line, which has sold over 150 million pieces since it came out in 1962.
The company's popular collectible ceramic figurines include the pretty ladies series, which features characters from history and literature, such as Wuthering Heights' Heathcliff and Cathy, as well as characters from Disney's Winnie the Pooh, the Bunnykins collection, and, naturally, characters from the Brambly Hedge saga.
Collecting Brambly Hedge China
Both connoisseurs and amateur collectors can profit from learning a bit about how buyers and sellers of Brambly Hedge pieces are behaving in the market today. Royal Doulton has come a long way since Queen Victoria first noticed the beauty of its designs in the late 1800s; an event that ultimately lead to the company being known as Royal Doulton, instead of simply Doulton.
It is easy to get lost among the many products from different times, and the many different stamps, marks, and logos the Royal Doulton has used over the years. In order to become a successful collector of Brambly Hedge china, it is helpful to learn a few basic details.
A range of products portraying characters and scenes from Mrs. Barklem's popular series of books, Brambly Hedge China was designed in collaboration with the author herself. The main product lines include both china tableware and ornamental figurines, both of which are extremely popular with collectors.
Popular Brambly Hedge Series and Patterns
There are many popular patterns in the Brambly Hedge series. The Tea Time collection included a teapot, sandwich plates, and other pieces portraying the characters of Brambly Hedge having tea. Inspired by the first series of Brambly Hedge books, the Seasons collectible plates were created in four designs, each representing a season of the year: Autumn features Primrose among blackberry shrubs, Winter shows Mr. and Mrs. Apple's having a pie in front of the fire, Spring features Wilfred playing in a field of yellow flowers, and Summer shows a scene from Poppy Eyebright's engagement to Dusty Dogwood.
The Sea Story collection includes four designs: Meeting on the Sand, Dining by the Sea, Rigging the Boat, and Homeward Bound. Likewise, the Primrose Adventure series includes four plate designs called Primrose Adventure, Where's Primrose, The Search Party, and Safe at Last.
Combining china pattern creations with interior design savvy, The Interiors Collection showed scenes from the interior of some of Brambly Hedge's homes: Storestump, Old Oak Palace, The Dairy, and Crabapple Cottage. Finally, Mrs. Apple's Kitchen was a popular melamine set inspired by the Toadflax family's homely neighbour. All of these series, as well as a few others, were created during the 1990s.
Collecting Ideas
The best way to collect Brambly Hedge china is to try to build different collections from items purchased on eBay. For example, one can collect a plate featuring each design in a particular series or a whole set of teacup, saucer, and additional pieces featuring the same pattern. There are many ways to build a collection, and, as long as it looks good together and makes some logical sense, virtually any collection can fetch a higher price than the result of adding the prices of all its individual pieces.
Considerations About Condition
When scrolling through eBay listings, it is important to know what condition specifications mean in the world of collectible china. For example, mint condition generally means that an item is in like-new condition, including authenticity documents and packaging.
When an item is listed as being in very good condition, it may have some minor flaws, such as a bit of crazing or a factory glaze skip. In other words, there is nothing about the item's condition that might dramatically affect its value. On the other hand, items in good condition may show crazing, factory glaze skips, glaze pinholes, and maybe even some minor discolouration.
Condition must also reflect age and use. For example, no piece of china that has been in use for a hundred years, or even only part of that time, can be faithfully listed as being in mint condition. However, not all people treat their china the same way, and some items from last year may look like they are, indeed, a hundred years old.
Checking the Condition of Brambly Hedge Figurines
When assessing the value of Brambly Hedge figurines, condition is key. While a hairline crack or a missing part can make a figure completely worthless, small firing specks, recognised because one can sense a bump, like a grain of sand, on the figure's surface, are considered to be factory specks, as long as the bump is glazed over.
Figurines can be best checked for defects under a bright light. Scratches and cracks are usually post-manufacture damage, while crazing or spider-webbing commonly appears on old bone china items as a sign of a drop or hard knock that may have occurred many years ago.
Conclusion
Ever since their creation in the 1990s, Brambly Hedge tableware and figurines have been extremely popular. Over the years, Royal Doulton created many pieces that later became valuable collectible and vintage items. eBay is, without a doubt, the best place to find Brambly hedge pieces at convenient prices. Appreciated for their fine portrayal of rural England and the excellent quality of Royal Doulton ceramics, Brambly Hedge merchandise is also a favourite with fans of the children's books that inspired it.
A simple way to become a successful Brambly Hedge collector is to try to assemble any logical series of items, for example, various figurines portraying the same character or a few cup and saucer sets from the same series. One of the most important considerations to make when shopping for Royal Doulton Brambly Hedge products is whether the items are in acceptable condition. While minor flaws do not affect value, there are certain types of damage that can make an otherwise valuable piece completely worthless.
Royal Doulton is one of the world's top players when it comes to ceramics' manufacturing, and Brambly Hedge collectibles are among its most popular creations. Purchasing a set of Brambly Hedge figurines or china pieces can be a way to enjoy great art, while also making a good investment.