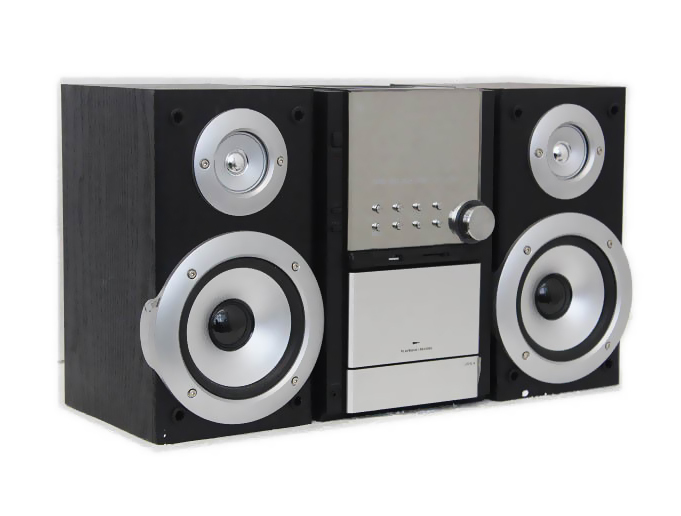 Compact stereos have been popular home sound-entertainment systems ever since manufacturers of home stereo systems took advantage of the miniaturisation possibilities that micro-electronics provided in the latter half of the twentieth century. The main challenge for manufacturers to overcome was that of combining small size with adequate power and high quality. It's no longer a challenge; excellent quality compact stereo systems, also called micro stereo systems, are commonly available from a wide range of manufacturers. Many compact stereos are front-loading and ideal for placing on an eye-level shelf, a popular location for compact stereos, which has led to these also being called shelf stereos. Others may be top-loading, which means the unit will need to be placed on a lower surface in order to be operated conveniently.
About Compact Stereos
A typical modern compact stereo system is a complete audio entertainment system. They are designed to offer the latest in digital audio quality and convenience. A complete system consists of several hi-fi components that may be combined in a single unit, or they may be stack-mounted separate devices, plus two compact loudspeaker cabinets. These are designed to sit neatly on either side of the main unit, but they can be placed remotely if required. Each speaker unit handles one of the two stereo output channels of the main unit. The advantage of buying a compact system rather than connecting various separate units and speakers manually is that, apart from being aesthetically matched in style, the compact stereo system's individual components and speakers will be perfectly matched, electrically. This ensures no reduction in quality due to any signal mismatching between components. Commonly included components on a portable stereo system vary depending on the price. Typical, reasonably priced models commonly include:
CD and DVD Player
A good compact stereo system will offer compatibility with all the usual CD & DVD formats, such as CD-R, CD-RW, DVD+RW, and more. These will be clearly stated in the specifications. Some models include a multi-CD loading feature for uninterrupted play of several CDs in succession. Audio output is via the compact stereo's loudspeakers, while DVD video output is via any suitably connected monitor or television. Audio output can also be fed externally to an amplifier if preferred. Shuffle-play and repeat-play playback options are commonly included features that provide an enhanced playback experience.
Radio Tuner
AM and FM radio bands are available as standard in the tuner module, and models offering around 20 to 40 digital tuning presets are commonly available. Broadcast data, such as the name of the song and artist currently being played can be displayed on the compact stereo's LCD display panel.
Clock and Timer Facilities
Digital clock and radio alarm facilities are common on modern compact stereos, and many people find them to be a very useful addition to compact stereos that are located in a bedroom. If this is an important feature, look out for those models that offer enhancements to the radio alarm system, such as the radio (or CD) coming on at the pre-determined time, with the music's volume starting off very low but gradually increasing to a preset level. Rude awakenings can be a thing of the past if this feature is included.
Connectivity and Docking
Other digital devices, such as MP3 players, or digital storage devices, such as USB flash-drives (memory sticks) can be connected and their audio files played through the stereo system to take advantage of its power and quality. IPod docking, if included, enables an iPod to be inserted and played through the stereo system's speakers. This is a common feature on many modern compact stereo systems. Analogue inputs are usually included, too, such as microphone input (popular with karaoke fans) or line-in input. A headphone jack socket is a standard output socket and other line-out sockets may also be included.
Loudspeakers
Loudspeakers have to be small enough to match the compact size of the stereo system while being large enough to handle its power output and reproduce the audio signals with clarity and hi-fidelity. The printed specifications that come with every new model will likely include the frequency response graph and other technical performance characteristics. Speakers that show good bass response are in demand as, traditionally, small speakers have always struggled to reproduce low-frequency sounds. New loudspeaker construction technologies have overcome this weakness to a great extent.
Retro Features
While digital technology is the standard technology in modern compact stereos, some models include compact cassette players and some also include a turntable for vinyl discs. These are features that may be worth considering for those who, over the years, have amassed large collections of LPs or cassette tapes and can't bear to part with them.
Typical Features Summary
These are the kinds of features to expect on a mid-range to high-end compact stereo system:
| | |
| --- | --- |
| CD/ DVD player/ recorder | Compatible with all the usual formats Some models have CD changers. |
| Radio | Digital AM-FM tuner module with around 20 - 40 tuning presets |
| Clock, timer, and radio alarm functions | Various timing functions offered, plus alarm buzzer or music options |
| iPod and iPhone Docking | Commonly included on later models |
| Inputs | Digital inputs may include USB, SD Analogue inputs can be 3,5mm 'mic in' line-in, or RSA |
| Outputs | SCART (audio-video) USB, headphone, loudspeaker |
| File types playback capability | MP3, WMA, MPEG4 |
| Retro features | Compact cassette and turntable |
| Loudspeakers | Matched with the main unit, electrically and aesthetically. |
Where to Buy Compact Stereos
Compact stereos are available both online and in retail outlets, such as audio-equipment centres, supermarkets, and department stores. The greatest range in terms of price and quality, however, is to be found online. This is true not only for new models sold by online retailers, but even more so for compact stereos being sold privately as used models or by retailers as refurbished and manufacturer refurbished compact stereo systems. If buying online, buy from a UK-based source to ensure faster and cheaper delivery charges and also to ensure full compatibility with British electrical standards.
Buying a Used Compact Stereo
If buying a used compact stereo, expect refurbished, and especially manufacturer refurbished, models to be more expensive than those sold privately. The seller, being a business rather than an individual selling their own compact stereo, has to recover the refurbishment costs as well as make a profit. Refurbished compact stereos may be more expensive than privately sold used models, but they are guaranteed to work at full specification, and they will still be significantly cheaper than similar, or even the same, models sold as new.
How to Find Compact Stereos on eBay
Finding compact stereo systems on eBay is as simple as entering "Compact stereos" as a search term into eBay UK's homepage search box situated at the top of the page. This will return a large list of compact stereos of all types. However, it's also going to contain many items that aren't actually compact stereos but are just related to compact stereos in some way. These include compact stereo accessories, such as headphones for compact stereos or compact stereo speaker extension leads, for example. This is because people selling them may include the term 'compact stereo' somewhere in their listing, so the search engine includes them in the search results.
The way to exclude all of those unwanted listings is to use eBay's categories and filtering check-boxes to deliver results that are as specific as required. The relevant categories are displayed on the left-hand side of the search engine results page. Sound & Vision is the most relevant top-level category, and within that category, two subcategories are available that are relevant to the search. These are Home Audio & HiFi Separates and its subcategory, Compact/Shelf Stereos. Browse within those categories to see compact stereos grouped together. The check-box filters, which are also located on the left-hand side of the page, enable searches to be made that are much more specific. These include: Condition (New or Used), Format (Auction or Buy it Now), Price (Enter minimum and maximum values), Features and much more.
Conclusion
Stylish, powerful, and with excellent sound quality, modern compact stereos from major manufacturers have certainly earned their place in millions of living-room and bedroom bookshelves. They are extremely popular, and, for those who know what they're looking for in a compact stereo, finding a good system at the right price is only a matter of time. A compact stereo that offers exactly the required features at an attractive price is bound to come along sooner or later, and with some focused searching and a good idea of which features are most required, it will be sooner rather than later.