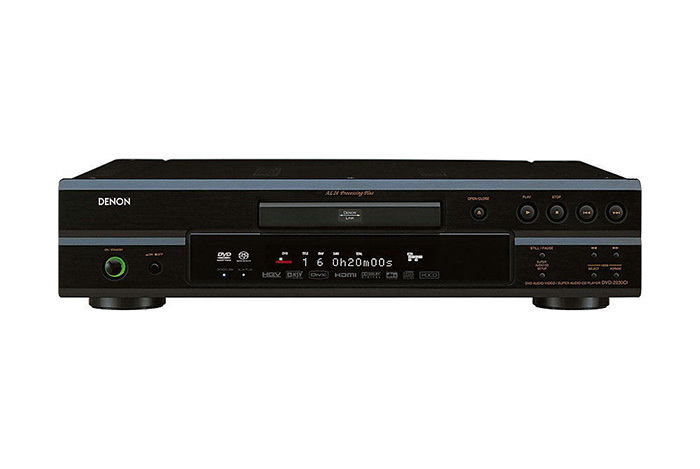 DVD players have been popular since they were first introduced in the late 1990s. While they were originally designed simply to play DVDs, models capable of recording DVDs were later produced. In recent years, portable DVD players, Blu-ray players, and HD-DVD players have also become available, so shoppers have a wide range of options to choose from. Many leading electrical brands produce DVD players, so search for brands and specific features to find the ideal model.
About DVD Players
A DVD player is an electrical device designed to play DVDs and can be connected to a television or used as part of a home theatre system. It is also possible to buy portable DVD players with in-built display screens which can be used at home or when travelling. There are many different types of DVD players available, including standard DVD players, DVD recorders, Blu-ray players, and HD-DVD players, all of which have different features and capabilities. It is also possible to buy units which combine a DVD player with another piece of audio-visual equipment within a single unit.
Choosing DVD Players
There is a wide range of DVD players on the market, so it can be difficult to know which model to choose. It's possible to narrow down a search by deciding which type of DVD player would be the most suitable, which features would be most helpful, and which DVD formats it will need to be able to play.
Types of DVD Players
DVD players fall into a number of categories and each type has different functions. The following table includes details about the main types of DVD player available.
Standard DVD players are designed to play a range of DVDs, including pre-recorded DVDs like films and TV box sets, and DVDs recorded at home. It is also possible to play CDs and view photos stored on CD on standard DVD players. It is not possible, however, to record DVDs on standard DVD players.
Portable DVD players are compact and designed to play DVDs on the move, particularly on train or plane journeys. It is also possible to purchase portable DVD players specifically designed for use in cars.
Blu-ray players are designed to play Blu-ray discs, but can usually play DVDs and CDs too. Blu-ray discs can hold more information than standard DVDs so provide better quality sound and images and include more content.
DVD recorders can play DVDs and record TV programmes onto blank discs. It is also possible to buy Blu-ray recorders.
HD-DVD players are designed to be connected to HD screens so that DVDs can be watched in high definition.
DVD Player Combo Units
Some manufacturers produce combo units which combine a DVD player and another piece of audio-visual equipment in a single device. The following table shows some of the main types of DVD player combo unit available.
| | |
| --- | --- |
| Hard Drive Recorder | A Hard Drive Recorder is an in-built hard drive, and recordings can be made directly to this as well as to blank DVDs. |
| VCR | A VCR can play and record videos. |
| Digital Tuner | A DVD player with a built-in digital tuner can access free-to-view digital channels when connected to a screen. |
| Internet or Media Streamer | Some DVD players feature in-built Internet connectivity, enabling them to access the Internet or stream media from specific sites when connected to a screen. |
DVD Player Features
Different DVD players have different features, so compare different models in order to choose the most suitable one. The table below provides details of some popular DVD player features.
| | |
| --- | --- |
| Disc Changer | DVD players with disc changers can hold a number of DVDs and CDs at one time. |
| Progressive scan | When used with a TV with progressive scan functionality, such as an HDTV, this feature enables the DVD player to read discs in a different way in order to display a higher quality image. |
| USB input | If a DVD player has USB ports, other compatible devices, such as Hard Drives, can be plugged into it. |
| HDMI port | A DVD player with an HDMI port can be connected to an HDTV using an HDMI cable, resulting in clearer pictures. |
| Remote Control | A DVD player with remote control comes with a handset enabling it to be operated from a short distance away. |
| Picture Zoom | Picture zoom enables the user to enlarge an image shown on screen to get a closer look. |
DVD Formats
Both pre-recorded DVDs and recordable DVDs are available in different formats. If looking for DVD players, check to ensure that any DVD player being considered can play or record onto the type of DVDs that they want to use.
Pre-Recorded DVDs and Blu-ray Discs
Pre-recorded DVDs and Blu-ray discs are encoded so that they can only be played in certain regions, so film buffs who own internationally produced films should ensure that any DVD player they are buying can play their DVDs or Blu-ray discs. It is possible to buy Region Free DVD and Blu-ray Players, which can play pre-recorded discs from all regions. The table below shows the main region codes for pre-recorded DVDs and the countries that these DVDs are encoded to be played in.
| | |
| --- | --- |
| 1 | The United States and its territories, as well as in Canada and Bermuda. |
| 2 | Most of Europe as well as the Middle East, Japan, South Africa, and some other African countries. |
| 3 | South East Asia, as well as countries like Hong Kong, Taiwan, and South Korea. |
| 4 | South and Central America, Australia, New Zealand, and many Pacific Ocean islands. |
| 5 | Most of Central Asia, South Asia, and Africa as well as countries like India, Bangladesh, Russia, Belarus, Ukraine, and North Korea. |
| 6 | China. |
The following table lists the main Blu-ray regions and details the countries that fall within each category.
| | |
| --- | --- |
| A | The Americas, South East Asia, and some parts of East Asia. |
| B | Most of Europe, Australia, New Zealand, Africa, the Middle East, and some parts of South West Asia. |
| C | Most of South and Central Asia, Russia, Belarus, Ukraine, China, and Mongolia. |
Recordable DVD Formats
Recordable DVDs also come in a range of formats, so for anyone with a collection of home-recorded DVDs, finding a DVD player that will play the discs they own is vital. The table that follows shows the main types of recordable disc that are available. Not all DVD players play all of them, so check product descriptions carefully.
| | |
| --- | --- |
| DVD-R and DVD+R | These types of disc can only be recorded onto once. |
| DVD-RW and DVD+RW | These types of disc can be recorded onto multiple times. |
| DVD-RAM | This type of disc is double-sided and has additional functionality. The user can, for example, watch a disc while still recording it. However, fewer DVD players can play these than can play other formats. |
Find DVD Players on eBay
Finding DVD Players on eBay is simple. Just visit eBay's homepage and hover the cursor over Shop by Category. Click on See all categories and scroll down to find the Sound & Vision section. Click on this category heading to get to the main category page and then click on DVD, Blu-ray & Home Cinema, followed by DVD & Blu-ray Players. Then browse the listings or select options from the list of features and specifications on the left hand side of the page to produce a refined list of products to choose from. The search box at the top of the page can also be used in order to find DVD players by entering specific terms. For example, enter 'Used portable DVD player' to find second-hand portable DVD players.
Conclusion
A DVD player is a useful addition to any home and can play both pre-recorded and home-recorded DVDs. There are many different types of DVD player to choose from, all with a variety of features. Finding the right DVD player will depend on the type of discs a shopper wants to play on it and the functionality and features that they require. By shopping around, comparing models, and researching sellers, it should be simple to find a suitable DVD player at an affordable price.