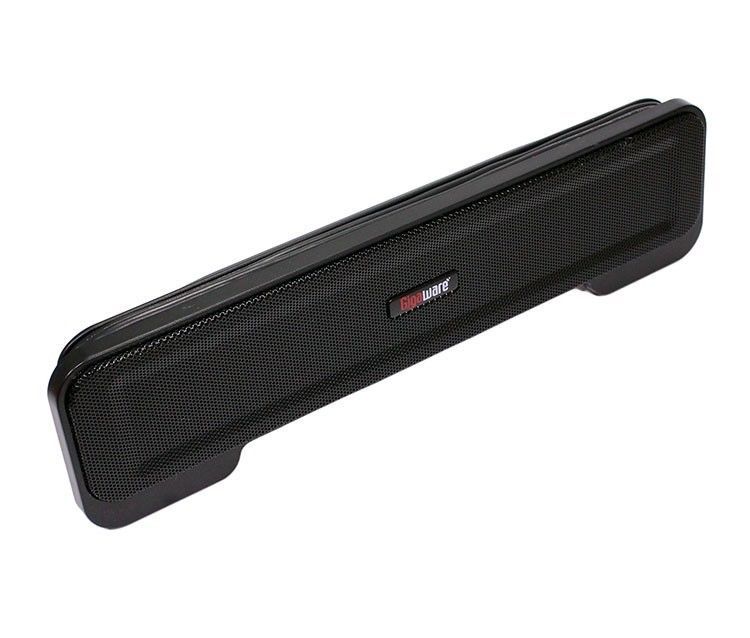 The laptop is still an indispensable piece of computing equipment for many home and office workers. Its portability, memory and storage capacity, network interface with other electronic devices and a decent sized keyboard are important features. However, if there is one area where laptops tend to leave the user desiring greater quality, it is when they are used to listen to music and audio.
About Portable Laptop Speakers
Few laptops have sound quality conducive to bringing out the best in listening to audio, music, and video for users. While there are some high-end models out in the market, they tend to be few and far between. After trying to get the best out of those small built-in speakers by fiddling with graphic equaliser and other sound settings, it is probably time to look at the option of external laptop speakers. Portable laptop speakers come in a wide range of sizes, shapes and technologies, and while convenience and design are important, these features rate below high sound quality for most music lovers.
Laptop speakers enhance audio in several ways; bigger drivers, higher driver quality, higher-powered amplifiers, sub-woofers and sophisticated speaker design combine to provide a superior sound quality. Not to say, however, that there aren't some abysmal quality portable laptop speakers out there. It is still important to research the options thoroughly.
Powering Laptop Speakers
The first point to consider is the type of power source for the laptop speakers, as this will determine so many other buying decisions.
| | |
| --- | --- |
| Wireless Options | Advances in mobile computing technology provide several choices for buyers looking for wireless options for portable speakers. |
| Batteries | Lithium ion batteries power a range of portable speakers. These are recharged with a standard USB cable to connect to the laptop or other device, and they can give up to 8 hours playing time before requiring a recharge. |
| Bluetooth | Bluetooth enabled portable speakers connect easily to laptops, and they should have enough bandwidth to output steady good quality sound. |
| USB | A single USB cable connects these speakers to the laptop. There will be some drain on the laptop battery to watch out for. |
| Wi-Fi | Wi-fi enabled speakers can be connected wirelessly to laptops via a wireless dongle. |
| Wired | Portable or Traditional PC Multimedia Speakers Both types of mains powered speaker can provide excellent sound quality. External standalone portable speakers generally provide a much better sound quality over USB powered speakers. The additional power obtained through AC adapters and mains power provides higher volume capability. While these speakers are not as portable as USB types, if the laptop is mostly used at home in set locations, this should not be much of an issue. They are small enough to be quite easily moved around from room to room as needed. |
| Mixed | It is certainly possible to get the best of both worlds in powering portable speakers. Some models combine hubs that USB speakers can plug into. The hub can be powered with USB, batteries, or mains power, and are usually portable enough to be moved around with the laptop. |
Choosing Portable Laptop Speakers
There are hundreds of speaker designs on the market, incorporating different materials, shapes and colours. It would be only the most particular user who could not find something to their taste in the current market. This section is a grab bag of some of the most commonly seen portable speakers.
| | |
| --- | --- |
| Colours and Finishes | From girly pink to classic black finishes, most colours and finishes can be found. Metallic edgings, chrome, and aluminium elements provide a sleek finish. Colour's and finishes to complement the laptop can be easily found. |
| Geometric Shapes | Traditional cubes, pyramids, squares, and spheres abound in numerous sizes and finishes. |
| Laptop Trays | Laptops can tend to become very hot, particularly when playing live-streaming music, or videos. Innovative designs include a laptop tray with USB connected speakers built-in. The laptop sits on top of the tray, connecting the speakers with a standard USB device. Volume controls are accessible on the tray body. |
| Miniature | Small doesn't necessarily mean small in sound quality. Some of the tiniest portable speakers are aimed at the travel market, and they can still produce excellent quality sound, particularly if they are paired with headphones. Some of the tiniest pieces of equipment start at dimension of only 55mm x 40mm. |
| Novelty Shape Designs | Think of a novelty character and it may well have been transformed into a portable speaker. Representations of the Android Robot, Hello Kitty, and ironman are just a small sample of what is out there. However, exercise some caution with these, as the novel design may affect the sound quality. |
| Soundbar | Soundbars are long, sometimes extendible pieces with pull-out speakers to be more easily heard by the laptop user. They sometimes serve as hubs for USB speaker devices, and they can connect via USB to the laptop. |
Features to Look For in Travel Speakers
The most portable of all speaker designs are those specifically aimed at the market for travellers. In this regard, USB speakers are some of the most versatile pieces of sound equipment for the traveller on the go. Being small and light, they very transportable and fit into any piece of luggage, including a laptop bag or case. With some protective cover, they can be considered very durable for travel. Here are a few design features to look out for.
| | |
| --- | --- |
| Flip-out Tilt Stands | Look for small speakers with flip-out tilt stands that fold up neatly into a compact package. The tilt stands let the traveller place these at differing angles to improve the sound direction. Easily placed on shelves or furniture at differing heights they provide great flexibility in audio listening for travellers. These items are useful in hotel rooms etc. where audio equipment may not be provided or is poor quality. Look for USB cables that can tuck neatly away into the travel case as well. |
| Snap-Aparts | An incredibly useful design for travellers are portable laptop speakers that easily snap together and snap-apart as required. They are a great item, minimising space taken up in luggage. Some models come with retractable cables and flip stands, making them even more space efficient. |
| Fold-Downs | Some models have components that fold-out when required from use, and then fold-up into a neat compact package for storage purposes. Some also have designs that let the USB cables fold-up into the base of the item. |
| Flexi-Neck | Look for models with flexible bendy parts. These are excellent for taking up little space, and can be quickly adjusted for the best sound direction., once plugged into the USB port. They take up very little luggage space and should store easily into the laptop bag. |
Conclusion
Good quality portable laptop speakers offer a greatly enhanced sound listening experience over the normal internal speakers of most laptops. Combined with a good quality set of headphones, the sound quality achieved is so far superior that it is practically unrecognisable from the unadulterated equipment. The extensive range of designs need not break the bank of the devoted music lover either, as there are many very affordable designs available on eBay.