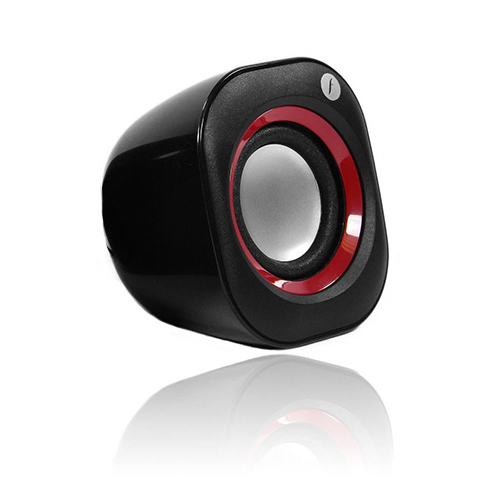 Laptops are no longer used just for work or basic functions such as word processing or sending emails. Modern laptop use is just as likely to involve browsing the Internet, listening to music or watching a film, as well as playing games. However, the in-built speakers of laptops have not evolved to meet these demands and are generally not powerful enough to play music or videos to the same standard that they are intended to be heard.
The numbers of external laptop speakers have proliferated to fill this gap, and there is now a great choice - including models from some of the leading electronic and audio brands. Purchasing and using such speakers puts a whole new spin on listening to music on a laptop, adding another dimension that results in richer, clearer, and more detailed sound.
Choosing Laptop Speakers on eBay
Laptop speakers come in various designs, from simple and compact portable speakers to ingenious designs that combine high tech speakers with other functions. They use different methods to connect to the laptop, including wired and wireless options, and may include accessories such as remote controls and further connections for hooking up MP3 players and other devices. Consider how the speakers will be used and how powerful they are required to be, looking at the various options available and comparing them in terms of both functionality and price, before deciding on a purchase.
Size and Style
External laptop speakers range from the very small to the very large. At the smaller end of the scale are compact speakers that connect via USB or small wireless speakers. The size and style of the speakers will obviously affect the price tag, and while basic quality portable speakers can be picked up very cheaply, there are also some very decent portable laptop speakers out there, offering excellent quality audio. Some of the more ingenious styles include laptop trays that incorporate speakers, which are ideal for watching films on the train, as well as some great ultra-portable minimalist designs.
Configuration
Laptop speaker systems come in various configurations, from more basic to more complex systems. The most commonly utilised systems for portable speakers are either standalone speakers or a 2.0 system.
Single Speakers
There are many small, portable speakers on the market, including the popular capsule speaker design. They come in both wired and wireless models.
2.0 Speakers
The basic stereo system is a 2.0 system comprising of two channels. There is simply a left and a right hand speaker. This is the traditional system that hi-fis have typically used. One of the speakers houses the amplifier. Using two speakers arguably results in a clearer and better sound than using a single speaker. They are also often an inexpensive option, with many cheap models available, though again this will depend on the actual speakers chosen.
Power and Performance
There are various specifications designed to provide the user with information about the speakers' power and performance. These include frequency response specifications, power output ratings, impedance ratings, and more. While useful to a degree, these values have to be interpreted along with other information, and there is no one standard test that tells the user how well the speakers perform. Compare values by all means, but also take the time to check out reviews on particular models and evaluate speakers in the same price range to see how they measure up against each other. It is also a good idea to hear speakers beforehand, if possible.
When evaluating speaker performance, several elements have to be kept in mind. Good quality speakers are able to reproduce sounds accurately, powerfully and with clear detail across all frequencies, including upper, middle and lower (bass). The key area where many speaker systems, particularly portable systems, fall down is the bass, so this can be one of the most important areas to evaluate.
Noise Cancelling Technology
A useful feature that some laptop speakers have is noise cancelling technology. This can help to cancel out the hissing sound sometimes encountered through a laptop's built-in speakers.
Speaker Controls
Because laptop speakers are designed to work with a computer, many basic systems do not provide playback or volume controls, instead leaving the user to control these via the computer. More advanced speakers will, however, have their own controls and this can be a better approach as they will enable more precise sound modulation. As well as volume controls, some speakers will provide controls to adjust the bass and upper frequencies. To be user-friendly, controls should be easily accessible - either on the front or side of the speakers or on a remote control.
Connections
There are two basic options when it comes to connections. Portable laptop speakers may either be connected with cables or wirelessly.
Wired Connections
All laptop speakers will be able to connect to a computer, but some will offer extra inputs for listening to music from other sources, such as an MP3 player or iPhone, too. 3.5 mm are standard connections for hooking up laptops and smartphones alike, but other connections include 3 pin XLR inputs for high quality balanced audio and RCA inputs. More connections mean increased flexibility, so check out the inputs if different devices may be used in the future.
Wireless Connections
Some portable laptop speakers are connected wirelessly, typically through a dongle. This eliminates the need for wires and is an aesthetically pleasing arrangement for contemporary workspaces. Most wireless speakers use Bluetooth, but an alternative is AirPlay. Bluetooth works with both PCs and Macs, and with various programmes including Spotify. AirPlay is designed specifically for Apple devices and works well with iTunes, but it can be made to work with Spotify and other programmes with the help of third party adaptors.
Buying Used Portable Laptop Speakers
It is not hard to find used speakers, but the condition and performance will vary according to how well they have been maintained, the quality of the speakers, and other factors. Buying speakers without listening to them first can be a bit of a gamble, so it is important to do some homework beforehand.
Buy From a Reputable Brand
Always research the product before buying. Buying from a reputable brand is often a good idea, as these products will be designed to last and provide good quality sound for a long time. In contrast, cheaper or generic speakers can lose sound quality with time and are also, being cheaper in the first place, less likely to have been well maintained. Reading reviews on a particular model may shed light on any issues that the speakers may experience with age.
Buy From a Reputable Seller
As well as buying from a decent quality brand, it also makes sense to buy from a seller with a solid reputation and good feedback from previous customers. They should provide accurate, thorough product descriptions along with photographs so potential customers can see any existing damage or lack of obvious damage. Look out for tears or dents as well as any sound quality issues highlighted in the description.
Conclusion
There are various considerations when buying portable laptop speakers. These include the size, style, and configuration. Portable laptop speakers are typically either single speakers or 2.0 stereo speakers. Performance can be partly gauged by checking the power output, impedance rating and frequency response rating, but checking out reviews can be another way of getting a feel for certain products. Buying from a reputable brand is one way of ensuring a certain level of quality, and it is generally recommended when buying second hand speakers. Other considerations include the available connections, playback controls, remote controls, and whether to go for wired or wireless speakers.