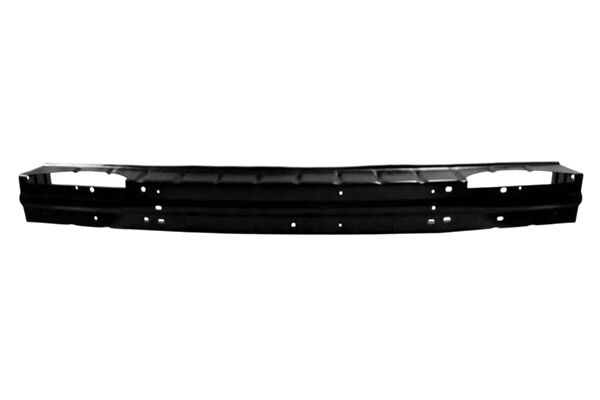 Since the dawn of the automobile, manufacturers have always had to account for accidents. From airbags to horns, seatbelts to bumpers, every car company is responsible for keeping passengers safe when travelling. Car bumpers were initially designed to protect the car in minor accidents, but as vehicles continue to reach higher speeds and with speed limits increasing in some areas, the function of the bumper has changed. While there are standards in place all bumper manufacturers must adhere to, the speed standard is so low that even minor collisions can cause a moderate amount of damage.
When shopping for a replacement bumper, one should first evaluate the condition by asking the seller about its safety rating. Small cracks and chipped paint can be fixed with a kit. Should the bumper need replacing, car owners must buy one that is compatible with the make and model of the car. There are also options for improving the strength of some car bumpers. Car bumpers can be found at junkyards, specialty auto body shops, and online websites, such as eBay.
How Car Bumpers Work
A car bumper is designed to protect a vehicle during low-speed collisions. From bumping a parking curb to another car, bumpers absorb the energy of slight impacts, protecting the rest of the vehicles. Car bumpers do little for high-speed impacts. Auto owners should note that bumpers have evolved and, many argue, devolved over the past few decades. In terms of functionality and safety, the 1970s and early 1980s marks the apex of car bumpers. Many cars bumpers were made of solid metal and chrome-plated. They typically had black rubber pads to absorb energy from low-impact collisions.
Contemporary cars have drastically modified the look of bumpers, rendering them virtually useless aside for aesthetics. Today's bumpers are made from less durable materials. For instance, thin plastic is quite common. Bumpers are painted to match the rest of the car, and while it may look good, even the slightest front or rear low-speed impact can crack or blemish the fragile material.
About Buying Car Bumpers
Shopping for a car bumper is not a common occurrence, but those who find themselves in such a position can follow a few simple steps for easy and hassle-free searching. With a little bit of research, car owners can have their vehicle up to code and back on the streets in no time. First, shoppers must know where to search for a car bumper. They should also have a basic understanding of what they are looking for. The make and model is a good start, but there are more features to consider.
Car bumpers should pass certain European Safety Standards for front and rear low-impact collisions. Not all damaged bumpers need to be replaced, small cracks and paint chips can be repaired and save drivers a chunk of change. The tips below help drivers find a car bumper that is right for them.
Where to Find Car Bumpers
Finding people or places that sell car bumpers is often half the battle of tracking down a new one, and knowing just where to look can be difficult for those who have never found themselves in this situation. Depending on the budget, buyers are faced with two options: new or used. Buying used may take a bit of researching and a few trips to a local junkyard, but this often a cost effective option.
Moreover, looking for car parts online is gaining in popularity. Instead of shopping locally, buyers can expand their search nationally, and internationally if needed. The condition and location of the bumper determines the cost of an online purchase. Shoppers should consult with friends and family or scour the Internet for a listing of someone who builds or customises bumpers.
Choosing a Bumper
When it comes to searching for a bumper, auto owners must have the make, model, and year on hand. Some bumpers can fit the same model for several years; others are more specific. Additionally, shoppers need to know if they need a front, rear, or both bumpers. The colour is less than important since bumpers can easily be repainted. It is difficult to know if a bumper is of satisfactory quality simply by looking at it. Buyers should ask the seller what sort of safety and performance rating it has before making a decision.
European Safety Standards
The United Nations Economic Commission for Europe, shortened to ECE, has implemented safety standard for front and rear bumpers. Moving forwards or backwards, the majority of the bumper must be able to withstand speeds of 4 kilometres per hour. The corners must only hold their shape at 2.5 kilometres per hour. Although these impact speeds appear to be minimal, most collisions occur in parking lots and other low speed situations.
Tools for Repairing a Car Bumper
Not all damaged bumpers need to be replaced. Some can be repaired. Before looking for another bumper, drivers should assess the damage. Since newer models have bumpers made from plastic and not metal, putting a dent or hole in one does not take much effort. Fortunately, there are bumper repair kits that can patch up moderate damage with the help of a few tools. Superficial cracks and scratches can be touched up with paint.
Accessories for Bumpers
In addition to finding a bumper that fits, there are accessories available that enhance the look and performance of the bumper. Grill guards are made of reinforced steel bars that protrude past the bumper to absorb collision energy first. Some luxury cars and aftermarket bumpers have slots for additional lighting. Drivers who want to strengthen their bumper can install reinforcements and trim. The sections below list common modifications people make to their car bumpers.
Grill Guard
A grill guard is a series of strong metal bars position in the front of the vehicle. It is a popular option for SUVs and trucks. There are two types of grill guards available: one-piece welded or three-piece bolted. The first option is the more expensive of the two, but with a high price comes superior quality. Three-piece bolted grill guards are cheaper and sufficiently designed but offer less protection. Drivers can choose among black, chrome, and brushed metal coloured options.
Lights
Several makes and models of vehicles have tail lights that fit into the bumper, and there are a handful of luxury vehicles on the market that have fog lights built into the front one. Some auto owners like to customise their front bumpers with aftermarket lights. With so many cars needing bumper lights, it is no surprise that there are a plethora of aftermarket bumper lights available.
While standard coloured lights are the most common purchase, some drivers prefer other colours, such as green, orange, and pink. Before installing these lights, shoppers should check federal regulations to ensure their car is operating legally. Like searching for an entire bumper, bumper lights should be purchased based on the make, model, and year.
Reinforcement and Trim
Car owners interested in giving their bumper protection can have aftermarket reinforcements and trim installed. Although these are not a common modification, those interested in preserving the entire car can benefit from one of the various options available. The least expensive are rubber strips placed along the corners and centremost areas of the bumpers. They are designed more for protecting against paint chips and scratches than significant damage. Luxury cars often have aftermarket options of either metal or thick rubber padding to protect their investment. These parts are typically make, model, and year specific.
Buying Car Bumpers on eBay
Finding a car bumper on eBay requires knowing the make, model, and year of the vehicle. Whereas searching for a "car bumper" fetches all the relevant results, including keywords such as "ford escort front bumper" can narrow your results. One element many buyers may want to be tempted to search for is colour, but with limited options, it is best to buy a bumper that fits because colours can easily be matched.
Payment Method
If you find a car bumper or accessory compatible with your vehicle, be sure to check the seller's preferred payment methods before purchasing. There are four common methods of payment on eBay, PayPal being the most popular. A PayPal account is safe, secure, and simple to use. Credit and debit cards are frequently accepted and are also traceable and easy to use. Cars and other expensive purchase may require an escrow account. Few vendors accept non-traditional methods, such as direct wire transfers, postal orders, and personal cheques.
Conclusion
Finding the right car bumper takes a bit of time and effort, but knowing which questions to ask and standards to abide by enables buyers to make the best choice. The first piece of information shoppers must come equipped with is the make, model, and year of the car. Finding the style is much more important than matching colours. Any auto detail shop should be able to paint the bumper the appropriate hue. Customers who want more out of their bumper than what the European Safety Standards call for can opt for grille guards and other reinforcements to improve the durability of the bumper.
Not all damaged bumpers need to be replaced. There are touch up kits available that can repair small cracks and perform near match paint jobs. Should a driver need to purchase a bumper, the discounted option is to buy used at junkyards or reputable online dealers, while the more expensive route is purchasing a custom made or new part from a specialty auto retailer.