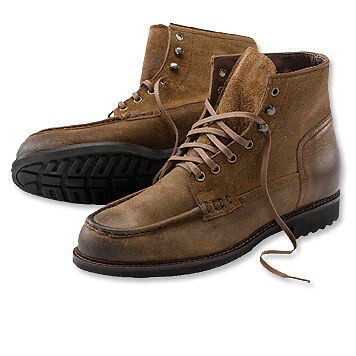 Boots have been worn for centuries as they are both protective and look good. The fashion in boots has spanned many different styles from highly functional to decorative and fancy. Some older models of boots were made of durable materials and as such, they have persisted to the present day. Often these models were worn only rarely and this further enhanced their durability. Now, vintage boots are worn on special occasions or are collected by footwear lovers. As they are rare, vintage boots tend to be rather expensive and finding a bargain can be a matter of luck. A buyer can try to find vintage boots on the secondhand market in places such as charity shops or car boot sales, but it usually takes a lot of time to go through all the sales in the area. Too often, a great deal of time is spent searching for a much wanted item, with the buyer ending up with nothing. Fortunately, online auction sites, such as eBay, list a wide variety of vintage boots that can be browsed from the comfort of one's home.
It is wise to do extensive research on the specific sought after vintage boot model to get a good idea of the price as well as other characteristics that need to be considered. Being an informed buyer is even more important than with casual clothing or other footwear items because vintage boots are special and, when chosen wisely, the centre of attention.
Vintage Explained
Before rushing into the world of vintage boots, the term 'vintage' should be explained. 'Vintage' can be mixed up with "antique" and "retro", so in order to avoid making a mistake when buying vintage boots, the difference between the three terms needs to be understood as they diverge a great deal.
Antique vs. Vintage
The oldest items available are usually referred to as antique, but the buyer is unlikely to find boots on sale from ancient Greek or Roman times. So, antique in the context of footwear means that the item is at least 75 years old. Vintage footwear dates from the end of the antique period, so boots from the 1920s until the 1960s are considered vintage. Thus, the age of antiques refers to the object itself and vintage refers to a certain era. While antique items derive their importance from their uniqueness and age, vintage items gain relevance in context. So, a pair of vintage boots can tell stories about their past.
Retro vs. Vintage
Retro is significantly different from antique and vintage, although the terms are sometimes used interchangeably. When referring to vintage boots, both the style and the boots themselves are from a previous era. Vintage boots can be found in mint condition, but most often they have been worn by their former owners. Well kept and cared for vintage boots are useable decades after being made. Retro boots, on the other hand, are made in the modern day, but inspired by previous eras. The term, retro, means backwards, and this describes perfectly how fashion looks back, picks the best of the past, and gives it a new life in an unexpected form by mixing it with current styles.
Vintage Boot Styles by Decade
Boot fashion has gone through many changes throughout history and different styles characterise different eras. When shopping for vintage boots, it is important to know which year they originate from. This helps with finding an authentic pair of vintage boots, especially when collecting items from a specific era. A 1950s fan would not be satisfied with a pair of boots from the 1930s as they wouldn't match her 1950s dress collection. Vintage footwear from the 1920s to the 1960s is explain in what follows..
Vintage Boots From the 1920s
During the war, boots were favoured over shoes because they were more suitable for factory work. However, once the war was over, more delicate footwear, with decorative effects appeared. The boot fashion of the 1920s featured a pointed toe and a medium-height heel of about 5 centimetres. Both the straight-sided Cuban heel and the waisted Louis heel were popular.
Vintage Boots from the 1930s
The 1930s saw the rise of suede as a material for boots. Suede is a type of leather, generally buckskin, with a napped, soft surface. Often it is turned inside out, meaning that the flesh side is worn outside, but sometimes the material is made from a thin layer removed from the outer side of the skin. The most popular suede boots of the 1930s were ankle high lace-ups.
Vintage Boots From the 1940s
In the 1940s, laces gained even more popularity and they were soon accompanied by fancy buckles. The rounded toe was the preferred shape for boots of the time. During World War II, many clothing and footwear materials were rationed, however, more exotic materials, such as snake or crocodile skin, were not needed for the war effort, so many boots were made out of these.
Vintage Boots From the 1950s
Thanks to the post-war boom, the footwear industry went through a series of improvements in the 1950s and started to produce better quality boots. Vintage boots from the 1950s were more durable than their earlier counterparts. The main emphasis was on the shape of the boot, rather than its colour or fabric. However, bright colours were worn in the evening and more conservative boots for daily wear. The most common materials were suede or smooth leather.
Vintage Boots From the 1960s
Boots were highly fashionable during the 1960s and they came in many different styles. Best known are the iconic go-go boots, ankle or calf-high boots with a comfortable heel that made them suitable for long nights of dancing. In the 1960, these boots were seen regularly on television, worn by teenage dancers, which lead to the boots making their way into people's hearts.
In the mid 1960s, French fashion designer, Andre Courreges invented the square-toed and flat white thigh high boots. These boots set a new trend. At first, they were made out of injection-moulded plastic. Soon Yves Saint Laurent diverged from the original boots and created his own style of crocodile boots.
Knee-high boots accompanied the introduction of the mini-skirt to the fashion world. Loose-fitting boots that did not clung to the leg also appeared on the scene and they started to be produced from textiles and treated leather rather than plastic and plain leather. With so many varieties added to the footwear selection, the 1960s were a high time for boots.
Basic Tips for Buying Vintage Boots
When looking for a pair of boots from a specific era, the information that should be considered varies according to the type of boot that is desired. However, there are some rules of thumb that can help any eager shopper for vintage boots.
As boot making technology advanced in the 1950s, it is best to look for boots made after that decade for ultimate quality. Handmade boots from the 1930s may look beautiful, but they may also be fragile. However, if the boots are for collecting only and will not be worn, then even the older, handmade varieties are suitable.
The most durable materials used for the upper part of the boot include full grain leather, patent leather, and exotic leathers, such as alligator and lizard. When buying online, it is important to zoom in on the photos of the boots in order to detect any breaks and previous repairs that may hint at poor quality. Cracked or peeling vinyl, as well as bald patches in suede should also be avoided as they only get worse with time.
The heels of the boots should be made of real wood or leather rather than plastic. Tacky residue on the insoles is not a good sign generally. Hand-lasted soles endure for the longest time. When the maker's name is stamped on one insole and the shop on the other, this is a sign of exclusivity and quality. Generally, vintage boots made in Italy and Spain are a good choice.
Buying Vintage Boots on eBay
eBay is a large auction site and therefore a very convenient place to find the best vintage boots. If you know exactly what you want, you can type your query into the search box on the main page. You may also browse through the pairs of footwear in the women's vintage shoes category by selecting 'boots' as the preferred style. Narrowing down the options by choosing the era is also possible.
When buying boots online you cannot try them on before you buy them. Therefore, it is hard to predict whether they are a perfect fit. You should always contact the seller about possible exchanges and refunds early on in order to avoid later disappointment. You may also ask the seller to measure the boot and then compare the measurements to your own boots. Remember, when looking into buying round toe boots, compare them to your own rounded versions, not those with pointed toes. In addition to measuring the length of the foot also consider that vintage boots have different widths. The most common width is 'B' or 'medium'; 'AAA' is on the narrower end and 'EE' on the wider end of the spectrum.
If you are buying a pair of vintage boots as a collector's item, then boots of any size are desirable.
Conclusion
Many of the best boots were designed many years ago. Although it is possible to buy similar retro styles that mimic the bygone trends, and mix them with modern fashion, vintage boots are always a good investment. They are the genuine article, usually worn, but often in good condition. They are found in secondhand venues, such as car boot sales and charity shops, but the easiest place to search is an online auction site, like eBay, where many vintage boots are brought together into one place making it easier to find the perfect pair.
When looking for vintage boots to wear, quality is the most important aspect to consider. Natural leather has always been a durable material and stitched types generally last longer than more modern glue techniques. Examining the photos of vintage boots carefully is a good idea as it gives a good idea of their condition. Whether buying vintage boots to wear, or simply for collecting, eBay offers a wide choice of stylish vintage boots for a range of decades.