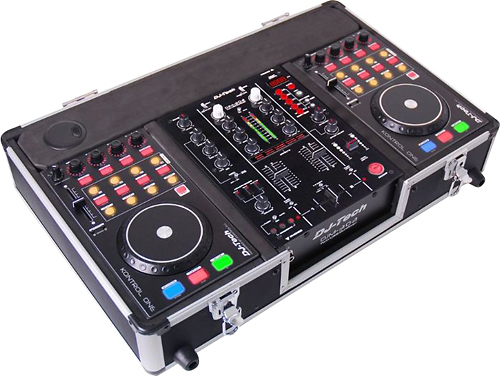 A disc jockey may be called upon for a wide range of occasions aside from the regular club circuit. Birthday parties, wedding receptions, school dances and end-of-year celebrations are only a handful of other examples where a DJ might be required. The amount and type of gear a particular DJ adds to their rig depends on several factors, some of which include performance style, image, experience, budget, and venue. There are mobile DJs who take their gear with them; those who play clubs with fixed equipment, or the occasional performer who hires their equipment as they go. How ever the DJ chooses to run the show, eBay contains a growing list of relevant equipment at great prices.
The modern DJ creates a brand for themselves, which determines their equipment and rig as much as the music they play. There is plenty of room for the traditional DJ rig alongside the digital, so knowing which way to go becomes a question of personal preference mixed with audience expectations. Attaining the right DJ gear requires the DJ to ascertain who they are as performers, what their music says about them, and who their audience is.
DJ Branding
When someone wants to set themselves up or even professionalise an existing DJing career, it is recommended they develop a particular image that people can recognise and associate with them. They should consider employing a professional title and develop an associated logo. They then can begin to stand out from other DJs, especially if they play specific genre clubs with purist crowds who appreciate their music more.
Although newbies on the scene are often desperate for a gig and may accept a broad range of offers from all sorts of people and places, with further experience, DJs with specific musical passions typically regroup into genre-specific DJing realms. This process ultimately defines the type of setup they build, the kinds of playlists they use, and the way they play it.
Determining the Right Gear
It is easy to become overwhelmed by the choice of equipment available to the modern DJ. The sheer plethora of DJ gear is often designed for specific types of rigs and musical genres, so it essential that a DJ becomes well informed before making a purchase. Setting up as a DJ can be an expensive exercise, especially when making a separate purchase for each item. For the DJ who is just starting out, however, they can save on some outlay by purchasing a package that includes the basics that can be added onto later. With the advancement of time and experience, the DJ can sell, trade, and upgrade their equipment according to future needs.
After establishing a specific style and image, it is then much easier to choose the equipment that can best enhance their chosen approach. The choice between analogue and digital technology, or a combination between the two then becomes much easier to make, and this determines to some extent the physicality of a particular DJ rig and how many decks are needed. A DJ should not just consider the size and configuration of their own immediate rig console, but also the surrounding sound system. They need all their equipment to facilitate multiple connection inputs, outputs, and adaptors to avoid connectivity issues.
The Console
Depending on the venue, the DJs console often reflects the type of rig they have chosen based on their selected image and presentation style. The size and dimensions of the DJs rig depends on either personal preference or space limitations, but equipment choice ultimately determines the appearance of their rig console.
The DJ Mixer
Many mixers designed for the DJ are built into the centre of a CD or turntable deck. This is by far the most convenient way to incorporate the mixer into the rig as it eliminates the need for additional equipment. The DJ mixer comes with either two or four channels. Two channels are ideal for the vinyl spinning DJ; however, four and six channel mixers are preferable for the DJ who employs the use simultaneous multi-media devices.
The Vinyl Deck
The classic medium of presenting pre-recorded music is via LP vinyl. DJs learn the finer aspects of their craft through developing skills in cueing, mixing, scratching and turntabling. This format is still the preferred style among hip-hop DJs, for example, as it inspires a certain physicality on the part of the DJ which is expected by the crowd. The Technics 1200 direct drive series turntable is one of the most popular DJ turntables in history. Manufactured in the 1970s, the direct drive, high torque performance still delivers some of the most enduring turntabling experiences as it has for generations of DJs.
CD or Vinyl
Any notion of superiority of these two mediums over one another is subjective and really amounts to personal taste. DJing with vinyl, on the one hand, allows for unbeatable playing flexibility, with scratching and turntabling techniques adding some unique spice to a playlist. On the other hand, the high-end CD deck (often called the CDJ), provides many of the manipulating options of the traditional turntable, whilst eliminating great amounts of bulk and weight from the overall DJ rig. Many of these CD decks integrate a turntable design and allow spinning and cueing of the CD disc in essentially the same way as a vinyl disc.
Digital Vinyl Systems
A popular platform today among professional DJs is the digital vinyl system. This is a hybrid format, bridging the gap between vinyl and digital, making it the perfect transitional system for the DJ moving between the two mediums. Although its interface looks and acts to some extent like a conventional record turntable, the music is stored on the hard drive of a connected laptop computer, and fed into the audio interface of the digital vinyl system. The DJ manipulates the MP3 format sound by working two blank vinyl discs aboard the turntable as they would with an analogue set-up.
A particular crowd pleaser, this system allows the DJ to operate with all the theatrics and showmanship of the traditional DJ rig, with the convenience of a lightweight setup free of record crates and other cumbersome equipment. The only downside of this unit is that it is designed for the experienced DJ with turntabling skills, so may not be ideal for the DJ starting out.
MP3
A popular option for the digital DJ is in simplifying their rig through playing MP3s only. The source may be a laptop computer, Apple iPad, or other digital storage device such as a USB flash drive or memory card. With the aid of a multi-format mixer, the DJ can enhance the MP3 output signal, transforming it into a rich and vibrant sound before it reaches the speakers. This method requires far less skill in the "craft" of DJing, and has struggled to gain respect from traditionalists.
In more recent times, however, technological improvements have enabled the MP3 DJ to present a playlist more comparable in standard to vinyl or CD presentations. This approach can appeal to the novice DJ or the DJ who simply wants to play for some friends at a party or social occasion. Its obvious advantage lies in the low-profile of the rig with minimal equipment and set-up required.
The Sound System
The sound system a DJ chooses is to some extent determined by crowd and venue size, as well as the kind of music being played. Of course, most DJs who play the club circuit make use of existing sound equipment, whereas mobile DJs playing a host of potentially ill-equipped venues may require their own speaker system.
Speakers
The chosen speakers determine much of the final effect. The DJ needs to consider the anticipated size of a particular crowd and the size of a venue to determine the size and output of the speakers. There are essentially two types of speakers: active and passive.
Passive Speaker
The passive speaker uses an external amplifier to generate the most ideal high-wattage sound amplification. Large, high-output passive speakers are recommended for vast spaces with more than 50 people. These speakers need to be connected to a wattage compatible amplifier to attain the full output potential without distortion.
Active Speakers
Active speakers contain their own in-built amplification, making an external amplifier unnecessary, and it is a good way for the budding DJ to save on initial equipment expenditure if they can find some at a reasonable price. A great convenience of the active speaker is its adaptability to a variety of venues with relative setup ease. A downside, however, is that active speakers themselves are heavy, less reliable, with a slightly lower overall sound quality to the passive speaker with external amplifier. Active speakers also tend to be aimed towards the low-end computer speaker market or the upper-end category with a high price tag.
The Amplifier
Sound output ultimately depends on the wattage and decibel output of the amplifier matching the capabilities of the speakers. The DJ amplifier can be a power amplifier, stand-alone unit, or an amplifier built into the mixer, a mixer amplifier. Both the power amplifier and the mixer amplifier can deliver high output signal to corresponding high-output speakers although the stand-alone power mixer is recommended for larger venues with bigger crowds.
DJ Accessories
Much of what is commonly described as accessorial is in fact essential. There are many items a DJ needs besides rig components and speakers. These include non-negotiables, such as headphones, adaptors and leads, as well as more negotiable, yet possibly desirable visual effects.
Headphones
One of the most indispensable items for the professional DJ is a high quality set of headphones, essential for successful cueing and mixing. High levels of sound isolation are an important feature of the headphone. This alone can make the difference between noisy distractions, causing associated cueing problems, and a smooth and efficient mixing process. Overall comfort should be another major consideration as the wearer may need to endure several hours of continual use.
Microphones
The microphone is an optional extra for many DJs. Its use may be extensive or very limited, but a standard dynamic microphone is adequate for most DJing use. It is designed to minimise wind and breath and associated pop noises, and it is popular for both singing and speech.
Special Effects
Some DJs like to experiment with various visual effects for different events. These effects are many and varied but often include the very popular dry ice fog machine. Lighting equipment makes up a permanent fixture of the dance club, but some DJs may opt for portable units that provide additional effects.
Leads and Connectors
A DJ should choose only the leads and connectors made of the highest grade materials for both performance and durability. Only fully insulated cables should connect the various media decks. Unshielded cable, however, is acceptable between amplifier and speaker as the high voltages being transferred prevents any audio interference.
How to Buy DJ Gear on eBay
eBay is one of the most cost-effective places to look for DJ equipment, and its range continues to expand. As a potential buyer, you should decide if you wish to purchase a package or buy individual items one at a time. When searching for DJ gear, key in various combinations of search terms to bring up your sought after items, such as dual CD decks.
Whichever way you go, it is a good idea to consolidate your purchases from the same seller if possible. This is particularly helpful if the seller has an eBay store where you can browse for additional pieces to add to your DJ rig. Not only might you save some money, but by dealing with the one seller, you are streamlining your shopping experience and only having to deal with one individual.
Always check the seller's own ratings details and feedback page. The higher ratings of 99 or 100 per cent positive feedback give customers a good deal more confidence than anything below this. You should deal with any queries directly with the seller and only agree to purchase when all your questions have been answered satisfactorily. Handling costs can factor heavily as most DJ equipment is weighty. Always allow for this in the costing process. If you are local to the seller, it may be possible to arrange for private pickup or delivery.
Conclusion
The best DJs know their music and their audience, and so, they understand the sort of gear they need which lends itself to their personal style, image, and reputation. This means a thorough knowledge of the capabilities of various equipment and the expectations of their audience.
For the budding DJ just starting out, however, setting up their own rig need not be quite so daunting. Accordingly, the DJ need only purchase what the immediate situation calls for and save the peripherals for a later time when demand or budget allows. This process enables the aspiring professional DJ to get to know themselves as low-key performers first and how they might best branch out and specialise in more specific regions of the DJing world later on. With furthered experience and sharpened skills, the DJ may pave their own, unexpected way forward and find themselves many sound waves away from their originally conceived destination. To help them on their journey, eBay provides an easy-to-use interface with various search options to make buying DJ gear a painless process.