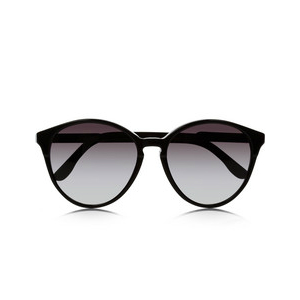 Cat eye sunglasses are a feminine style of dark, coloured lenses that have frames shaped like the eyes of a cat. Cat eye sunglasses transform a plain-looking woman into a femme fatale in moments by giving her an air of mystery. Their distinctive, eye-catching shape is sure to draw attention. They are perfect for holidays spent in style, or for hide tired eyes after a long night out. However, cat eye sunglasses are not for everybody. This feline style is best suited to girls with thin faces as the elongated frames can widen an already broad face.
Cat eye sunglasses come in a range of sizes, so finding a pair that fits should be easy. There are plain frames as well as fancier frames decorated with rhinestones or other embellishments. While cat eye sunglasses are a desirable fashion item, they may not be readily available in all bricks and mortar clothing or accessory shops, especially during the winter when the demand for sunglasses is lower. Therefore, one can browse online stores, such as eBay, for the widest selection of cat eye sunglasses, all year round.
A Short History of Cat Eye Sunglasses
Cat eye sunglasses first appeared on the fashion scene in the 1950s and have evolved since then with the introduction of new materials and colour schemes. However, their distinctive shape has stayed more or less the same. During the 1950s, the cat eye style gained popularity thanks to its appearance on the big screen, donned by film stars like Marilyn Monroe and Audrey Hepburn: cat eye sunglasses made their debut in the classic film "Breakfast at Tiffany's". Although their height of popularity was during the 1960s, cat eye sunglasses are still valued today for their femininity. The feline-inspired sunglasses still make a bold fashion statement. The cat eye sunglasses are available both as rare vintage items and 1950s and 1960s retro style sunglasses.
Main Features of Cat Eye Sunglasses
Cat eye sunglasses evolved from ordinary spectacles that had the same feline-inspired frame. Typical cat eye sunglasses have thick horn-rimmed frames with arms that reach out in an arch from the top corners of the lenses. Although the frames of cat eye sunglasses are much more stylised than ordinary frames, the lenses used in the cat eye sunglasses are in no way different to those used for ordinary spectacles.
Lens Types Used in Cat Eye Sunglasses
Lenses used in cat eye sunglasses are made of several different materials. Thanks to special coatings, glass lenses are scratch-resistant and provide superior optical clarity, but they are also expensive and heavier than other types. Polycarbonate lenses are lightweight, affordable and they have good optical clarity, but they do not offer as clear a vision as glass or polyurethane and they are more prone to scratches. Lightweight polyurethane lenses are expensive, but they have many advantages, such as premium optical clarity, and superior impact-resistance. Acrylic lenses are usually the cheapest and they are used in many casual sunglasses. However, they are not very durable and some image distortion may occur.
Lens Colours for Cat Eye Sunglasses
The choice of colour for tinted lenses depends on the wearer's preferences, how well she sees contrasts and colours, and how sensitive her eyes are to the light. Grey, green, and brown lenses are colour-neutral meaning that they do not change the visible colour scheme, but only reduce the brightness and eyestrain. Gold, yellow, and amber boost the contrast and reduce the brightness in moderate or low light environments. Vermilion or rose sunglasses make colours brighter by enhancing the contrast, and work well in low-light conditions and green and blue backgrounds where they enhance the visibility of objects. Mirrored cat eye sunglasses reduce glare as the reflective film on the surface reflects most of the light, but they also make the world seem darker.
Frame Materials
The safety, durability, and comfort of cat eye sunglasses largely depends on the frame material. Metal can be adjusted to the face easily, but it is expensive and not very durable as it does not do well in high-impact situations. Nylon is lightweight and cheap, lasting longer than metal. Acetate is a variation of plastic that comes in many colour variations, but it lacks flexibility.
Choosing the Perfect Pair of Cat Eye Sunglasses
As with any pair of glasses, there are some features that should be considered when looking for the perfect pair of cat eye sunglasses. Their distinctive shape makes them suitable for certain face shapes and styles, and girls should not overlook the important UV factor.
Face Shapes That Benefit From Cat Eye Sunglasses
Cat eye sunglasses can be either a strong fashion statement or a subtle accessory, depending on the particular shape of the frames. Some cat eye sunglasses have a very exaggerated, elongated frame and fit only certain face types, whilst others are more subtle and resemble conventional sunglasses that can be worn by anyone. Cat eye sunglasses with sharp-edged frames emphasise the angularity of the face, so they can be worn by girls without that angularity, such as those with round or heart-shaped faces. Cat eye sunglasses with rounded frames take the edge off faces with sharp corners and are best suited to girls with square, triangular, or diamond-shaped faces.
Thinking of the UV Factor
Although the main feature of cat eye sunglasses is their trendiness, girls should not forget that they are sunglasses and therefore designed for a specific purpose. Sunglasses protect the eyes from harmful UV rays, but only when they have good quality lenses. Tinted lenses, such as green, grey, and brown, make the eye's lenses open up wider than usual, so more UV rays can enter through the sunglasses if they lack proper UV protection. Often cheap sunglasses have lower levels of UV protection than more expensive ones, but it may be possible to find a good pair at a bargain price, especially on auction sites, such as eBay.
There are three types of ultraviolet rays, but not all cause harm to eyes. The UVC rays cannot come into the atmosphere and therefore they are not a problem, while the UVA and UVB rays have been a cause for concern for many years. The UV information is typically included on a tag or a sticker on the lens.
UVA Protection
UVA rays are absorbed by the eyes to great extent. Although they are not a major concern, it is better to avoid them by wearing sunglasses with good quality lenses.
UVB Protection
UVB rays are the main cause of concern because they can be a factor in many eye diseases, such as eye cancer and other growths, macular degeneration, and cataracts. In order to protect the eyes, sunglasses should block both the UVA and UVB rays.
The best cat eye sunglasses usually block all the harmful rays, but they are also more expensive. However, finding good pair pays back in the long run.
Buying Cat Eye Sunglasses From eBay
To find your perfect pair of cat eye sunglasses from the wide selection on eBay, you can start your search by typing the query into the search box on the main page. Once you have the auction listings, you can sort them by price, condition, and auction time. You can either opt for new, retro cat eye sunglasses that fuse modern technology with old-style glamour, or you can search for vintage sunglasses from the 1950s or 1960s, the classic period of cat eye sunglasses. Bear in mind that vintage cat eye sunglasses are best used occasionally because they do not provide full UV protection. However, they do well as styling pieces.
As you cannot try the cat eye sunglasses on until after the purchase, you should contact the seller beforehand to find out if you can exchange or refund the sunglasses if they are not a perfect fit. The item description may give you an idea about their suitability, stating whether they are for small faces or other types. Asking the seller is always a good idea when in doubt. When you open the item description page, you can click on the "Ask a Question" link to send your queries to the seller.
When trying your sunglasses on, bear in mind that their weight should be distributed evenly between the nose and ears, and the frames are not supposed to rub or pinch.
Conclusion
Cat eye sunglasses were a popular fashion accessory during the 1950s and 1960s and are making their comeback. They are an elegant and feminine choice for sunny days when the eyes need protection. Their distinctive shape gives the wearer a feline look as their horn-rimmed tips extend from the tops of the frame, making them stand out from conventional sunglasses. When looking for cat eye sunglasses, the buyer must take into account the shape of the frame and match it to their face shape.
The cat eye sunglasses are not only a fashion statement, but they also protect the eyes, so the UV factor should be considered when buying. Some vintage cat eye sunglasses can look cool, but they may not have modern day UV protection. Fortunately, there are retro styles available that offer the same classic look using modern technology. In the summer, cat eye sunglasses can be found from many opticians, but online auction sites, such as eBay, always have a wide range at any time of the year.