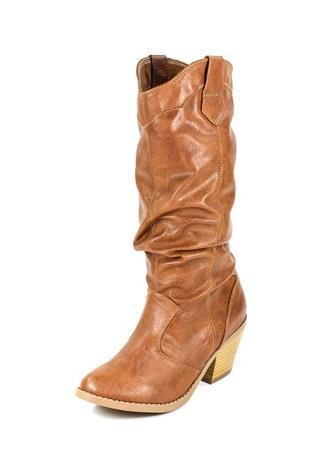 Cowboy boots are footwear that extend up to the middle of the calf and have a pointed toe, fancy decorative stitching or ornamental details, and a high slanted heel that tends to be chunky. As the name already hints, these boots used to be worn by cowboys, but today they have entered into women's shoe fashion. When worn by women, they are also called cowgirl boots. In the past, cowboy boots were functional footwear used by equestrians and were derived from other boots that were popular before the 20th century. The heels kept the feet from slipping out of the stirrups while the leather sole made putting the foot into the stirrup easy. The knee-high length protected the cowboy's calves. Today, cowboy boots are a daily footwear and brave fashionistas wear them even with cocktail dresses. Cowboy boots vary in style, length, material, heel height, and function and therefore it is wise to know more about them in order to make an informed decision when looking to buy a pair from a bricks and mortar shop, or an online retailer like eBay.
A Short History of Cowboy Boots
As cowboy boots have changed their use over the years, it is interesting to know what lies behind their distinctive appearance. This footwear was originally used by serious workmen who herded cattle and needed footwear that did not have any redundant features. All details of the cowboy boots were thoroughly considered and had a specific task to fulfil.
The first real cowboy boots were made in Coffeyville, Kansas, in 1870. They had a low Cuban heel, the front of the boot was a different colour and it was usually lower at the back. Inspired by the cavalier boots of the past, the late 19th century saw the boot gain a higher heel. The tight fit and high arches of the cowboy boot offered support for the feet, while the stitches were always made on the outside in order to prevent rubbing and blisters. The pointed toe allowed the cowboy to get his foot into the stirrups quicker, while the high heel kept the foot in place and provided safety on rocky trails as well as on the ground. The tough leather material prevented bruising and protected the calves from any dangers on the riding path. Cowboy boots have always been easy to slip on or take off as the cowboys sometimes needed to get out of their boots quickly, for example, when stuck in the stirrups.
Early in the 20th century, boot makers started to apply decorative stitches on the toes and to wrinkle the top part of the toe. Films and radio shows depicting the lifestyle of the Wild West brought the cowboy boots to the attention of the general public in the 1920s and 1930s. Colourful designs and images became a part of cowboy boots during the 1940s. The pointed toes, very typical to modern cowboy boots, did not appear until the 1950s when country music and rodeo became a popular entertainment. Once in the spotlight, the style of the cowboy boots was determined by current fashions and popular films. A rise in an interest in line dancing has had a strong influence on the popularity of cowboy boots and has continued for decades. Cowboy boot styles became even more interesting in the 1990s when precious stones, rhinestones, conchos, and studs were added as decorations. From simple workmen boots, the cowboy boots have broken through to the wider public and gained recognition worldwide. Today, they are worn by even the most fashion-conscious women.
Materials Used in Cowboy Boots
When choosing which cowboy boots to buy, the material plays a significant role especially in terms of durability and price, and can thus be a determining factor. Different types of skin require different levels of care and maintenance. Cowboy boots that are made of natural cowhide are the best working boots, but today girls tend to buy cowboy boots for style purposes. In which case they often opt for more exotic materials.
Reptile Skins
Skins from pythons and rattlesnakes are used to create cowboy boots with complex and beautiful patterns. Lizards, specifically alligator lizards, are another reptiles whose skins are used in the production of cowboy boots. Footwear made of lizard skin has a hard surface and is therefore easy to shine. The distinctive-looking alligator skin cowboy boots are rather expensive and they need a lot of care to prevent them from drying out and cracking. However, when looked after well, alligator cowboy boots please the eye with their rich colour and glossy finish.
Rare Skins
Several types of ostrich skin offer the wearer a unique grain-like surface that breathes well. The ostrich skin cowboy boots are desired because of their durability. Strength is also admired in eel skin boots that provide a sleek look.
One of the rarest materials used in the manufacturing process of cowboy boots is the anteater's skin that essentially resembles that of the alligator. When these boots are cared for, they last for a long time. Thanks to their rarity, they have become a symbol of status because very few people can afford them. Anteater cowboy boots are very often custom made.
Cowhide and Goatskin
Although the exotic leather types may sound fascinating, they are also expensive. Simple cowhide can be printed, so that it looks like some of the more expensive materials available. Cowhide is very durable and promotes good health as it allows the feet to breathe, and reduces sweating. Another cheaper option is goatskin, which has many pores and thus breathes well. Goatskin is very adaptable and can be tanned in a variety of ways in order to generate different colours.
Synthetic Materials
The cheapest of the cowboy boots are those made of synthetic materials. Compromise in price means that these boots endure less well than their real leather counterparts. But with a tight budget, even faux leather boots will do, especially when they have a very particular look that makes them unique.
Things to Consider When Buying Cowboy Boots
The material of cowboy boots has a lot of impact on their durability and price and therefore it is the main thing to consider, but there are other important feature as well. Once over the material-choosing bump, the choice becomes easier and it is simply down to the preferred style, length, and heel height.
Cowboy Boot Styles
The style of the desired cowboy boots is probably decided upon according to the personality of the wearer. More conservative girls tend to pick plainer boots while extroverts may shop for more extravagant footwear that stands out and attracts attention. Finding the right style should not be difficult for the buyer who understands her own style very well. The style is also dependent upon the type of cowboy boots. Work boots offer functionality, while party cowboy boots emphasise their looks rather than usefulness. The variety is the widest online at auction sites, such as eBay, as many high street shoe shops may not have cowboy boots in stock all year round.
Length of Cowboy Boots
The length of the cowboy boot is yet another matter of style and personal preference. Classic cowboy boots reach just below the knee and cover the calves, while modern models are generally shorter. While choosing the right length, it might be wise to consider which outfits will be worn with the boots and then decide what kind of length fits best with these clothes.
Heel Height
The heel height is closely tied with comfort and therefore it depends on where and how often the boots are worn. Higher heels are suitable when the cowboy boots remain in the wardrobe for most of the year and are taken out only on special occasions. Short-heeled cowboy boots are more comfortable and support the wearer on long walks as well as country or line dancing parties.
Buying Girl's Cowboy Boots from eBay
eBay is a good starting point for finding the best cowboy boots for any occasion because it features sellers worldwide and offers a vast array of styles. You can either type "cowboy boots" and any other specifying search words into the search box on the main page or browse the cowboy boots subcategory under women's shoes. While faced with a long list of thousands of cowboy boots you can narrow down your choice by sorting the results by price or the auction time. You can also select preferred brands, sizes, conditions, heel heights, materials, and colours.
Cowboy boots made of real leather can be a pricey investment and thus should fit you perfectly. As genuine leather boots are very durable and stay with you for many years, they should not be too tight or too loose at any part of the boot. Contact the seller before you make the purchase and ask if exchanges or refunds are possible. As you are not able to try the boots on before purchasing, it is wise to have a backup plan in the event of an unsuccessful choice.
Conclusion
Once worn by serious workmen who particularly valued functionality, then made popular by westerns and country music, cowboy boots have become fashion items in the modern world. Their pointy toes, sturdy heels, and below-knee length fit many different outfits from casual jeans to romantic dresses. There are so many styles to choose from besides the traditional plain cowboy boots, so everyone finds something they like. Plain cowhide boots are listed together with festive snakeskin cowboy boots covered with rhinestones.
While faux leather cowboy boots may only last for a couple of seasons, genuine leather boots are known for their durability. Although boots made of animal skins require more care and maintenance, they are worth the investment. Some cowboy boots are known to endure for many decades and therefore, can be be passed down as family heirlooms throughout the generations. Cowboy boots can be ordered custom-made from the boot maker, but this is rather expensive. High street shoe shops may not have many models in stock and this is where online stores, such as eBay, become useful.