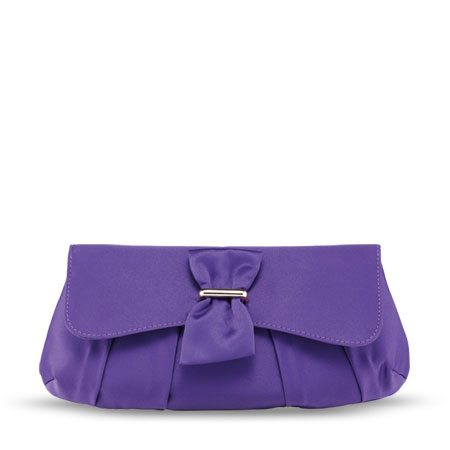 A clutch is a women's handbag that typically has no strap. However, a detachable strap is sometimes included so that the bag can hang comfortably from the shoulder. Otherwise, a clutch, as the name implies, is grasped, or clutched, in one elegantly manicured hand. A clutch is small, so it can contain only the essential items needed for a night out or for running errands during the day, such as a credit card, mobile phone, keys, and a lipstick. A clutch should be part of every girl's wardrobe for the all of the occasions when a large bag would in get in the way.
There are many clutch styles, shapes, colours, and sizes available, so one can be found for every outfit and occasion. The most classic style of clutch can even accompany several different outfits. Clutches can be found from an array of high street accessory or clothing shops as well as from online auction sites, such as eBay.
Clutches Through History
In the 14th century, bags were a way of indicating status. The more adornments on the bag, the higher the status of its wearer. In the 15th century, embroidered pouches were common gifts from the groom to the bride. The Elizabethan era saw women carrying small bags hidden under their petticoats. The 18th century handbag fashion was influenced by the French Revolution, which saw more slender skirts with no pockets. Therefore, there was a need for a small bag, called a reticule, often made of silk or velvet. During the Victorian era, a woman wore a clasp at her waist with a small pouch hooked to it. Many women spent time embroidering these pouches as they were thought to attract a husband.
In the early 1900s, the pochette, a type of clutch, was invented. In the 1920s, pochettes were decorated with geometric motifs and girls started to wear them under their arms. The clutch did not enter mainstream fashion until the 1930s with the flourishing of the Art Deco movement. At this time clutches were made from industrial materials. Clutches fell out of favour in the 1940s in an age of practicality, but they returned in the 1950s as a symbol of femininity when Coco Chanel created the classic envelope style bag with a golden chain.
In the 1960s the clutch obtained a long, narrow shape that complemented the mini skirt look. At this time, Jacqueline Kennedy popularised the small envelope clutch. The 1970s were a time of shoulder bags and large satchels and the 1980s saw a rising trend of sports bags, all leading to a decline in the clutch's popularity. However, a return to feminine glamour has restored the clutch to its position as a staple of every girl's wardrobe. Girls now have a set of bags that consists of a larger handbag for work and a clutch for nights out.
Main Features of a Clutch
The structure of a clutch is relatively simple because it generally consists of a single compartment. Clutches vary in shape, size, closure types, and whether they have a shoulder strap or not.
Shape
Clutches come in an array of shapes, ranging from simple squares to heart-shaped. The rectangular clutch is probably the most convenient one to hold in a hand, but this simple envelope-style may look too plain for some girls. The shape of the bag should be matched with that of the woman. Tall and thin girls benefit from square-shaped, larger clutches, while elongated, sleek designs are best for more petite women and those with a fuller-figure. In other words, shoppers should choose a clutch shape that in some way opposes their body shape.
Size
Clutches are relatively small handbags, but they still come in different sizes. So, when buying a clutch, girls should choose the size according to the number of items that they want to carry. Girls should remember that a bulging clutch has never been stylish and then choose the size accordingly.
The size, together with the shape, also influences the way that the clutch should be carried. Smaller clutches are held between the fingers and thumb with the arm hanging loosely, while larger, envelope-style clutches are carried under the arm.
Closure Types
A clutch typically has some kind of closure to ensure that the items stay inside. Clutches can have magnetic snaps, clasps, buckles, flaps, or a zip. Sometimes, the closure is decorative and adds to the clutch's style. The choice of closure type also depends on which one the girl considers comfortable and easy to open and close.
Shoulder Strap
"To clutch" means to hold firmly and, by definition, clutches are carried just like that: firmly in the hand. However, some clutches may have a shoulder strap. Usually, the strap is detachable, so it can be used only when the hands need to be free. Shoulder straps are either simple leather strips or decorative chains enhancing the style and elegance of the bag and making it a feature of any outfit.
Choosing the Perfect Clutch
Clutches come in many styles, therefore there will be lots to consider when trying to find the ideal model to go with an outfit. Some women choose to have more than one clutch to pair with different ensembles and to use for different occasions. The suitability of a clutch depends on its material, colour and where it will be used.
Choosing the Material
Leather, especially black, is a common material for a clutch that suits most occasions. A vinyl clutch is suitable for daywear or less formal events. Luxurious fabrics, such as satin and silk, are used for elegant clutches carried at formal events and parties. Clutches intended for evening wear are often are decorated with beads or sequins.Crocodile skin and patent leather create eye-catching clutches, while denim and cotton are suitable for casual wear.
Choosing the Colour
The colour of the clutch that a woman chooses depends largely on the outfit that it will be paired with. A simple, conservative dress may benefit from a colourful clutch and boost the whole outfit. The clutch does not have to match the colour of the shoes exactly, but its should coordinate well. Black always looks stylish, so it is a good choice when a girl decides to buy only one clutch, but neutral colours, such as taupe or tan also work well and last for many seasons.
Buying a Clutch From eBay
When shopping for clutches from a high street accessory shop, it is easy to check whether the necessities will fit, but girls can also shop for clutches online. eBay, for instance, has thousands of listings for clutches in all colours, sizes, shapes, and styles. If you already know exactly which kind of clutch you want to buy, then simply type your query into the search box on the main page. If you are still looking for ideas, then you can browse the categories to see what is available. If you want to narrow down the wide choice found on eBay, you can filter by brand, outer material, size, colour, condition, and price. The measurements of the clutch should be included in the item description and this helps with the decision-making process.
You may see your perfect clutch in the photo included in the listing, but it is still wise to ask the seller about refunds and exchange options in case the clutch is not exactly what you want once it arrives. This is important especially when the clutch is bought to match a certain outfit. You can make the final decision once you look at yourself in a full-length mirror to check how well the clutch fits your body shape and style. Remember, that good purchases are always well informed, therefore, communication with the seller is the key to a successful transaction.
Conclusion
The clutch evolved from the pouches that were used throughout history to carry small items. It has fallen in and out of favour over time, but is now a staple accessory in a woman's wardrobe for many different occasions. It is a stylish and convenient way to carry essential items, such as a credit card, keys, a mobile phone, and some make-up. If chosen correctly, its compact form enhances the outfit. Some clutches have a detachable shoulder strap that allows them to be carried in different ways.
Girls should consider when they are going to use the clutch because a daily clutch differs from an evening clutch significantly. However, there are some classic clutches that fit most occasions. A plain black leather clutch, or one decorated simply, works well at every event. Personal style and body shape should also be taken into account when buying a clutch.
Buying from a high street accessory shop has its benefits as girls can check themselves in the mirror and see if the clutch suits them. However, online auction sites, such as eBay, have a much wider choice of clutch bags, so the chance of finding the perfect match is high.