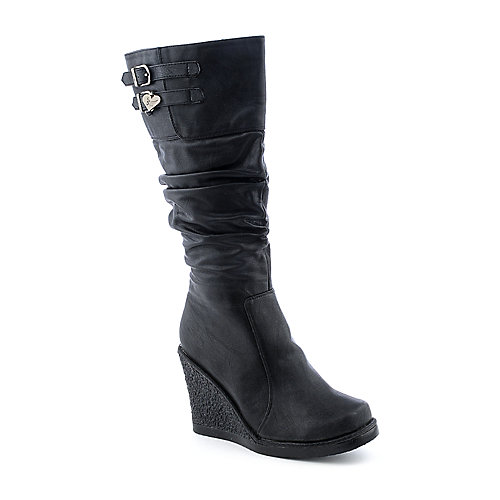 Keeping warm is not the only reason to wear knee-high boots. A girl's knee-high boot is a good way to dress up a casual outfit or dress down a more formal outfit. Though most often worn in the fall and winter months, knee-high boots fit just about any occasion. These boots can be worn with short skirts, long skirts, and jeans.
However, even with something as versatile as a knee-high boot, it is essential to find a good fit. This guide gives an overview of the different types of knee-high boots for girls. It includes information about the proper way to size or fit a knee-high boot, the various styles available, and the different heel heights, as well as the proper occasions on which to wear high-heeled boots. The buyer must consider these factors and consult a size chart before purchasing girls' knee-high boots from a store or from an online outlet such as the popular auction website eBay.
Size and Fit of Girl's Knee-High Boots
Everyone knows the discomfort of wearing an ill-fitting boot, so it is important to know the girl's shoe size when preparing to buy a pair of girls' knee-high boots. Sizing knee-high boots requires three different measurements: the length and the width of the sole of the foot and distance around the calf.
The best way tomeasure length and width of the foot is to have the girl stand on a tailor's tape measure, a ruler, or a device specifically meant for measuring shoes, with her weight equal on both feet and wearing the stockings or socks that she plans to wear with the boot. The distance between the longest toe and the heel of the foot determines the size of the shoe. Having a girl stand on two sheets of paper and marking from her longest toe to her heel, then measuring the distance is another way to do this. As many people have slight differences in size between their left and right feet, the right and left foot should be measured separately. For girls ages six to ten, shoe sizes typically range from 11.5 to 6, covering foot lengths from 20.80 cm to 27.6 cm. Beyond this length is a women's shoe size.
Width of the boot is as important as length. Many boot companies make their width proportionate to their length, a standard width that fits 80 percent of children. Some girls, however, have feet that are either narrower or wider than average. A child with a narrower foot can improve the fit by wearing a thicker sock and a child with a wide foot can purchase a larger size, but measuring the foot and choosing a boot of the appropriate width allows for the best fit. Width is measured by putting a tailor's tape measure around the widest portion of each foot and referring to a shoe size chart to determine the width. In the UK the widths are normally designated E through H, with E sizes the narrowest and H the widest. Usually the distinction of narrow or wide is after the boot size.
The final measurement, and one specific to knee-high boots, is a girl's calf size. To measure the calf, place a flexible or tailor's measuring tape around the widest part of the foot. If the girl is not present, check the measurement of both the girl's calf and the calf portion of the boot.
Different Types of Girls' Knee-High Boots
Most of the style selection has to do with the boot's material and type of fastener. The different styles range from buckles, zippers, elastic, laces, or no fasteners and materials include leather, suede, vinyl, or neoprene. The choice of fastener and material can make the boots adjustable or easier to fit. A buyer can choose a knee-high boot that suits their style, size, material, climate, and fit in a variety of combinations.
Knee-High Boot Fasteners
The most common fasteners are the zipper and the buckle. Some boots have buckles that continue from the ankle to the knee, while others have buckles that feature only one buckle at the knee. It is up to a person's individual taste and calf size which style she chooses. A buckle can be there for aesthetic purposes or for calf size adjustment. There is also a large selection of types of buckle, some flashy with a shiny finish or studded with coloured stones and others simple in colour and ornamentation.
Zippers
Zippers are known to offer variety to any knee-high boot. While most zippers blend in with the design of the boot, they also can be a girls' fashion accessory. The styles of zipper pulls range from figures, size, colour, and symbols to just a straight pull.
Laces
Laces can offer a customised fit. Laces up the entire boot offer an adjustable fit for the entire boot, while zippers only on the upper or lower portion of the boot allow for fine adjustment. Just like buckles and zippers, the laces can be plain, coloured, metallic, or decorated. Many times laces on knee-high boots are strictly there for aesthetic purposes and do not allow for adjustment.
Knee-High Boots With No Fasteners
There are boots that have no fastenings. These come in two varieties. One is a straight legged boot that fits the standard size calf unless otherwise specified. Textured flexible swatches that match the design or material of the boot make up the other style. These swatches of elastic often provide the best fit, regardless of calf size.
Materials Used for Knee-High Boots
Knee-high boots are made from a variety of materials but the most common are leather, suede, plastic, and neoprene. The conditions dictate the choice of material. For wetter climates and everyday use, a durable material such as plastic, vinyl, or treated leather is often preferable to suede, which damages easily in wet conditions. All of the materials have benefits and disadvantages.
Vinyl, Plastic, and Neoprene
Vinyl, plastic, and neoprene are all water-resistant, which makes these boots preferable in wet climates; however, in some climates these materials can make the wearer uncomfortable because they do not breathe as well as natural materials. They are also often subject to cracking or flaking at the point where the boot bends, normally just past the toe and around the ankle of the boot.
Leather
Leather, if treated, can also be water resistant; however, not all leather boots come pretreated. Another advantage to leather is its durability. One disadvantage of boots made from leather is the cost: leather boots are usually more expensive than those made from other materials. A person needs to compare the benefits of durability over fashion and instant waterproofing.
Suede
Suede, a softer, textured version of leather, is another common material for boots. Though it is possible to make them water-resistant, even suede that is treated with a waterproofing agent stains easily when exposed to liquid. Suede boots can be more comfortable than other materials because of their soft texture. As with all leather boots, suede boots are generally more expensive than boots made with plastic and vinyl materials.
Knee-High Boots With Heels
When selecting a child's knee-high boot, style and individual preference are a consideration, as are weather conditions and walking surface. The knee-high boot comes with several heel choices, some of which may not be appropriate for a child to wear. The spike heel, for example, is less comfortable than a flat or low heel and is age-inappropriate as well. Some girls like a higher heel, wedge heel, straight heel, or a combination of these. The most practical heel is the flat, or 1.5-cm heel. Most styles of boot have at least a slight heel to them to compensate for the arch of the foot and walking pattern. There are also 2.54-cm wedge heels and straight heels. The wedge heel is more stable on different surfaces than a straight heel.
Occasion is another consideration. If the boot is worn to an event or special occasion rather than everyday, heel height is less of a factor. If the boot is going to be worn for a long period of time, then a wedge heel or flat boot is preferable to a higher heel. Some knee-high boots have rubber soles, much like sneakers, for additional comfort and to provide traction on slippery surfaces.
How to Buy Girls' Knee-High Boots on eBay
One can purchase a child's knee-high boot from various places including department stores and online outlets such as eBay, which offers a wide variety of boots. Enter the search terms, in this case girls' knee-high boots, and hit search. From the results, select children's clothes/shoes, then narrow the search to girls' shoes. This results in a variety of different sizes, styles, and types of boot, sortable by colour, size, material, and more. There are also accessories for boots, often sold separately, such as chains, decorations, laces, and zipper pulls available from eBay.
When ordering a pair of boots from a catalogue or an online website such as eBay, it is important to have an accurate size of both the child and the boot. Questions about calf and sole size or whether the boots are waterproof or water-resistant can be answered with an email to the seller.
Conclusion
There are a variety of different styles, sizes, and types of a girl's knee-high boot. A person can purchase these from different sources, including eBay. Careful consideration of fit, size, and individual style is essential as is the climate and occasion. An ill-fitting boot leads to discomfort and conditions like blisters, chafing, and fallen arches. A store or online seller will often provide information about the different sizes and styles available. If the information is not provided, a simple phone call or email resolves this problem. If one is purchasing boots on eBay, they will find a vast variety of sizes, shapes, styles, and accessories, as well as chemicals and sprays for preserving and waterproofing. Looking on eBay is one way to compare the different options available for purchase before making a decision; others include getting opinions from friends, reading forums, and researching which styles are most appropriate for a specific age and event.