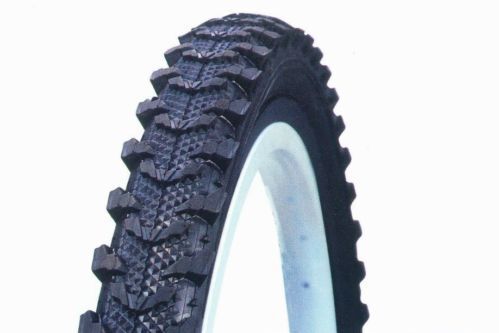 Bike tyres are the single direct point of contact with whatever surface one is riding on and, for this reason, they have a significant impact on one's cycling experience. Tyres are arguably the most important piece of cycling equipment a cyclist will buy and taking the time to buy a set that's absolutely right for the rider, machine and riding conditions is essential.
With so many different bike tyre brands on offer in today's marketplace, the sheer amount of choice can seem bewildering. Prices vary considerably too, but bikers shouldn't scrimp on purchasing tyres of the right quality. Even moderately serious cyclists will find themselves replacing their bicycle tyres on a fairly regular basis, making the right choices even more crucial.
When it comes to making a choice, personal preference, riding style and conditions will all play their part. Bicycle tyres perform differently according to the terrain they are being used on.
Road Bike Tyres
Road bike tyres need to be narrow to facilitate riding over smooth roads at speed. The recommended width of 23mm, with a smooth tread pattern, will offer the cyclist a low rolling resistance, comfort, and good aerodynamics.
Serious racers in particular need to balance optimal performance, including grip and weight, with durability and expense.
Road bike tyres can be sub-divided into two categories - tubular and clincher tyres - although in fact technological advances can make it difficult to distinguish between the two on many modern machines.
Tubular Road Tyres
Tubular bike tyres are not very heavy and have long been the tyre of choice for top racers, since they offer a supple feel and minimal rolling resistance. These tyres are completely encased with their inner tubes and need to be attached with glue or strong tape to the surface of the rim.
Clincher Road Bike Tyres
Given that they are easy to repair when punctured, clincher bike tyres are the most common type of road bike tyre. Inner tubes are fitted separately to the tyres. Also known as wire-on, clincher bike tyres are very cost-effective, especially when you buy them on a site like eBay. Clincher bike tyres consist of an outer tyre or "casing" and a U-shaped cross-section. The tyre hook edges are suspended over the rims' edges while everything is kept in place with air pressure. Although a special rim is needed for it, tubeless technology is beginning to emerge for these road tyres.
Mountain Bike Tyres
Those who enjoy off-road cycling will experience a huge variety of terrains, from rock to dirt track and grass. This means that mountain bike tyres will vary considerably in width, from 1.5 to 2.5 inches.
The best mountain bike tyres offer low rolling resistance, a good grip and enough cushioning to give a good level of comfort.
It's also possible to get smooth tyres mainly for quite smooth trails or roads, which are especially good for reducing rolling resistance and increasing the smoothness and safety of the ride.
For mountain bikers who like to work hard on their technical skills or who do a lot of trail riding over rough terrain, wider tyre widths of two inches or more are frequently used, to bear the stress of riding up and down over challenging surfaces.
For cyclists wanting to ride at speed over much smoother surfaces, it's also possible to buy tyres that will fit mountain bike wheels, in varying widths. This will adapt a machine perfectly for touring trips or commuting.
Technology is developing all the time to give different tread patterns and widths to provide optimal control across all kinds of surfaces.
Narrower tyres often clear the mud more easily, while fat tyres offer greater comfort because of the greater air volume.
Deeper tread patterns offer a better grip, and the best designs are specific to the front and rear wheels, each of which has a very different role to perform. Shallower tread knobbles generally reduce drag and so give a faster ride.
Tyres on off-road machines have a pressure range marked on them, from the lowest that can bear an average rider's weight to the upper limit.
Study a tyre pressure chart from the bike tyre manufacturer and decide based on the tyre section and how much weight is being supported.
Like their road-based counterparts, mountain bike tyres are made up of three main components, including:
Bead
This attaches the rim to the tyre, and gives it its support structure. On the majority of machines, the bead will be steel or the lighter Kevlar.
Rubber
Mountain bike tyres have a number of different compounds offering unique characteristics in terms of shock absorption, robustness and grip.
Fabric
The body of the tyre is constructed from cloth fabric, woven between the two tyre beads.
Tubeless Tyres
Tubeless tyre technology has been around for a while now, and is increasingly used in mountain bike tyres. The lack of an inner tube means a tyre can spin round at lower pressures with reduced puncture risk, while offering greater grip and comfort.
These tyres are also sometimes known as UST, and can help the rider to avoid unnecessary pinch punctures when riding at low pressure. Special sealants are used strengthen the seal and are placed inside the tyre as it is being placed inside the rim.
Hybrid Bike Tyres
By definition, hybrid bikes can be ridden over on and off-road routes.
Hybrid bike tyres may follow a standard mountain bike design and have 26" wheels, while other models are more lightweight and intended for speedier road biking, so come with 70cc wheels.
Riders who are mainly following urban routes should prioritise puncture resistance, while those taking their machine off-road may want to consider a hybrid tyre with a middle tread that's mainly smooth with little rolling resistance, but with a sturdier side tread, and knobbles offering a good grip off-road.
Touring Bike Tyres
Punctures are the enemy of the touring cyclist. Many tourists like a smooth, fairly wide tyre that provides strong protection from punctures without adding too much weight to the machine while allowiing the rider to pick up a reasonable speed. eBay has a great selection of touring bike tyres..
Cyclo Cross Tyres
Given that these bike tyres are of a similar size to hybrid bikes tyres, cyclo cross bike tyres aare one good option for a biker who wants to ride a hybrid machine off-road.
These come in tubular or clincher varieties, just like their road-based counterparts. The tubular ones are usually used by competitors, while the clinchers give greatest choice of tread patterns.
Typically treads are sparse so that mud doesn't stick, but some varieties are semi-smooth or file tread.
Tyre Diameter
This is another important factor, and, again, it will depend on the kind of bike being ridden:
Adult Road Bikes
Metric measurements are typically used for adult road bike tyres, and there are generally two different sizes - 650mm and 750mm.
Mountain Bikes
Usually, mountain bike tyre diameter is measured in inches, with the most common size being 26".. However, the 29" mountain bike wheel has become extremely popular in recent years, and the larger sizes allow corners to be turned more easily, and offer better traction.
Commuter Bikes
Commuter bi ke tyres use 26 inch wheels with matching tyre sizes and they're often based on road or mountain bike models.
Buying Bike Tyres on eBay
Online retail site eBay has a wide variety of bike tyres for sale from a number of leading brands, whether you're an occasional or serious cyclist, a road tourist or a keen off-roader.
Buying bike tyres this way couldn't be easier or more convenient - shop in a time and at a place to suit you. What's more, you'll find some very competitive prices, so that you can afford to invest in different tyres for different machines and conditions if you like your cycling to be varied. Equally, you could buy all the tyres your family or club needs under one virtual roof.
You can quickly refine any search you are doing using keywords. Just type the words related to your specific item into the search box to locate the listings matching your specifications. For guidance on shopping using keywords, go to eBay's Search tips page. If you cannot find exactly what you want, visit eBay stores.
Conclusion
Few things make a greater contribution to the overall biking experience than bike tyres, whatever sort of riding you do and however seriously you take the sport. And they're something most cyclists will need to buy several times rather than just once, so it helps if the buying experience is as straightforward as possible.
eBay can help with that, and save you time and money.