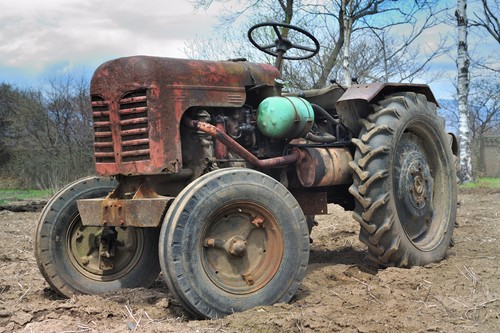 The first powered tractors were developed in the early part of the 19th century. Portable steam engines powered the first line of tractors and the new automation increased farmer productivity. A farmer with a knack for inventing farm implements rode the first gasoline fuel tractor in 1892, and petrol tractors have been the norm ever since. Tractors are not strictly for commercial use. Many homeowners drive some form of tractor to handle yard work and minor landscaping projects. With many households and farms tightening their budgets, antique tractor parts and accessories have become a viable option for performing many of the same jobs as newer tractors.
Consumers who want to purchase an antique tractor accessory can shop with farm equipment wholesalers or peruse classified advertisements. Yet, the best way to find the right antique tractor accessory is by perusing the virtual marketplace on eBay. Many antique tractor accessory sellers have maintained their implements in top condition. Before shopping for antique tractor accessories, consumers should first get an overview of antique tractors, which includes the definition of "antique". Then, they should review the tractor designations to ensure they find the right accessories for their tractors and learn more about the most common antique tractor accessories.
Antique Tractor Overview
The first step to buying antique accessories is to define "antique". As with antique tractors, accessories must be at least 30 years old, and either restored to the original condition or currently undergoing restoration. The accessories must be labelled as collectibles and possess a minimum value measured in British pounds. The insurance industry utilises the Hotline Antique Tractor Guide to determine valuation for both antique tractors and accessories. Antique tractor accessory buyers typically need to obtain a written appraisal that verifies antique authenticity and an accurate valuation. Remember that most antique tractor accessories only work with the manufacturer that constructed the antique tractor, such as John Deere or Caterpillar.
Tractor Designations
Buying antique tractor accessories involves learning about the different tractor designations. Buyers must purchase antique tractor accessories that are meant for tractors within specific designations. The following chart summarises each antique tractor designation.
Designation

Summary

Row crop

Provides enough clearance from the ground to allow crops to grow in rows

Eliminates weeds, without damaging crops

Manufacturers utilise the tri-cycle style for blade rotation

General purpose

Low profile, powerful machine

Pulls several bottoms simultaneously

Large threshing tractors

Industrial

Used in factories and for road maintenance projects

Low centre of gravity and tight steering

Rugged frames and bumpers for pushing accessories

Utility

Strong, wide front axles

Handles heavier tractor hydraulics to provide faster response to heavy rams

Standard

Non-adjustable wide front

Mostly used for farming

Highest selling designation

Orchard

Close to the ground

Low operator position

Avoids dangling branches

Frequently includes sheet metal bumpers and skirts that cover entire tractor
Tractor designation meanings have fluctuated over the previous century. However, since the early 1980s, the designations have changed very little. Any changes since the 1980s have been minute and as a result of technological advances.
Antique Tractor Accessories
Antique tractor accessories allow tractor owners to perform myriad jobs in the garden, around the farm, and throughout the yard, without tractor owners having to purchase more than one machine. The accessories are attached to the tractor to perform specific tasks, such as tilling soil or hauling debris from farming land. Some antique tractor accessories have lost their appeal, and because of advanced technology, no longer serve any useful purpose. However, the following antique tractor accessories have stood the test of time and should remain relevant for decades to come.
Post Hole Digger
Ranchers and farmers need to construct durable fences that prevent wildlife from harming their crops and livestock. A post hole digger helps lay the sturdy foundation by digging deep holes for fence posts. Post hole diggers can dig into hard or frozen ground, and they give users an accessory that allows them to build a fence within a short period. Farmers and ranchers use post hole diggers often enough to make them one of the more important antique tractor accessories.
Wood Chipper
Wood chippers cut and slice large pieces of brush into smaller chips for easier disposal. Homeowners use wood chippers to cut large tree limbs and trunks that have incurred damage from violent weather. Wood chippers mount on an antique tractor frame for firm support. This accessory includes wheels that allow users to tow it virtually anywhere on the property.
Rototiller
As one of the indispensable antique tractor accessories for farmers, rototillers cultivate fields before the planting season. Manufacturers construct smaller versions for homeowners to use in gardens and for light yard work. Most rototillers move by pushing them forward, and the movement provides owners with an efficient way to plough soil over large sections of land in a short amount of time.
Front-End Loader
As possibly the most versatile antique tractor accessory, the front-end loader attaches to the front of an antique tractor for use as a shovel-type implement. Farmers utilise front-end loaders to remove vast amounts of soil and apply fertiliser. Homeowners use front-end loaders to remove large sections of yard turf for patio or swimming pool installations.
Rotary Mower
Also referred to as a bushhog, landscapers operate antique tractors that include rotary mowers to cut long grass and for quickly removing brush. Antique rotary mowers come in a wide variety of sizes and different types of cutting blades to handle multiple jobs on the same property.
Backhoe
Backhoes excavate soil and dig deep holes for planting seeds. Manufacturers construct backhoes with buckets that attach to the ends of two-part arms. While backhoes can be used by farmers to plant crops, homeowners receive the greatest benefits by using the antique tractor accessory for irrigation and drainage projects.
Utility Trailer
Utility trailers are common antique tractors accessories found with landscaping crews to haul large debris loads, typically in a compartment that attaches to the rear of a tractor. Manufacturers construct utility trailers with metal or wood, with metal being preferred because of the capability to prevent dents and scratches.
The Importance of the Three-Point Hitch
None of the antique tractor accessories work properly unless they are securely attached to the antique tractor. The standard hitch system has evolved from the work of Harry Ferguson, who devised the three-point hitch in the late 1930s. Initially, only Ford and Ferguson possessed the patent rights for the three-point hitch, but now the hitch is available on virtually every type of antique and modern tractor. Nonetheless, a few antique tractor models operate on a different hitch system, which means accessory buyers must first ensure that they have the three-point hitch on their tractors.
Manufacturers construct four categories of three-point hitches, which run from category zero to category three. Pin changes or shims allow crossovers between categories, but due to weight, height, and width restrictions, crossovers typically are not possible. Antique tractor accessory buyers should look for category one and two three-point hitches, since they offer connections for a wider variety of accessories. Farmers, ranchers, and homeowners who own a bare tractor, which is a tractor that does not have any accessories, should look for a three-point hitch, which should be the first item on their shopping lists. Anyone who wants to buy an antique tractor must make sure to buy one that possesses a three-point hitch. Even better, the three-point hitch can be altered to include more accessories, without compromising the safety and structural integrity of the accessories.
Buying Antique Tractor Accessories on eBay
The key to buying an antique tractor on eBay is to ensure the seller has a tractor for sale that is at least 30 years old and has been restored to its original condition. Your best strategy is to consider eBay's Top-Rated Sellers, the sellers who have established reputations for selling superior products at reasonable prices. eBay places an electronic ribbon by eligible seller product photographs to signify their seal of selling excellence. Once you find a few top-rated antique tractor accessory sellers, review the customer's feedback compiled on seller product pages to buttress your research.
You probably have a brand preference when it comes to farming or landscaping equipment, so another way to find the right antique tractor accessory seller on eBay is to input specific keywords into the search engine. Whether you prefer Massey Ferguson or International Harvester, be sure to specify your search terms. You can also use the search engine to find specific accessories. Once you find a seller who matches all of your shopping criteria, contact the seller to see if you can purchase the antique tractor's accessory directly from the seller's eBay Store. Some eBay sellers may bundle antique tractor accessories at discounted prices.
Conclusion
Tractors serve many purposes, from hauling large amounts of debris to tilling the soil in preparation for a gardening project or the planting of seasonal crops. Economic conditions, in combination with a growing budget-conscious consumer base, has created a strong market for older tractors and accessories. Referred to as antique tractor accessories, these implements must be older than 30 years and have been seller restored to the original condition. Many eBay sellers offer antique tractor accessories that perform at a level that compares to mint condition accessories. The key is finding the best sellers on eBay.
The most common antique tractor accessories found online and through landscaping equipment shops include post hole diggers, wood chippers, rototillers, front-end loaders, rotary mowers, and utility trailers. Each antique accessory serves a specific purpose on the farm or in the back garden. Many of the most recognised brand name manufacturers, such as John Deere and JCB, have been in business for decades. Therefore, the strongest companies provide the best source for finding tractor accessories that span at least 30 years. Make sure to buy antique tractor accessories from the same manufacturer that constructed the tractor currently used for farming or gardening.