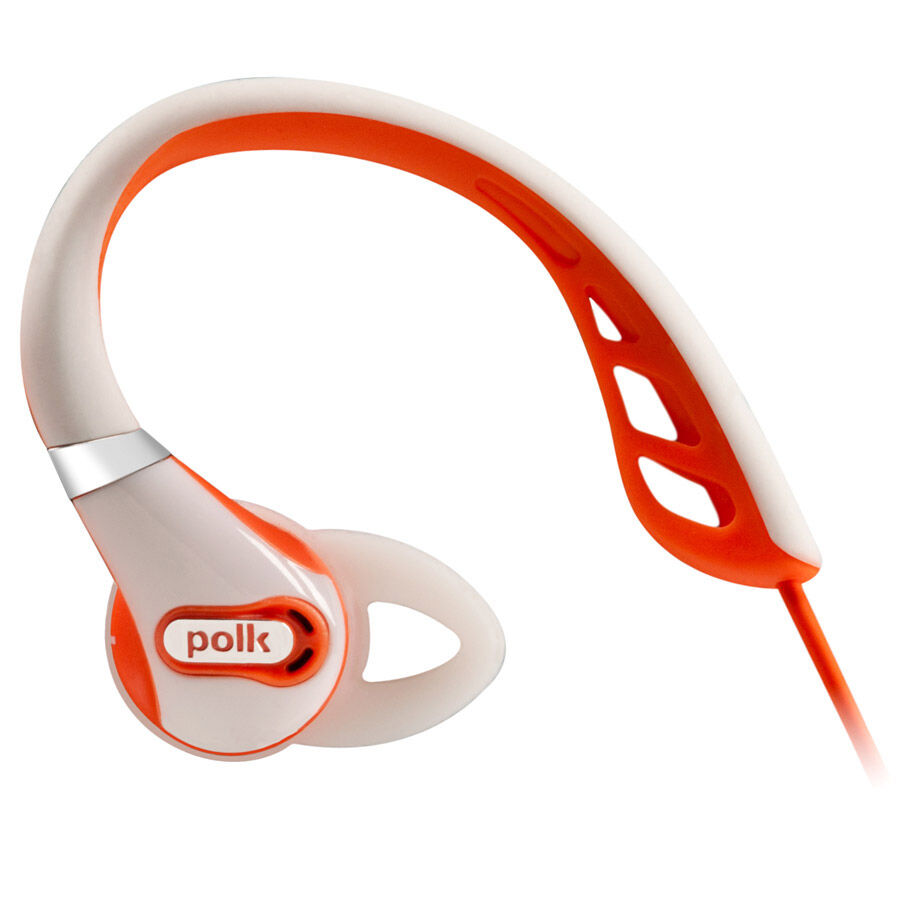 Headphones are a small set of loudspeakers that are designed to be held close to the ears. Headphones function by connecting to a wire that transmits a signal from a main source, such as a radio or an MP3 player. Headphones are also portable and provide a private listening experience for the user. As a result, a pair of good headphones is often essential for any active sports enthusiast. Whether training for a football game or going for a run, the right sport headphones can break up the monotony of a workout or help an athlete push through a gruelling session.
Sports headphones are typically lightweight, allow for maximum comfort, and do not interfere with physical activity. Sports headphones of all types can be purchased at electronic stores, brick and mortar stores, or online at eBay. When shopping for sports headphones a buyer should consider electrical characteristics and important features of sports headphones, as well as the different types and brands of sports headphones available.
Electrical Characteristics
There are a few electrical characteristics to be aware of when shopping for sports headphones. Understanding the basics of how headphones work, including sensitivity and impedance, can help a buyer make the best purchasing choice.
Sensitivity
Sensitivity measures the transducer's output when given a certain reference input. Sensitivity is measured in dB/mV or dB/mV units, which is sound pressure per millivolts or milliwatts. The sensitivity level of a set of headphones provides insight to the headphone's efficiency level.
Impedance
Headphones are available with both low and high impedance. Modern headphones generally have low impedance and are driven by an amplifier to present a larger load. Lower impedance headphones are louder and more efficient, but as a result require a quality internal amplifier. Low impedance headphones range from 16 to 32 ohms.
Significant Features of Sports Headphones
Sports headphones must be more dynamic than all-purpose headphones. While these are features to consider for all types of headphones, comfort, size, and functionality are especially important when looking to purchase a set of sports headphones.
Comfort
While comfort is important for purchasing any type of headphones, the level of comfort necessary for sports headphones crosses a higher threshold. Circumaural headphones that sit over the head with large padded earpieces might be comfortable while sitting stationary, but they will become awkward and ill-fitting during physical activity. Sports headphones should sit comfortably over, on, or in the ears at all times. Consumers should try different sports headphones out before purchasing them if possible to determine which type of sports headphones are comfortable enough to wear while engaging in a lot of movement. For example, some buyers might find earbuds or in-ear sport headphones practical in theory but uncomfortable within their own ears.
Size
In addition to comfort, sports headphones should typically be small and lightweight. Bulky headphones can weigh an individual down and interfere with physical movement. To help with this feature, there are also wireless sport headphones available that do not require carrying an additional electronic device, therefore lightening the load. Size and weight are important considerations when purchasing sports headphones.
Functionality
Sports headphones should be fairly resistant to movement of the body so as not to fall out of or off the ears. Additionally, sports headphones should also be sweat-resistant to avoid unwanted damage to the headphones. Maximum functionality often depends on the individual wearing the headphones. Some people require a strap over the head or around the ears to keep headphones in place during physical activity. Other people might find that earbuds or in-ear headphones stay in place with no issues. Along with comfort, maximum functionality often depends on the size and shape of a buyer's ears.
Types of Sports Headphones
Headphones are categorised by four form factors. These four form factors describe the functionality of the earpiece and include circumaural, supra-aural, earbud, and in-ear. Although most modern athletes prefer earbud and in-ear models, there are advantages and disadvantages to each type of sports headphones.
Circumaural
Circumaural headphones have full-sized circular pads that encompass the entire ear. These headphones seal off the ear from any external noise, often providing for a maximum listening experience. These large earpieces are held on the ears by a headband. Circumaural headphones are often heavy, making them a poor choice for sports headphones. However, some modern circumaural sports headphones are ergonomic, decreasing discomfort and weight. Regardless, circumaural headphones are the least popular type of sports headphones.
Supra-aural
Supra-aural headphones have a headband and smaller ear pads that press against the ears. They are smaller and lighter than circumaural headphones and popular amongst active individuals who desire a headband to keep the their sports headphones in place. The headband of this type of sports headphone can go around the back or over the top of the head. They provide adequate sound quality and volume control.
Earbud
Earbuds are small, round earpieces that fit directly into the outer ear but do not enter the ear canal. Earbuds do not have a headband, making them very small and lightweight. Earbuds are a popular sports headphone choice for those who do not have issues with them falling out of the ear.
The sound quality of earbuds is not as good as some other types of sports headphones, as they do not fully isolate sound and allow outside noise to seep in. As a result, consumers often turn up the volume of the sound louder than recommended to overcompensate, which can damage hearing in the long run. Earbuds can also come with foam pads to increase comfort.
In-ear
In-ear headphones are similar to earbuds in size and weight, but they actually sit within the ear canals. To increase functionality and comfort, some in-ear headphones have small loops thats fit around the ear to help hold them in place. By obstructing the ear canals, in-ear headphones block outside noise, making them a very popular choice for sports headphones. This feature also helps prevent long term hearing damage caused by some other types of sport headphones with higher levels of external noise interference.
Brands of Sports Headphones
There are thousands of brands of sports headphones covering a range of earpiece forms. The following chart compares some popular sports headphones by outlining cost, significant features, and form.
| Brand | Type | Features | Cost |
| --- | --- | --- | --- |
| Bowers and Wilkins C5 | In-ear | Rich audio, secure fit | ££££ |
| Sennheiser MM 100 | Supra-aural | Comfortable, secure fit around the headband, wireless | ££££ |
| Sony XBA-S65 | In-ear | Secure fit, moisture resistant, ear loops | £££ |
| Monster iSport Immersion | In-ear | Waterproof, washable, secure fit | ££ |
| Sennheiser MX 680i | Earbud | Sweat and water resistant, earfin, secure fit | ££ |
These are just a few of the many options of sports headphones available. As the chart summarises, there are makes and models available to cover any desired feature and budget, spanning all types of forms.
How to Buy Sports Headphones on eBay
Sports headphones come in a variety of shapes and sizes. As a result, there are thousands of options to choose from when shopping in electronic stores, brick and mortar stores, or online. eBay has a wide variety of brands and models to choose from at affordable prices. For example, if you decide that in-ear headphones are the best option for you during your runs, simply type "in-ear sports headphones" into the keyword search within the eBay website. A list of items matching this description will be populated, allowing you to easily view what makes and models of in-ear sport headphones are available for purchase. If you decide on the quality Monster iSport Immersion model, these can be found within the eBay site using exactly the same method.
When navigating through the purchase options, be sure to pay attention to seller feedback. By keeping an eye out for positive seller feedback, you can be certain that you are buying your desired product from a reputable seller. Further, as a result of consistent positive feedback, eBay identifies Top-Rated Sellers. These sellers provide accurate descriptions, deliver consistently, and charge fair shipping prices. Purchasing a set of quality sports headphones should be easy and worry-free, and eBay is a great avenue to make that happen.
Conclusion
For some athletes and sports enthusiasts, a quality set of sports headphones is an essential training tool. Sports headphones provide active individuals the opportunity to train or workout while listening to music or the radio. The sound provided by sports headphones can help an athlete train harder, set the right pace, or even enjoy the activity more. However, before jumping into the purchase of sports headphones, the consumer should familiarise themselves with the important electrical characteristics and features essential to quality sport headphones.
Additionally, learning the different types of sport headphones available will help a buyer make the most informed choice. Without the right research, a consumer could accidentally purchase a type of sport headphone that does not function well for a particular physical activity. There are thousands of brands available that range in size, comfort, and functionality. Each active individual should purchase sports headphones that will maximise these features, in turn maximising the enjoyment and satisfaction of the sport or other physical activity.