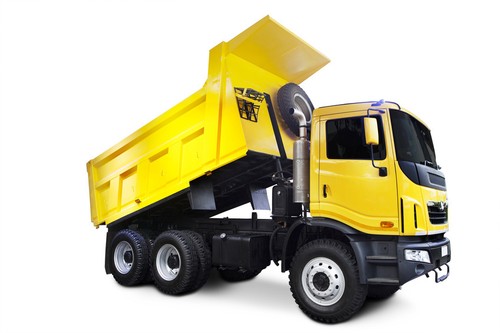 High lift dumpers are any type of dumper tractor designed to lift loads very high, usually for use in construction, excavation, and quarries. There are many uses for dumpers, and they can be purchased by anyone in any industry who can make use of the technology. Dumpers can be purchased in full size or mini designs, and can also be available with different engines, power ratings, and more.
Buyers should choose a high lift dumper based on their needs and budget. Variations can include anything from the weight lift capacity of the dumper to the physical size of the vehicle. Buyers should consider everything including the pros and cons of buying and renting, as well as purchasing a new or used dumper. Business owners can choose to look for dumpers at industrial vehicle lots, online stores and auction sites, and any other place that sells construction equipment.
Different Types of Dumpers
The first thing that any buyer should consider is whether or not they really need a high lift dumper. There are four main types of standard dumpers: hydraulic dumpers, hydraulic lift dumpers, high lift dumpers, and column dumpers. A hydraulic dumper has the least height but the most power, and a column dumper has the most height but the least power. Most buyers should look at the specifications to ensure that they really do need a high lift dumper before actually buying one.
| Dumper | Lift Height (centimetres) | Lift Capacity |
| --- | --- | --- |
| Hydraulic Dumper | Varies | Up to 10 tonnes |
| | Up to 274 | 1,000 kilograms to 10 tonnes |
| High Lift | Any but usually 170 to more than 500 although 374 is a very common maximum height | Commonly 650 kilograms to 1 tonne although heavy duty models with more lift power are available |
| Column Dumper | Up to 762 | Up to 454 kilograms |
Anyone who needs a higher lift capacity should look into a more powerful dumper. Usually, the more powerful the dumper, the less height it can reach because of earth's gravity. Many buyers should estimate how useful the height is compared to the weight load and then choose a dumper accordingly. It is also possible to shop around and choose a more expensive option, which might have more power and weight capacity compared to height.
Dumper Size and Load Capacity
The size of the dumper matters for multiple reasons including reach of the dumper, transportation concerns, and whether or not it can be used indoors. Buyers should check the height and width of the dumper they intend to purchase and then compare the measurements to those on their truck, building, and doors. Usually, height is most important for load lifts, but it also matters for door and entrance height as well. The following size considerations should always be utilised when shopping for a high lift dumper.
Dumper Width
The standard width of a high lift dumper is usually around 120 centimetres. However, there are 'mini' versions, which can come in under 100 centimetres, as well as more robust models designed for outdoor use. Anyone who would like to use the high lift dumper in an indoor setting, especially in narrow warehouse corridors, should look into purchasing a mini or thin model. Some dumpers also have wheels that can be replaced with thinner ones so that the dumper takes up less room. On the other hand, anyone using a dumper outdoors can purchase any width they like, although the wider the dumper, the more balanced it is.
Dumper Height
The height of the dumper is a concern for two reasons. The first is that everyone should consider exactly how high the dumper has to reach. Anyone working in a warehouse can simply measure the highest shelves, but anyone in construction or excavation work must estimate the average tallest height and then choose a dumper to accommodate that height. The second consideration is that the dumper must be short enough to fit into any enclosures including vehicles, storage facilities, or warehouses as necessary. It is always important to check the physical height of the dumper with the bucket in the down position.
Dumper Lift or Load Capacity
Choosing a lift load can be just as tricky as choosing a size for the dumper. Most people should calculate the maximum load they might have to transport and then purchase accordingly. This is important because a load that is too heavy can damage the vehicle, even if it is not regularly overloaded. Lift load weight can be calculated by weighing a few loads that would typically be placed on the dumper. For example, a load of gravel or rock could be sized to fit 1,000 kilograms, while a pallet would have to be weighed and averaged out to choose a suitable dumper capacity. Usually, a dumper with a more powerful capacity is more expensive, so buyers on a budget should choose carefully.
High Lift Dumper Engine Specifications
The engine specifications should also be taken into account when purchasing a dumper. Everything from the engine horsepower to the type of fuel the engine uses should be considered. Typically, high lift dumpers run on gasoline or diesel. Horsepower affects the lift and pull load, although it is important to consider that low horsepower lift dumpers are not suitable for pulling loads. Choosing a fuel type is also a personal decision but one that also affects budget because not only do diesel and gasoline vary in cost, but so do diesel and gasoline engines. Usually, buyers should choose a type of engine based on local cost and availability of different fuels as well as the power ratings per model.
Some dumpers can be purchased to run on electricity. Usually, these dumpers can lift much less weight, and usually have a four- to 15-hour battery capacity, although eight to 10 hours is more common. Electric dumpers are usually smaller, more lightweight, and designed for indoor use. As a result, they are often cheaper than dumpers with internal combustion engines but not normally suitable for anyone who needs the dumpers to lift heavy loads.
New or Used High Lift Dumpers
A major consideration for anyone purchasing large equipment including high lift dumpers is that it is always possible to save money by purchasing used. Buyers can look at used equipment lots as well as online stores and auction sites to find used dumpers. Important considerations in this case include looking at the tyre condition, parts condition, wear and tear on parts and the vehicle itself, as well as the actual age of the dumper. Dumper tyres can be very expensive as well so having to purchase new tyres can cut into any savings from purchasing a used dumper. Buyers should closely compare the cost vs. value of new and used dumpers to find a practical choice that suits their budget.
Consider Training
Dumpers come in second for the most accident causing construction equipment and first for causing the most accidents in factory surroundings. Buyers should consider training anyone who plans to operate the lift dumper before allowing them to drive it. Typically, drivers must have a CSCS license or training card in order to be legally permitted to drive a dumper. Training can usually be completed in a few days' time, which means that costs are minimal, and can likely be tax deductible as well. A trained driver is more likely to drive and operate in an accident-free environment, which preserves safety and the life of the driver.
Buying a High Lift Dumper on eBay
Purchasing a high lift dumper on eBay is as easy as searching for a model and style that you need and then making a purchase. Buyers can search based on the equipment manufacturer, sometimes the load capacity, and by searching 'high lift dumper' and browsing through results. There are many options for buyers including new and used, so it is easy to look around and choose something that suits your exact needs.
An important benefit of purchasing a high lift dumper on eBay is that you can cut costs. Many sellers offer new dumpers at competitive prices, and you can purchase a used dumper to save even more money. It is, however, very important to check the exact location of the dumper as transportation can be pricey and time consuming if the dumper is not located locally. Buyers should also remember to ask any questions they might have of the eBay seller before making a purchase.
Conclusion
Purchasing a high lift dumper should start out with comparing different dumpers to ensure that a high lift suits the buyers' needs. From there, buyers can choose lift capacity, engine specifications including horsepower and fuel type, and actual size of the dumper. Different considerations include whether or not the dumper fits into a building, and whether or not it fits between warehouse aisles, if applicable. Dumpers are often available in different sizes, heights, and widths so that it is easier to choose a model that suits the use.
Lift capacity is one of the most important specifications and for many high lift dumpers, lift capacity is up to 1,000 kilograms. Some more expensive models might have a higher lift capacity while some might have a lower capacity. Electric dumpers usually have the least amount of power. Finally, buyers can choose to purchase a high lift dumper new or used, and from an equipment lot or from an online store such as eBay.