This guide has been written to offer a comprehensive description of known Lladro bellflower trademarks. The bellflower trademark was created in 1971.
Another of my guides covers the early years prior to 1971.
Lladro describe the trademark as a combination of a bellflower and an ancient chemistry symbol which is illustrative of the melding of art and science embodied in each Lladro figurine.
The bellflower is a flower of the Valencia region of Spain, where Lladro is produced.
Unfortunately (and surprisingly) the Lladro web site does not give a full comprehensive description of all their trademarks and details of when they were used. I have found other sites that give some information and also some details in books on the subject of Lladro, however my view is that none of these sources are comprehensive.
I would like to make this guide as complete and accurate as possible, so if you have any comments or suggestions for inclusion please get in touch so that I can revise and add to this guide. I don't profess to be an expert in how Lladro have used their trademarks; just a keen collector.
These are details of the bellflower trademarks I have found from my research:-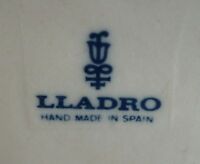 Bellflower 1 used approximately from 1971 to 1974. The missing accent over the "o" was intentional and not a mistake.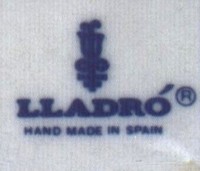 Bellflower 2 used approximately from 1974 to 1977. The accent over the "o" was added and circled "R" to denote the registered trade name.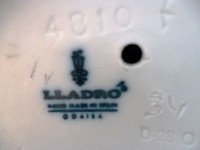 Bellflower 3 used approximately from 1977 to 1984. Daisa (Designos Artisanos Industriales SA) now added to denote the figurine design has been copyrighted. The piece number began to be added to some pieces during this period.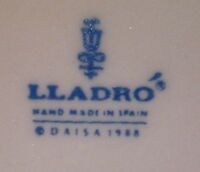 Bellflower 4 used approximately from 1984 to 1989. Daisa now incorporates the year of copyright.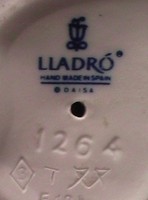 Bellflower 5 used approximately from 1990 to current. The bellflower symbol was revised and the type face changed. Daisa with no copyright date (this probably indicates a piece which has been in production from the 1977 to 1984 period – that is prior to the copyright date being added).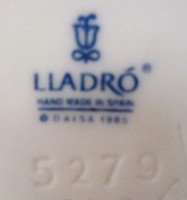 Bellflower 6 used approximately from 1990 to current. Daisa now with the year of copyright.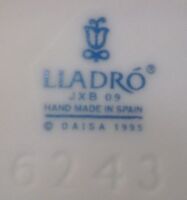 Bellflower 7 used approximately from 1990 to current. The tracking code for the Lladro Assurance Program (LAP) began to be introduced from this time.
Source of photos: Lladro pieces in my own collection.