Part 1 of 2 guides on this subject - I have split because eBay only allows 10 photos per guide.
This guide has been written to offer some suggestions and best advice for packing Lladro porcelain for transportation.
I have written this guide from my own experiences; bad experiences where Lladro pieces have been damaged in transit and good experiences where excellent packing has led to the safe delivery of the item.
I will look at two examples of bad packing and lessons to be learnt, then two examples of good packing. I will demonstrate the advice with the use of photos.
The first example was a high value Lladro piece sent from the USA to the UK which arrived badly damaged.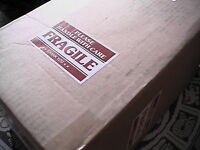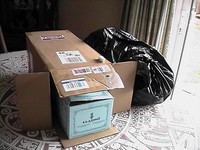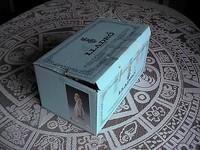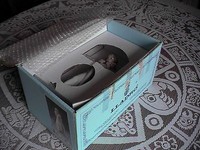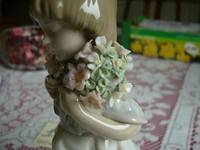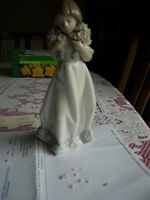 Photo 1 - A good sturdy external box well marked with a fragile stickers.
Photo 2 - The item was in an original Lladro box, and then placed in the larger external box, well packed with polystyrene chips, now in the bin bag.
Photo 3 - The original Lladro box
Photo 4 - The original Lladro box opened, bubble wrap lying on the top, which did nothing to protect the item, figure was not fixed in the box, piece moved around and was damaged.
Photo 5 - Damage to the flowers
Photo 6 - Pieces found loose in the box.
Lessons to be learnt…
The boxes and the packing material between the boxes were of good quality. However the item should have been secured in the Lladro box. The cardboard structure around the item should have been taped and the space around the item filled with tissue paper, soft filler or bubble wrap to stop the piece moving.
The second example is of an item sent within the UK via a parcel delivery service. The item which was about 30 years old was destroyed by bad packing.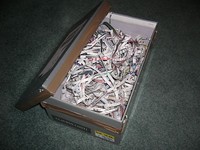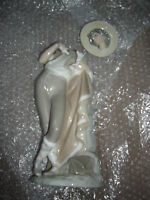 Photo 1 - A shoe box was used with insufficient padding, shredded paper had been used. The piece had been wrapped in bubble wrap but this was poorly supported within the box, leading to trauma to the item.
Photo 2 - The figurine was decapitated.
Lessons to be learnt…
The box and packing material were totally inadequate. Shredded paper in this small quantity is of no use whatsoever as a packing material, it has no ability to cushion the shock of movement in transit. A shoe box is far too small.
Please now read Part 2 of this guide which covers good packing.