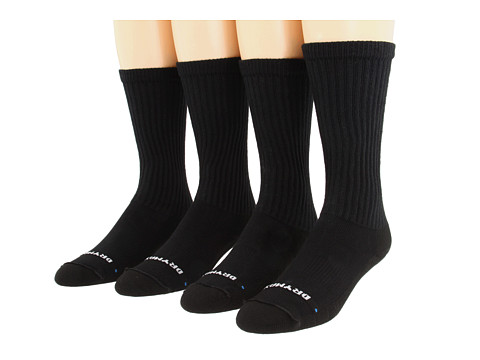 The right socks for a guy should be a combination of both function and fashion. There is a variety of socks available for men. They come in different heights, colours, and patterns, and they are made from different materials. The notion of 'everyday socks' means different things to different guys, and can vary according to a guy's level of physical activity and what he demands in terms of personal style. There are advantages and limitations to different materials, styles, and designs. No-show socks should be worn with casual loafers but they are not suitable for formal occasions. Wool socks keep feet warm in winter, but they may cause feet to perspire on a hot day. A man can never go wrong by pairing black socks with work attire, but white socks with black trousers is a major fashion faux pas. Regardless of the style, colour, or material, a guy will find a varied selection of socks for every need and occasion on eBay.
Choosing the Right Sock Height
One of the main features to consider when buying socks, is how high the top of the sock reaches up the lower leg of the wearer. Depending on a particular day, a wearer may require crew socks for work during the day, ankle socks for a gym session after work, and no-show socks for a summer evening out. A guy should select whatever sock height best meets his needs in terms of personal taste and comfort. A guy should have more than one type of sock in his sock drawer, as he will need to wear different types of socks for different activities and occasions.
Knee-High Socks
A self-explanatory name, knee-high socks are the tallest common sock type available for guys. As a fairly specialised design, knee-high socks are usually used for either athletic purposes or to keep the wearer warm in cool or cold weather conditions. With full-calf coverage, knee-high socks provide protection from athletic gear like football shin guards. These socks are also excellent for sweat absorption.
Mid-Calf Socks
Mid-calf socks, also known as crew socks, reach about halfway up the leg. Most dress socks that are worn with suits or formal wear of any kind are of the mid-calf variety, as they provide calf and ankle coverage for a dress shoe, and will not show skin when a dress pant is raised. Mid-calf socks are also popular for athletic purposes, as they provide ankle coverage for a high top athletic shoes.
Ankle Socks
Ankle socks are also called low socks, and have a ring of fabric that rises from two to seven centimeters above the top of the anklebone. This sock acts as a barrier, preventing the top of the shoe rubbing against the top of the foot and causing chafing.
No-Show Socks
The least visible sock option, no-show socks come an elastic ring that goes around the top of the anklebone. No-show socks run either just at, or below, the edge of an average shoe. Their purpose is to provide comfort and prevent rubbing or blistering, while giving the illusion that the wearer is not wearing a sock of any kind. No-show socks are fashionable and provide comfort by absorbing sweat when wearing lighter summer shoes.
Picking the Proper Sock Colour
Selecting a sock colour that is appropriate for daily use can be difficult. Many men are not aware of the effect the choice of colour has on an outfit. Depending on the colour of the socks, the socks can dress up an outfit or dress it down. Someone who wears white socks with a suit and tie may find themselves received differently than a man who wears the more appropriate black, blue, or brown. A good basic rule (though not set in stone) is for a guy to select a sock colour that roughly matches the colour of pants he is wearing. The colour of a pair of socks can make or break an outfit. A stylish guy considers his choices of colours and patterns very carefully.
White
White socks are always worn in casual situations, and never for formal wear, aside from very rare instances with non-traditional tuxedos. It is best to consider white socks as something only appropriate for athletic wear and other casual shoe options. They can also be worn with lighter coloured shoes. White socks are usually cotton, and are very breathable and good for sweat absorption.
Black
The quintessential choice for formal wear, black socks go with black pants, and always with black shoes. However, the socks themselves must be dress socks and not bulky athletic black socks.
Other Colours
Though it can be tricky, many men choose to add a pop of colour to their outfit by wearing a pair of socks that matches up with certain colours found in their shirt, or perhaps matching a colour in their tie or similar accessory they are wearing. This is both welcomed and encouraged, as long as the matching process is done correctly. The match should be a subtle one so as to add a tiny splash of whimsy and personality to the outfit.
Patterns
Socks don't have to be a solid colour. They come in a variety patterns including spots, stripes, and argyle. A guy needs to sure that the colours themselves match properly. He should try to avoid a busy look caused by too many conflicting patterns. In formal situations, patterns of any kind may be inappropriate.
Selecting the Right Sock Material
All sock materials are not created equal, and depending on the shoe type or size, and the weather conditions, a man may have to change his socks through the day. Comfort is the number one consideration when selecting a sock material. A guy should choose a sock material that feels comfortable first, and then consider other aspects like style and appearance.
Cotton Blends
Soft and very comfortable with a slightly thicker feel, cotton blend socks are the perfect choice for athletic wear, as they absorb plenty of sweat and provide comfortable layer for inside athletic shoes. Most white socks are made of some sort of cotton blend.
Acrylic
Acrylic socks are extremely light and tend to dry faster than other sock materials. Acrylic is also a durable fiber, making it a lasting choice for most sock styles. Because it is also an inexpensive material, many of the most popular sock brands on the market make their socks out of acrylic or some sort of acrylic blend.
Lycra
A lightweight material that has the ability to stretch, Lycra is used as a combination fabric, blending with cotton or acrylic, to make socks stretchy, thin, and light. Lycra is also used in many dress sock brands, to give a super thin and sleek appearance to dressier socks.
Wool
Wool is usually the thickest natural material that a sock can be made of, and is used for socks that are worn in cold weather. It is a dense material that creates cushioning for the foot. Some consumers are familiar with wool being an itchy material, however most sock manufacturers use a wool known as 'merino' wool which is softer and does not irritate the skin.
Padding
Padded socks can be made from a variety of materials. Extra material is added in certain areas of the sock to make them more comfortable to wear and also more durable over the long run.
How to Choose the Right Size of Sock
One final consideration when buying socks, is choosing the right size. A sock that is too small may restrict circulation and become uncomfortable quickly, while a sock that is too large will slip, bunch in a shoe, and become uncomfortable as well. The following table outlines the right size sock for their corresponding shoe sizes.
| Shoe Size | Corresponding Sock Size |
| --- | --- |
| 5-7 | Small |
| 8 - 10 | Medium |
| 10 - 12 | Large |
| 12+ | Extra Large |
Some consumers find it beneficial to buy one pair of socks, make sure the fit is good, and then purchase more pairs after they are positive that the sock is the right size for their foot.
How to Find Men's Socks on eBay
For the man looking to fill up his sock drawer, he can head to the high street or go online. With a large variety of men's clothing, including tens of thousands of sock listings at any given time, eBay has socks to suit every activity, occasion, and budget. To find socks on the eBay website, begin on the eBay homepage. Simply enter a description of what you are looking for into the search bar (i.e. 'everyday socks'). You can perform the same keyword search on any page on the site. You can also browse listings for socks from the men ' s clothing main page. You can sort the listings for men's everyday socks by size, price, sock type, colour, pattern, and more. Read the item descriptions very carefully. The description should include the size of the socks and the material the socks are made from. If the description is thin on details, don't be shy about contacting the seller and requesting more information.
Conclusion
Socks may be the last thing most guys think about when they are getting dressed in the morning, but the devil is in the details, and the right socks will add the perfect amount of style, comfort, and functionality to an outfit. A guy should remember to select a sock height that complements his style, and is appropriate for the activities he participates in. A guy should not wear a chunky pair of football socks to work unless he is job is a footballer. He should also choose a colour that suits his outfit and the occasion. Solid colours are always a safe option, although a carefully selected patterned sock is also a good choice. But no socks with cartoon characters on them! The choice of sock material should be appropriate for the weather conditions. Woollen socks worn on hot days will just become waterlogged with sweat. Rather, an active guy should consider a blended material that wicks perspiration away. A guy can browse a wide variety of socks when shopping on eBay.