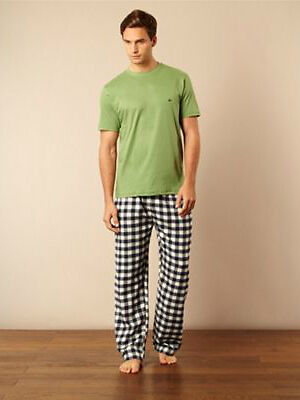 Long pyjama bottoms are designed to offer comfort not only while sleeping, but also for lounging around the house. Getting the right size, style, and quality pyjama bottoms can help to ensure maximum comfort and use. Men's long pyjama bottoms need not look unattractive or dowdy. Many designer, men's fashion brands are available in varying colors, patterns, fabrics, and styles.
A guy looking to buy a new pair of men's long pyjama bottoms can head to any major department store or select brand of clothing store. Alternatively, he can choose to head online. eBay offers a wide selection of pyjama bottoms for sale. This guide offers information about men's long pyjama bottoms. It offers suggestions on what to look for when buying pyjama bottoms, such as comfort, size, style, and quality. It offers information about the common fabrics available as well as the types of men's pyjama bottoms available. This guide also provides information on how to buy men's long pyjama bottoms on eBay with confidence.
What to Look for When Buying Men's Long Pyjama Bottoms
Whether buying a pair of men's long pyjama bottoms for oneself or as a gift, there are a few things to consider if one wants to buy a comfortable pair of stylish pyjama pants that offer durability and comfort all year round. Long pyjama bottoms, with either a drawstring tie or elastic waistband, are the most popular type of pyjama bottoms for men. They can be worn in bed or during the day, while lounging around in the house or out in the garden. They look very similar to casual trousers, except that they are more breathable, flexible, soft, lightweight, and comfortable.
Comfort
Given that people spend several hours each and every night in pyjamas, comfort is the number one consideration when choosing men's long pyjama bottoms. Fabric needs to be breathable and flexible. Waistbands need to fit snugly without being too tight or uncomfortable. Pant legs need to be loose enough to allow flexible movement without being too baggy or too restrictive. When considering comfort, buyers should consider the time of the year. A pair of wool-blend long pyjama bottoms may suit the cooler winter months, but they may not offer the same level of comfort during summer.
Size
Finding the correct-fitting pyjama bottoms ensures comfort for the wearer. Most men's pyjama bottoms feature flexible waistbands, and sizes are usually divided into Small, Medium, Large, X-Large, and XX-Large. The following table provides an approximate sizing guide for buying the various sizes of men's long pyjama bottoms. Measurements are given in centimetres.
| | Waist | Leg Length |
| --- | --- | --- |
| | 76 cm | 99 cm |
| | 81 cm | 103 cm |
| | 86 cm | 107 cm |
| | 91 cm | 111 cm |
| | 96 cm | 115 cm |
Before making the final purchase decision, buyers should be aware of the wearer's measurements in order to get a pair that fit well. Buyers should note that measurements can vary from brand to brand.
Style
Many different styles are available to choose from when it comes to men's long pyjama bottoms. Some guys like to have a pocket in the pyjama bottom, others like to have a button-up crotch. Some styles offer a high-cut waist, while others offer a low-cut waist. Guys even have the option of different pant leg styles, including a tapered leg, wide leg, or straight leg cut. Each gives a different look and feel when worn.
Some styles of men's long pyjama bottoms are designed to look more like casual pants. These are sometimes referred to as lounge pants. Men's lounge pants tend to be thicker and more durable than traditional pyjama bottoms. They also tend to be more expensive.
Quality
The quality of pyjama bottoms affects how comfortable and how durable they are. The quality is also reflected in the price. Those who want a very comfortable pair of pyjama bottoms that look stylish when worn both in and out of bed and offer long term durability should consider top brands such as Derek Rose, Ted Baker, or Tommy Hilfiger.. For those on a budget and are looking for affordable quality can try trusted brands such as Ben Sherman,, Hanes, or Jockey..
Popular Pyjama Bottom Fabrics
Guys have a wide range of choices when it comes to choosing pyjama bottom fabrics. Some fabrics are more expensive than others, while some are more suited to wearing in summer or winter, and others are more durable. The choice of fabric is significantly influenced by personal preference and budget.
Cotton
Cotton long pyjama bottoms are one of the more common type of pyjamas. Cotton is a natural fibre that offers breathability, comfort, and flexibility. Cotton pyjama bottoms are suitable for wearing in both summer and winter. For a more luxurious feel, one can choose 100 percent cotton pyjama bottoms. However, these are more expensive than cotton blend pyjamas.. Cotton pyjama bottoms range significantly in price, and cost is greatly dependent on the brand of the pyjama bottoms.
Flannel
Flannel long pyjama bottoms are ideal for wearing in cooler weather. They are usually made from wool, synthetic, or cotton and use a soft, woven fabric that has been brushed to soften the fibres. Flannel pyjama bottoms tend to be inexpensive and easy to clean.
Silk
Silk is not a common fabric option for men's long pyjama bottoms. Silk offers the wearer a more sensuous feel. Silk is very soft and lightweight. However, silk pyjama bottoms tend to be quite expensive and can be difficult to keep clean.
Synthetic
Synthetic is a common fabric of choice for men's long pyjamas. Synthetic pyjama bottoms are inexpensive, durable, and easy to clean. Common synthetic fibres used include nylon, rayon, and polyester. Synthetic pyjama bottoms are not as breathable as cotton pants, although they can be worn in both summer and winter.
Other Types of Men's Pyjama Bottoms
For men who do not fancy long pyjama bottoms, there are other types of pyjama bottoms to choose from.
Pyjama Shorts
Pyjama shorts may be described as long pyjama bottoms that have been cut off at the knee. These shorts offer the same comfort aspects of long pyjama bottoms in a shorter version. They are ideal for men who like the feel of long pyjama bottoms in winter, but like something cooler in the summer.
Boxer Shorts
Boxer shorts are not only worn as underwear, but they can also be worn as sleepwear. Boxer shorts are similar to pyjama shorts, except they offer a tighter fit and sit higher up on the thigh. Boxer shorts are great for wearing when the weather is warm. They are comfortable, come in a range of fabrics, styles, and colours, and offer great cost savings as they can be worn as underwear and sleepwear. Boxer shorts may be worn with a comfortable t-shirt or button-up pyjama top.
Boxer Briefs
Boxer briefs are tight-fitting underwear that is similar in shape to boxer shorts. They are made from elasticised material and sit snugly against the body. Some men like to wear boxer briefs as sleepwear. They are comfortable and ideal for wearing in warmer weather. Because they are tight fitting, they don't offer as much modesty as long pyjama bottoms, pyjama shorts, or boxer shorts, meaning they are not the most ideal for wearing when lounging about the house unless one is home alone.
Men's Long Pyjama Bottoms for Sale on eBay
Looking for a pair of men's long pyjama bottoms on eBay is a great way for buyers to find pyjama bottoms that meet one's budget. eBay offers simple search methods, secure payment options, and a wide range of useful resources to enable buyers to get the most out of the eBay-buying experience. To search for men's pyjama bottoms, simply type "men's long pyjama bottoms" into the search bar on eBay's home page to get a long list of items available for sale. Individuals looking for a specific type or brand of pyjama bottoms such as Primark large men's long pyjama bottoms or Calvin Klein men's long pyjama bottoms simply need to type the appropriate phrase into eBay's search bar.
Shop With Confidence on eBay
eBay offers a range of useful tips and information to help buyers shop with complete confidence on eBay. For those who want further information about buying on eBay, the website offers a Safety Centre, which is designed to offer everything one needs to know about using eBay with confidence.
Conclusion
Most guys like to have a few pairs of long pyjama bottoms ready to throw on before going to bed or when they wake up in the morning and have breakfast. Long pyjama bottoms are designed with comfort and practicality in mind. The range of styles available when it comes to buying men's long pyjama bottoms makes finding the right pair at the right price relatively easy. Buyers should look for comfort, size, style, and quality when purchasing pyjama bottoms and choosing the right fabric can help ensure maximum comfort. Some fabrics are ideally worn in the winter months, while other fabrics are suited to the warmer summer months. Many different brands available in this category, all ranging in quality and price. eBay offers buyers a great selection of men's long pyjama bottoms from various brands in a wide range of sizes, colours, and styles. Buyers can use eBay's simple search methods to find their desired pyjama bottoms at the right prices.