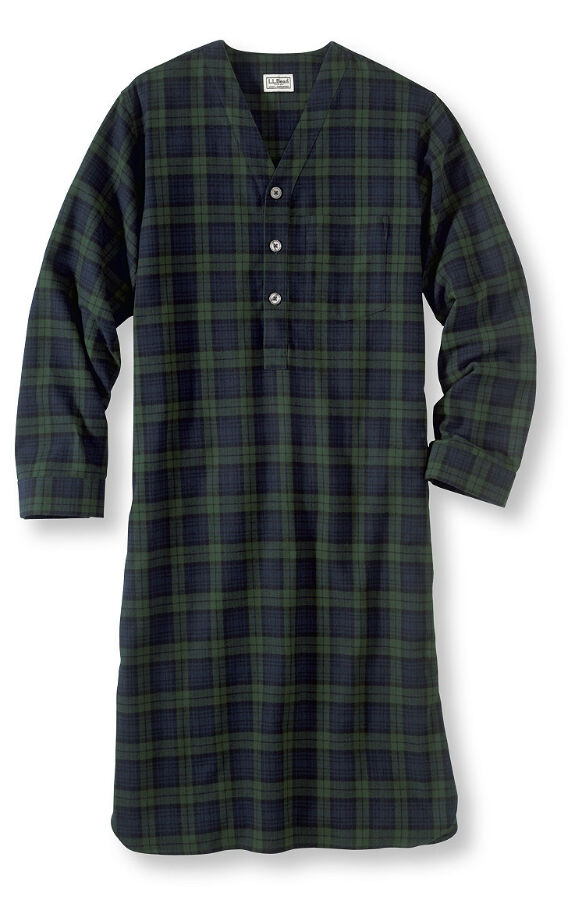 Nightwear is important for a guy as choosing the right one can provide some much needed comfort so that he can sleep soundly. Nightshirts are a popular type of nightwear that has been worn by guys for a long time. This item is favoured by many because it is easy and comfortable to wear.
Nightshirts in the present day come in different styles as well as fabrics to cater to almost any man's preferences and tastes. In this guide, buyers can learn about the history of the nightshirt in addition to understanding the advantages of wearing a nightshirt to sleep as well as the different types of nightshirts in the market. This guide also offers tips on how to choose a suitable nightshirt based on its fabric. Additionally, the guide tells the buyer where he can purchase a nightshirt. A section on how to purchase nightshirts on eBay is also included.
What Is a Nightshirt?
A nightshirt is a single piece of clothing that is worn to sleep. It is usually loose-fitting and extends down to the wearer's thighs or knees and leaves only some of the legs uncovered, being longer than normal shirts. Although a nightshirt can sometimes refer to the top half of a pajama set, it is actually just a single garment without any shorts or pants.
The nightshirt was the first nightwear to be worn, beginning in the time of the late Middle Ages. It was actually only a long undershirt and was worn under regular clothes as an undergarment. In the evening when people would come back from work, they would undress and leave on only the undergarment which would be worn throughout the night. It was not until the 14th century that people started wearing the nightshirt as an independent clothing item to bed. This started in Italy and soon spread to Central Europe, and by the 19th century, the nightshirt became the main nightwear which everybody, men, women, and children alike, wore to bed. Since then, the main design of the nightshirt has remained mostly the same with the exception of some changes which include different collar designs and sleeve lengths to cater to more people with different tastes in nightshirts. This article of clothing is also made with various materials as opposed to only cotton and flannel in the olden days. A variety of materials are used to make nightshirts including synthetic fabrics, cotton, flannel, and silk.
The Pros and Cons of Wearing a Nightshirt
Nightshirts are better than other nightwear in a variety of ways. However, they also have their drawbacks. Here is a list of pros and cons of wearing a nightshirt.
Pros of Wearing a Nightshirt
A nightshirt is very comfortable to wear. It is usually loose-fitting and thus is very easy to put on and take off.
The shape of a nightshirt also provides ease of movement and comfort like a pajama does while still being as cozy as a robe.
Unlike clothes which have elastic bands such as pajamas, shorts, or boxers, the nightshirt does not pinch the waist and leave a mark in the morning which can sometimes hurt.
Compared to wearing only shorts or boxers to sleep, the nightshirt can keep the body warm and still feel unrestricted as when wearing only shorts. This contributes to getting good quality sleep and rest.
Nightshirts are not only comfortable for a guy to wear to sleep, but it also works for any time of the day, whether he is making breakfast for the family, just lounging around on the sofa, or working on the computer at home.
Cons of Wearing a Nightshirt
However, nightshirts might look feminine and old fashioned to some people, and this means that they may not be suitable to wear around friends.
Nightshirts also tend to cost slightly more than pajama sets.
Different Types of Nightshirts
Nowadays, there are various types of nightshirts made of different materials including flannel, cotton, silk and also synthetic polymers. Flannel nightshirts are made of flannel which is a woven fabric. It was originally made out of wool but now is often made using wool, cotton, and also synthetic polymers. Flannel is usually thicker and is excellent at keeping the body warm during cold times. Cotton nightshirts are made of cotton and may include a small percentage of synthetic polymers. Cotton is among the more commonly used natural fibres, and nightshirts made out of cotton are very comfortable and light. They also provide great air circulation. Silk nightshirts are made of silk which is a natural fibre obtained from the cocoon of the silkworm. Nightshirts made out of silk are very soft and comfortable, and they look luxurious. Therefore, they are usually more expensive than flannel and cotton nightshirts.
Besides the different kinds of fabric used to make a nightshirt, various designs of nightshirts are also available. There are nightshirts with the classic look which has a collar, buttons and pockets, and there are also nightshirts with a round or V-shaped neck with no buttons which look like modern t-shirts. Besides only having long sleeves, some nightshirts also have short sleeves, which are more suited to be worn on warm nights. Nightshirts with different prints and patterns are also available to choose from.
Comparisons Between the Different Types of Nightshirt Fabrics
This table compares the different types of fabrics used in making nightshirts and shows their advantages and disadvantages.
Fabric Type

Advantages

Disadvantages

Flannel

Better at keeping the body warm as the woven material is usually thick to trap the body heat
Also available in various flannel thickness for different seasons
The thickness also makes it very soft and cozy to wear
The fabric is durable and therefore lasts long and is easy to wash

It is more flammable since it is usually made of woven wool with synthetic fibre, with the synthetic material being more flammable
May be too hot to wear during the warmer seasons

Cotton

Comfortable and lightweight
Does not irritate and feels good on the skin
The light fabric also absorbs moisture, allows good air circulation, and keeps the body dry
Keeps the body cool on warmer nights.

Not very good at trapping heat and therefore is not suitable to wear on cold nights.

Silk

It is the lighter material of the three and therefore is very comfortable

Provides good air circulation for the skin to breathe and keeps the body cool on warm nights

Very soft and smooth to the touch

The gleaming texture of silk makes it look luxurious and classy.

Since silk is a natural fibre, it might shrink after a few washes
Not good at trapping heat and can be too cold to wear during the cold seasons

May cost more than flannel and cotton nightshirts.
Nightshirts can be purchased from any clothing store which sells sleepwear, departmental stores, and online retailers like eBay.
How To Buy Nightshirts on eBay
eBay is a good place to search for nightshirts for men as the website offers a wide variety of nightshirts with various designs, colours, sizes, and fabrics to choose from. You can start searching for your nightshirt on the eBay homepage. Simply type "men ' s nightshirt" into the search bar, click "Search", and a list of all the available nightshirts should appear on the page. If you have a particular colour in mind for your nightshirt, such as blue, you can also narrow down your options by selecting "Blues" from the "Main Colours" menu. If you see a nightshirt that you are interested in, just click on it and you can read the item description and other information, including the size, color, and so on .
Before you proceed to buy the nightshirt, you should check all the necessary details of the item such as the colour and size. You should also look at the shipping cost of the item and check if the seller has a return policy in case it does not fit you or if there are any damages to the received nightshirt. If there is no information on the seller's return policy available on the item's page, you can contact the seller directly on eBay by going to the member profile and finding the member's contact information. If you are satisfied with the item, you can proceed to purchase it.
Conclusion
A number of factors should be considered before a man purchases his nightshirt. Factors include the weather in which the nightshirt will be worn, the design and styling of the nightshirt, the buyer's preference for the texture of the fabric, and the price. Flannel nightshirts are thicker, and they provide for cozy and warm wear on cold nights. Cotton nightshirts are thinner and lighter, making them very comfortable. They also absorb moisture and allow for air circulation and therefore are suitable to be worn on warm nights. Silk nightshirts are among the lightest and feel very soft and smooth on the skin besides allowing good air circulation. Like cotton nightshirts, they keep the body cool on warm nights. The texture of silk however, makes it the priciest among the three types of fabrics. eBay offers a wide variety of nightshirts for every man, and anybody looking for the perfect nightshirt should have no problem finding it on the website.