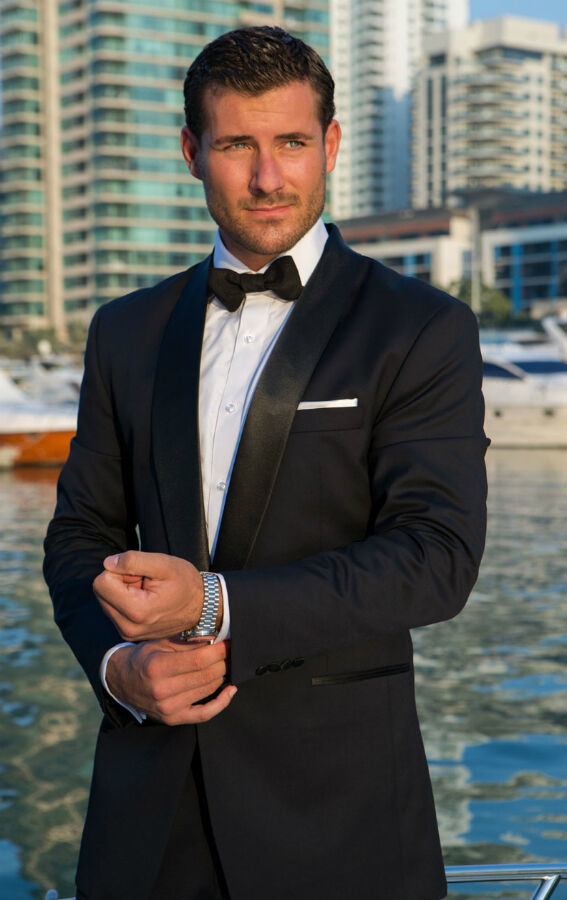 A tuxedo is generally considered to be the most formal thing a man can wear and has been for many years. Tuxedos have traditionally come in black. In recent times, however, it has become socially acceptable to wear tuxedos in all different colours depending on one's own personal style as well as the occasion for which the tux is being worn. It can be more than a little intimidating for a man to buy a tuxedo, especially if it is his first. A tuxedo is one piece of clothing that is worn in most formal functions and serves a purpose. In that of a wedding, the tuxedo is the perfect compliment to the bride's wedding dress. In other formal functions, the tuxedo makes the wearer stand out as someone with a keen sense of fashion. Before making a final purchase, one should have knowledge of the different parts and accessories of a tuxedo as well as how to get the correct fit.
What To Know Before Buying a Tuxedo
Anyone interested in buying a tuxedo should first get to know the individual components that make up the tux itself. He or she should also become familiar with some of the terms and concepts that exist within the formal wear and tuxedo industry. Gathering some information beforehand will likely save a buyer from encountering problems while shopping.
The Parts of a Tuxedo
A tuxedo is comprised of several individual items, listed below. Most are required but a couple of them are considered optional.
Trousers
Traditional tuxedo trousers have satin striping down the side, in a texture which matches or at least complements that on the lapels of the jacket. Today, not all trousers sold with tuxedos have these, but some people consider them necessary for creating a true tuxedo. There are also plenty of variations on that classic style that are considered perfectly acceptable as part of the tuxedo ensemble.
Jacket
The jacket, referred to as a dinner jacket or tuxedo jacket, is perhaps the defining piece of the tuxedo. Generally black, but available in virtually any colour imaginable, a tuxedo jacket should always look clean and new. Traditional tuxedo jackets feature satin detailing on the lapels. Dinner jackets come in both "notched" and "shawl collar" styles. Shawl collared jackets have solid lapels. Both shawl style and notched lapel jackets are considered to be suitable for use as tuxedo jackets. There are two main types of jackets in terms of length: cutaway and tail-style.
Cutaway dinner jackets end at the waist and traditional etiquette dictates that this style is only appropriate for events held during the day or early evening. However, it is now perfectly acceptable to wear cutaway style tuxedos at even the most formal evening event. Tail-style tuxedos are characterised by the elongated "tail" of fabric at the back of them. Tail-style tuxedo jackets were once the only kind available, and they are considered to be the more formal of the two types of jackets. The other important variation in tuxedo jackets is that some are what is known as double-breasted and others are single-breasted. When a jacket is double-breasted, it means that one side of the jacket overlaps the other in the front. Single-breasted jackets are those where the two front sides meet and button in the centre.
Dress Shirt
A crisp, clean dress shirt should always be worn beneath a dinner jacket. Tradition dictates that this shirt should be white but the colour of the dress shirt is ultimately up to its wearer. White dress shirts, however, are always the right choice for black and white tie events and other highly formalised affairs. Coloured shirts should only be selected if the occasion is appropriate for such a deviation from traditional formal attire. It is advisable to buy several dress shirts so that a new one will be available for immediate use in case one unexpectedly has cause to wear a tuxedo. Having a dress shirt ready to go at a moment's notice is a good idea for any guy.
Cummerbund
The cummerbund is a wide, belt-like piece of fabric that is worn around the waist and underneath the jacket. They are usually made of satin or a similar material and often feature horizontal pleats. Cummerbunds are not worn as often as they once were, but remain a popular part of the tuxedo look among many men. They are not considered a necessary component of the tuxedo.
Waistcoat
The waistcoat, or vest, is another optional part of the tuxedo look. For a more traditional look, stick with black (or white if the other components of the tux are to be white as well). Vests are available in multiple colours to suit any taste. Brightly coloured vests have become a popular statement piece at weddings, where groomsmen sometimes wear vests to correspond with the bridesmaids' dresses. Vests are usually not worn at the same time as a waistcoat.
Bowtie
The bowtie is a small piece that adds a big impact to the look of a tuxedo. Bowties are available in traditional wraparound style or as a clip-on accessory. The classic tuxedo look calls for a black tie, and it's customary to keep this tradition at most formal events (hence the term "black tie affair"). It should also be noted that when "white tie" attire is called for, men should wear all white tuxedo components.
Fit and Sizing
If a man has never had his measurements taken, he will need to do so before tuxedo-shopping so that he'll be sure to buy the correct size. Most clothing shops will take measurements for their customers free of charge. They can also be taken at home with the help of a friend or family member and a tailor's tape. Manufacturers sometimes vary in the way they cut their sizes, so consulting brand-specific sizing charts is helpful.
Jacket Size Chart
The best way to determine the correct size for a tuxedo jacket when shopping online is by taking the proper measurements of the chest, waist, and overarm. When these measurements are taken, one can then compare them to the measurements below to determine the correct size needed.
| Size | Chest (cm) | Waist (cm) |
| --- | --- | --- |
| 38 | 95.6 | 96 |
| 40 | 101.5 | 102 |
| 42 | 106.5 | 107 |
| 44 | 111.5 | 112 |
| 46 | 117 | 117 |
| 48 | 122 | 122 |
| 50 | 127 | 127 |
Knowing which jacket size is correct is only half of the job when it comes to purchasing a tuxedo. In order to make a purchase, one must also know the correct size of pants to go along with the jacket, and that is where the pants size chart comes in handy.
Pants Size Chart
Knowing the proper size of pants to purchase online is made easier with the help of a size chart. It's important that the wearer make sure to take the measurements of the hips and waist, and compare them to the chart listed below to get an idea of the proper size.
| Pants Size | Waist (cm) | Inside Leg (cm) |
| --- | --- | --- |
| 32 | 81 | 84 |
| 34 | 86 | 84 |
| 36 | 91 | 84 |
| 38 | 96 | 84 |
| 40 | 102 | 84 |
| 42 | 107 | 84 |
| 44 | 112 | 84 |
| 46 | 117 | 84 |
Once all measurements are secured finding the best tuxedo online is much more simplified. Knowing the proper size helps to save from returns in the future, and helps to ensure the approval of the buyer.
Tuxedo Accessories
Aside from the parts of the tuxedo itself, several accessory items will probably need to be procured in order to complete the entire look.
Shoes
No formal look is complete without the right pair of shoes. When wearing a tuxedo, it's generally accepted that the accompanying shoes should be absolutely clean and new-looking and that they are of decent quality. It's worth investing in a nice pair of formal shoes to wear with a tuxedo. Black shoes are the most traditional choice. Sometimes in the case of a wedding, a groom will dictate that his attendants wear a certain colour of shoes in order to match the decor colours or in keeping with a particular theme. Unless such extenuating circumstances exist, it's best to go with black dress shoes. Oxfords and court shoes (also called opera pumps) are two traditional tuxedo-appropriate shoes.
Cufflinks
Cufflinks are decorative fasteners that hold together the cuff of a formal shirt sleeve at the wrist. Cufflinks come in just about every variety imaginable. While they are only visible when the jacket has been taken off, many consider cufflinks to be a vital part of the tuxedo. Cufflinks have been around for centuries, having originated in the 1700's, and are still a popular men's accessory item.
Socks
When wearing a tuxedo, the general rule is that black or dark-coloured socks should be worn. It has become very popular, however, to wear patterned or brightly coloured socks. This trend is seen most often with weddings and school dances. Dress socks are thinner than other types of socks. This is so that they can fit easily inside the formal shoe without any unsightly bunching. Formal shoes should never be worn with athletic socks or other non-dress socks.
Hat
Black tie attire once required the wearing of a top hat. While this is not the case today, many men still prefer to wear a top hat or fedora with their tuxedos.
How to Buy a Tuxedo on eBay
Buying a tuxedo on eBay is especially desirable because a user can select from literally thousands of full tuxedos or mix-and-match components from different sellers to create a customised formal look. Many men turn to eBay so that they can shop for a tuxedo without any pressure from salespeople or having to visit several stores to put their look together.
Finding the Right Tuxedo and Accessories on eBay
It can seem daunting at first to search through so many tuxedos and accessories. By narrowing the parameters of a search, however, the results can be significantly reduced. This can be done by entering specific terms into the site's search bar (located on every page). Each item can be referenced by size, colour, brand, or other identifying feature. There are also size charts for most clothing items on the product page for help in making sure that the item will fit properly since size can vary slightly between brands.
Purchasing and Shipping on eBay
eBay purchases are transacted using credit cards or PayPal, and each seller on the site has a profile containing valuable information for buyers. Each seller's history is outlined, along with reviews and ratings from other buyers. Shipping costs will vary, but are typically not high compared to other items that are heavy and/or breakable. Finding a seller within close proximity to a buyer will usually result in reduced shipping costs.
Conclusion
A tuxedo, or dinner jacket, is an item of men's formal evening wear, normally featuring a black, satin, wrap around shawl collar and satin lapels. Although dinner jackets are often purchased new, for many people there is something especially thrilling about wearing a piece from the dinner jacket's heyday in the 1920's or 1930's, up to about the 1970's or a little beyond. For these wearers, dinner jackets from the mid-20th Century are seen as more stylish and classier than modern pieces.
Every man should have at least one tuxedo. It can be difficult to know how to go about buying any formal wear, much less a tuxedo, without first having some knowledge about the look and how to achieve it. By taking some time at the outset to learn what makes a tuxedo, the options within the tuxedo market, and what accessories might be needed to accompany one a man can be assured that he will end up with a tux that best suits his needs and unique taste.