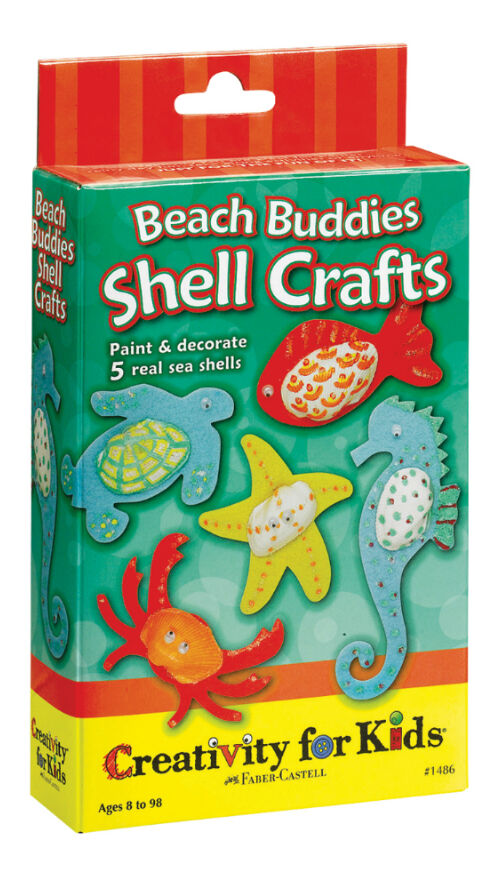 There is nothing more fun for kids than crafting. Whether it is scissors, paper and glue, or a box of paints and endless paper, crafting is a great way for kids to engage their own creativity and discover the artist within them. It is also a good way to while away a rainy day or otherwise boring afternoon. Kids' craft supplies are affordable and come in a variety of types to suit every kid's preference.
Keep a box of kids' craft items on hand for kids who need something to do, and older kids also enjoy a craft kit to make special items, such as T-shirts, necklaces, or key chains. Help kids see the possibility in a box of coloured pencils and construction paper by purchasing craft supplies just for them. No matter what age a child is, it is never too early to get involved in creating, painting, drawing, and crafting and allow a kid to discover colour and art. Buyers can purchase many types of children's crafts for kids of all ages from the wide selection of affordable craft items for children on eBay.
Types of Kids' Craft Supplies
When it comes to buying craft supplies for kids, there is an endless array of options. Buyers can choose the types of kids' craft supplies they desire by many different categories.
Craft Kits
Craft kits are sets that include all of the necessary items to make specific types of crafts. Some craft sets are used to make T-shirts and include items such as fabric paints or markers, or there are sets which create painted portraits such as paint-by-numbers sets to make it easy for children to create crafts easily.
Craft kits are also used often to make jewellery such as necklaces and bracelets, or stuffed animals using felt, socks, or fabric. Craft kits are a good option for children who want to learn crafting and need a bit of step-by-step instruction, which is generally included in craft sets to help the kids create the crafts simply. They also save money because buyers do not have to purchase everything to create crafts, since it is all included in the exact amounts needed inside the craft kits.
Stickers and Adhesives
There is nothing more fun for kids than stickers and adhesive crafts. Stickers range from average stickers which come in a variety of designs such as favourite characters, animals, flowers, hearts, or stars, to special adhesives such as rhinestones, letters, or foam three-dimensional stickers.
Stickers are used to embellish kids' drawings, handmade cards, frames, or jewellery. Stickers generally come in batches or sheets which may or may not include a variety of different designs. Stickers are not just made of paper, they are also created from felt, glitter, glow-in-the-dark materials, puffy and soft fabric, and shiny foil.
Crayons and Pencils
Consumers can nurture a child's passion for drawing and writing with special crayons and drawing pencils. It is always best when purchasing these tools for a child for buyers to ensure they are buying washable, non-toxic items. Coloured pencils, crayons, and markers are all good tools for colouring and drawing on paper. There are special pencils which are used to create watercolour style drawings.
Markers come in a variety of sizes, from fat markers that are easy for tiny hands to hold, to skinny markers that older kids can use for more detailed drawings. Crayons are also made chubby for babies and regular-sized for bigger kids, and they can be purchased in boxes according to the number of crayons inside, the brand, and what size they are. For extra fun, some markers are scented for children.
Glitter
The finishing touch for many a child's drawing is glitter. Glitter comes in many forms which can be applied to kids' crafts, and buyers should purchase the most convenient type of glitter. A popular kind of glitter for kids is glitter glue. It is easy to use due to the squeeze tube applicator that kids can use to draw or write with. The glue dries to a colourful, sparkling finish.
The other option for using glitter is for consumers to purchase loose glitter in packets or pots. The glitter can be sprinkled or brushed over glue on a drawing or craft to create a design. Loose glitter also comes in a shaker applicator so it is easily sprinkled without making a mess. Glitter that is loose ranges from fine glitter to chunkier, thicker glitter, as far as glitter consistency goes.
Paints
Kids love to use paint, and it is easy to see why. Buyers can help their kids make a masterpiece with the aid of craft paints that are specially made for children. Some of these paints include easy-to-wash-off watercolour paints, paint pens, fabric paints to decorate shoes, hats, and T-shirts, and poster paints.
For regular paper painting, standard watercolour paints are the best option, but buyers should select the type of paint based on the purpose. Budding artists may want to use acrylic paints and special paper, and finger painting is always fun for kids with big pots of finger paint that is washable. Paint pens can be used on many different surfaces including plastic, which is a good way for kids to embellish and personalise items such as binders, frames, or even glass items such as plates or mugs.
Beading Supplies
Stringing beads and making jewellery is fun for kids of all ages. Some jewellery making supplies that can get kids started include beads of various sizes and shapes, jewellery cords or strings, or even bead making kits which children can use to create their own customised beads.
Another creative way for kids to use beads is to purchase pegboards which they can decorate with colourful beads. Pegboards are shaped like designs or animals, such as hearts, and kids can put beads onto the boards to create designs of their own. Glittery beads make pretty designs, and these can be used for decorations.
Other Craft Items for Kids and Their Uses
There are many other fun types of craft items for kids to use when it comes to creating items that are unique. The sky is the limit for kids who love to make things, and there are endless supplies available for every artistic whim.
Craft Item

Use or Purpose

Considerations

Pipe cleaners

Make dolls or figures

Make bracelets or rings

Flower stems

Ornaments

Shapes

Keep an eye on pets around pipe cleaners; they can be a danger to animals

Pipe cleaners come in many colours and styles, such as glitter pipe cleaners

Tissue paper

Flowers

Stained glass crafts

Pom poms

Decoupage crafts for older kids

Small pieces of tissue paper are used to create mosaic pictures on paper

Tissue paper is generally sold in bundles for better prices

Is easily cut with scissors

Scrapbooking supplies

Kids can design their own scrapbooks with stickers and photos

Be careful with small children using glue and scissors

Playdough

Create sculptures

Playdough dries out if left uncapped for several hours

Many varieties include modelling clay and Play-Doh brand dough

Yarn, thread

Crochet, sewing, knitting

Older kids may want starter kits with patterns included

Craft sticks

Puppets

Houses

Bookmarks

Can be a choking hazard for small kids

Easy to secure with non-toxic glue

Feathers

Embellishment for any type of craft

Can be glued or stapled onto paper for decoration

Glue, tape

Used to secure decorations to paper or other craft supplies

Non-toxic glue is best for kids of all ages

Scissors

Used to cut paper, tissue paper, felt, and scrapbook decorations

Safety scissors are recommended for preschoolers and young children

Google eyes

Glue to pictures to add three-dimensional decoration

Lots of fun for kids

Come in different sizes and generally sold in bulk bags for an affordable price
Craft supplies for kids are available in a range of types. The supplies which buyers purchase vary based on the ages and individual interests of the children who the consumers are purchasing craft supplies for.
How to Buy Kids' Craft Supplies on eBay
Kids get a lot out of crafting, so help them get starting on the way to discovering their own unique creativity by purchasing craft supplies just for them on eBay. Use the eBay home page or any internal search page to key in search terms such as "children's crafts". From there, you are able to select a variety of types of craft supplies such as scrapbooking supplies or paints.
Compare the craft supplies by type, price, and style, and get the best deal for your money. A good way to get an affordable deal on kids' craft supplies is to talk to the seller about a bundle. If a seller is offering more than one type of craft supply, talk to him or her about bundling more than one item together to reduce shipping costs, and get more for your money.
Purchase kids' craft supplies from merchants who are Top-rated sellers, and read the sellers' listings carefully to ensure you are getting the exact craft items that you are looking for. Make sure any used items are in good condition, and look at many images of items before purchasing to ensure they are exactly what you want.
Conclusion
Kids' craft supplies are an inexpensive way to keep kids entertained, and to allow them to express themselves creatively. Purchasing craft supplies for kids on eBay is affordable and fun for buyers and their children. Craft kits and sets allow children to help teach themselves new crafts, and items such as paints and crayons open up the doors to children's own creativity. Keeping a box of crafting supplies on hand is a great way for consumers to always have something entertaining for kids to do, and crafting can also be used as a teaching tool as kids learn their colours, shapes, and how to write.
Whether crafting is done for a special occasion or holiday, or simply a fun way to while away the day, it is essential for kids to maximise their own creativity by using a variety of crafting tools and supplies. Not only is it fun, but it also allows kids the freedom to discover why art is such a great learning tool and allows for so much self-expression.