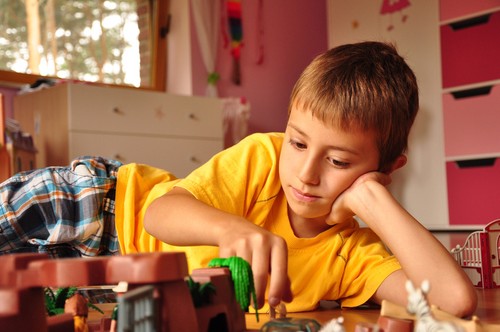 Playmobil is a German company who produce a wide range of quality toys for children. Set up in the early 1970s by Hans Beck, the range was a world-wide sensation by 1975 and is still loved to this day.
Ideal for treats, birthday's or Christmas presents, there is a Playmobil toy to suit every personality. A popular brand, well-loved and trusted by parents and children alike, Playmobil continues to produce quality toys and re-invent their product lines. Due to this long history of the company, Playmobil are a popular brand for collectors and children alike. Most recently, collectors have used Playmobil to create stop start animation films.
eBay offers a wide selection of Playmobil toys on their buying platform, which caters to all types of ages and scenarios. This guide will cover the major point associated with buying Playmobil toys.
The Range of Playmobil Toys
Playmobil offer a simple alternative to the over produced toys of the 21st century and allow your child to 'specialise' in areas that they enjoy, building together a scene piece by piece or collecting full sets at a time. And it really doesn't matter what the child is interested in. Playmobil's range includes the fantastical and the mundane, meaning concrete trucks are just as readily available as a knight in shining armour.
Playmobil offer the following range of toys:
Toys suitable for pre-school & young children
Action figures
Construction toys & kits
Jigsaws & Puzzles
Vintage & Classic Playmobil toys
TV & film character toys
Educational toys
Toy Soldiers
Games
Within these ranges, the following popular toys are available and will be discussed in the following sections.
Human Figurines
The human figurines made by Playmobil come in gender neutral as well as girls and boys. They also come in a variety of different skin tones and have a myriad of cultural accessories to choose from.
There are specific ranges for boys and girls, however for the most part all products ignore social standards so can be enjoyed by both sexes. The figurines also represent a wide age range from seniors, adults, children all the way to babies.
Animals
Playmobil offer a wide range of animal toys from the everyday farm yard to the mythical creatures. The animals can be purchased separately or in scenes. Most animal scenes include their natural environment as a part of the package.
Cars
Playmobil offer an extensive range of car and truck toys. These are a much loved favourite of most children and a best seller for the company. However, in recent years, cars got more exciting with Playmobil. Playmobil offer the ultimate motor enthusiast toy, a tuning car kit. This toy includes tools, lights and sounds to help build and tune the sports car so it is running smoothly and as fast as it possibly can. It also comes with a Tune Workshop. Also available are additional accessories like spoilers and side panels. Perfect for any budding mechanic.
Playmobil 123
Playmobil 123 is the range of toys suitable for under 4s.They are the perfect introduction for little ones to the Playmobil toys and accessories. What's more, they can collect the toys as they grow and play with them together. Most products are suitable for ages 18 months+. The 123 line offer a wide range of individual pieces like figurines and cars, to full scenes like a farm yard. This range has larger and fewer connecting pieces making it safer for younger children.
NOTE: Always remember to supervise your child when they are playing.
Outdoor Playmobil
Playmobil create hundreds of 'outdoor' inspired toys.
These include:
Pool with water slide (which holds real water and has a working shower).
Many of the cars like the airport bus, airplane and truck line.
Outdoor scenes - a large number of the products depict outdoors scenes. These are ideal for indoor play but a nice treat to take them out into the garden to play. This helps to contextualise the learning associated with the play.
Full Scene Playmobil
Most Playmobil full scene are available in themes like 'historical scene', 'holidays', 'house', 'fantasy scenarios', 'futuristic scenes', 'farms' or 'cityscapes'. They tend to run in a two year cycle before making way for the new range. This means there is a strong trade in Playmobil toys on the second hand market from collectors of the products.
Playmobil Accessories
Playmobil have numerous accessories on offer. Each are designed to increase the playing potential of specific sets but also work with a wide range of their existing products.
These accessories include new and exciting figurines, building extensions to make buildings even bigger, or animals to fill up the empty farm yard. The accessories family includes additional pieces and parts under the following categories:
Farms
Wild life
Country
Dinosaurs
Western
Pirates
Knights
City life
City action
Construction
Trains
Summer fun
Princess
Dolls' house
Fan corner
Fences
House extensions
Electronic extensions
Figures
Assembling Playmobil Toys
Most Playmobil toys require assembling by the user. Each toy will come with a set of instructions – this is particularly true of the buildings that require a detailed instruction manual.
In the past, the system used to put the toys together was called 'Steck-System' and was a range of tabs and slots that fit together. In recent years this has been replaced with 'System X'. System X includes adjoining pieces that require putting together using a tool similar to a screw driver.
Remember to provide adult supervision when assembling Playmobil toys and always play safely.
Useful Tip
Playmobil toys are in 'G' Scale meaning they fit with other toys in this scale. 'G' Scale is the most common scale, so Playmobil toys can be mixed and matched with all manner of toys found in the toy box.
The conductor of the Playmobil train can also conduct a train from another company.
Top Sellers
Within the Playmobil brand there are a few products that have lasted the test of time. These top sellers include (Please note this is not an exhaustive list):
Family Camper
Jet Plane
Pyramid
Ambulance
Research Submarine
Benefits of Playmobil
Playmobil toys offer a number of great benefits for children. They include:
Encourages children to use their imagination
Encourages creative play
Introduces processes like cause and effect
They are great toys for exploring empathy
Encourages fine motor skills
By encouraging the child to use their imagination, Playmobil enriches the life of the player. The cognitive benefits of imaginative play are numerous. It assists with their development adding emphasis on language skills, maths and literacy development to name a few. Because most Playmobil toys are moving objects, for example, the figurines arms and bodies move, this reflects real life during play.
Playmobil have a commitment to enriching children's lives. With a range that crosses age range and cultures it has an international reach.
How to Buy Playmobil Toys on eBay
eBay offers hundreds of different Playmobil products suitable for all manner of ages and personalities. These products include Playmobil 123, cars, historical scenes, animals, human figurines, mythological scenes, outdoor scenes and much more. eBay sellers are known for their competitive pricing and unbeatable reliability. Alongside the choice and reliability of eBay is the wide selection and the flexible payment options it offers.
It is easy to search for Playmobil products on eBay. Simply visit the Toys & Games portal. This will lead you to further search options where a more detailed outline of the toy wanted can be entered. Alternatively, it is also possible to use the search box found on every page of the site.
If the name or label of the Playmobil product is unknown, this search function can lead you to the correct page. Simply key in the idea of the product, for example 'Playmobil outdoor scene toys'. This will offer suggestions for browsing to identify the exact product you want or the opportunity to hone in the search.
When searching through listings, it is advisable to carefully review all the information and data for that specific listing. Ensure that the product for purchase is the exact product that is required. The steps that are needed include looking over photographs, descriptions, product reviews, and seller details. Feel free to AsktheSeller a question if you want additional details. Visit the BuyingTips page for more information.
Once you're ready to make a purchase, the buyer can place a Bid, BuyitNow, or put down your BestOffer. By using PayPal the buyer is assured the transaction will go smoothly. eBay users are protected by the BuyerProtectionProgram.
Conclusion
Whether you are a young child or an adult interested in collecting as a hobby, there is a Playmobil product available for you. The long history of quality and innovative products make the Playmobil brand and toy a force to be reckoned with and has done so for the duration of the company. Because of the company's commitment to creating toys with educational values and meaning, this product means your child will not only be playing, but exploring life lessons along the way.
What's more, Playmobil grows with the child into adulthood. Products can be collected and played with together. Due to the durable materials, they are robust offering longevity. A Playmobil product is not just a short term toy, but a long term investment for generations to come.