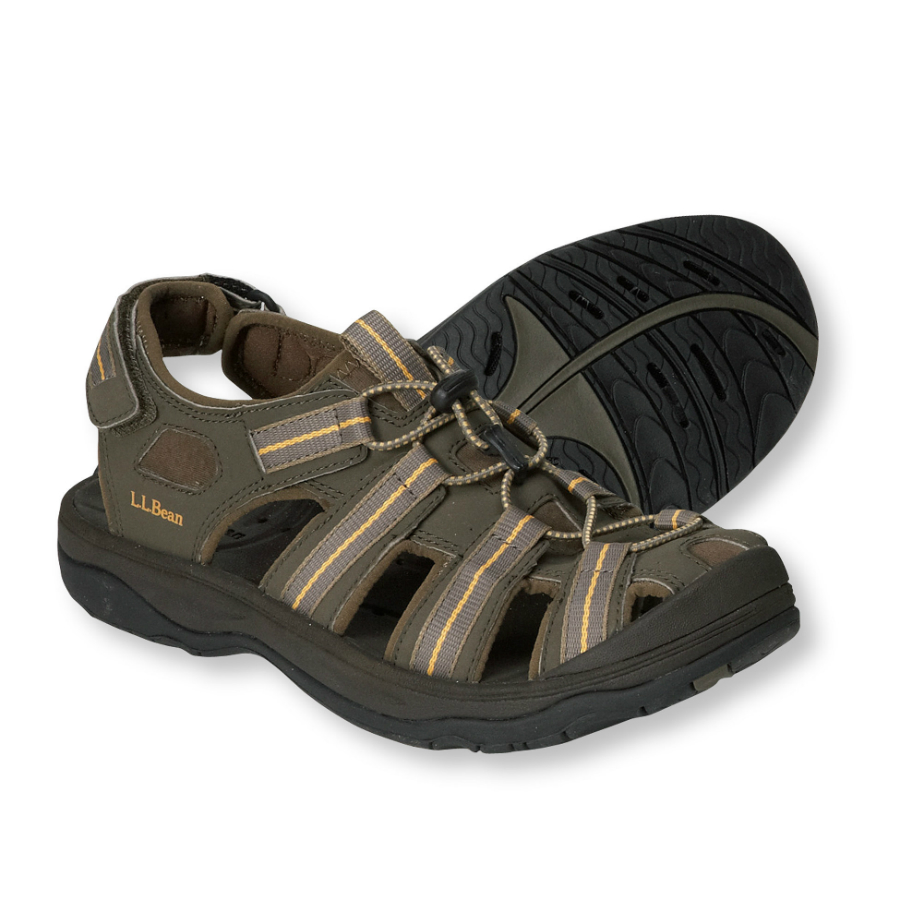 The essence of sporting sandals is simply a pair of sandals that is suitable for wearing when taking part in sporting activity. In theory this places an emphasis on comfort and support for the foot, although in reality manufacturers sometimes promote style and attractiveness as highly as they address practicality. This makes it important when buying sporting sandals to consider the design carefully, and measure it up realistically against the buyer's needs.
When shopping for a pair of sport sandals, men should consider what types of sports sandal are available as well as their suitability for different purposes. Men should also think about the advantages and limitations of some of the common materials from which sports sandals are made. As high street retailers tend to offer a limited range of sports sandals, many people now turn to online retailers such as eBay, where a wide selection of sports sandals can be found.
Types of Sports Sandals
There is no standard definition of what a sports sandal should be. Sports sandals can therefore vary greatly in their design, from flip-flop type sandals which have virtually no uppers, to almost completely enclosed sandals that look very much like running shoes with ventilation holes cut into them.
Because of this variability in designs, before making a purchase it is important to decide what purpose the sports sandals are likely to be used for. Are they intended just for general use, with perhaps an occasional casual game of beach volleyball now and then? Or are they going to be used by a dedicated running enthusiast, who trains daily, and needs sports sandals when running in hot weather?
This question is of particular importance given that for many buyers it is the image of sports sandals that appeals rather than the intention to use them for playing sport. This is the sandal equivalent of buying trainers to wear because they are comfortable and look fashionable, rather than for playing a sport in them.
Flip-Flop Sports Sandals
The basic concept of a flip-flop is a knot of material that is gripped between the first and big toes, with just two brief straps arching backwards to form a minimalist upper. In terms of design, flip-flops intended as sports sandals are very similar to ordinary flip-flops. They will often have a slightly more substantial sole in order to provide better protection for the underside of the wearer's foot. This extra substance underneath the foot is also likely to be shaped slightly, to provide a little more support to the wearer's arches. And it is likely to have a tread pattern, to improve grip. Simply judging by the shape though, there is not a great deal of difference between sports flip-flops and ordinary flip-flops.
Where they are more likely to differ is in the materials they are made from. Rather than the bright jelly plastics of cheap and cheerful beach flip-flops, sports flip-flops are often made from more resilient synthetics, with the sole especially being better able to absorb the shock generated when running. Before buying flip-flops for wearing during serious sporting activity, it would be sensible to consider whether they are the best footwear for the job. As a rule, their minimalist design means that they do not give as much protection or support as other types of sandals.
Slip-On Sports Sandals
This category includes mules, so-called 'slipper' sandals, and similar items, all of which are more substantial than flip-flops but simply slip on and off the foot. Like flip-flops, slip-on sports sandals are often made of plastic, and are not always the most supportive or protective footwear for sport. In any serious sporting activity, unless they incorporate a heel strap, slip-ons risk being pulled off.
Strapped Sports Sandals
This is a broad category that includes many different sports sandal designs, all of which incorporate straps. At one end of the spectrum, strapped sports sandals may not have much more substance than a pair of flip-flops. At the other end, they may have a pattern of straps so extensive that the feet are almost completely enclosed.
The extra surface area which the straps provide means that these sandals are likely to be far more suitable for sporting use than flip-flops. By partly enclosing the foot, the straps provide both a measure of protection and a means of support and restraint, helping the wearer control his movements more precisely. A related advantage of strapped sports sandals is their extra rigidity compared with flip-flops, which further enhances the protection and support they can give.
The straps on strapped sports sandals are likely to be closed by strong velcro, for ease and speed of adjustment. By and large, strapped sports sandals are generally made from synthetics, with leather rarely to be seen. Cheaper versions may be made from plastic, but these are less comfortable in the heat.
Enclosed Toe Sports Sandals
Enclosed toe sports sandals are the category that is least like sandals, and the most like training or running shoes. For serious sporting enthusiasts who need high performance footwear, but with adaptations to keep their feet cool and dry, this is the category which is most likely to appeal. Not only do enclosed sports sandals provide the greatest support and protection out of all sports sandals, they are also the most likely to take advantage of advanced materials, further adding to their strength and breathability.
Enclosed toe sports sandals will generally have chunky grip soles to give good grip, perhaps made from rubber or a durable synthetic. The uppers are also likely to be modern synthetic material, and the sandal may be lined with a breathable lining. The uppers are often closed by a strong velcro patch, or possibly have some sort of adjustment mechanism using internal laces, hooks, loops, and plastic buckles.
The amount of ventilation in enclosed toe sports sandals varies, but not by as much as it does with strapped sports sandals. Some just have small sections cut away, while others have more substantial areas cut out.
A specialist subset of enclosed sports sandals is the type suitable for use in water. These are designed to let water drain away quickly, and may be lined with a material such as neoprene, which will dry off very quickly and not be damaged by repeated cycles of wetting and drying.
Walking or Hiking Sports Sandals
This category cuts across the last two, as it includes both enclosed-toe and strapped sports sandals. Sandals in this category tend to have more substantial soles with a better tread compared with some of the lighter sports sandals. This gives them a more robust look, and makes them more supportive and protective for the feet.
Materials
For sports sandals however, leather is not widely used. It may appear in the uppers of good quality sports sandals, or as a trim, but it is much less prevalent than it is with normal footwear. The more common materials used to make sports sandals include rubber, plastic, and synthetics.
Rubber
Rubber is a popular material for the soles of sports sandals. It can vary greatly in cost and performance, and many 'rubbers' are actually synthetic. Some synthetic rubbers can be very durable, others less so.
Plastic
Plastic is a less expensive material, but not as attractive or comfortable as leather. Generally, plastic is reserved for budget lines in this field.
Synthetics
By far the most popular choice of material for sports sandals, synthetics include a range of different man made materials such as synthesised rubbers, woven synthetic textiles, and sometimes breathable linings. Synthetics have the advantage of being cheaper and lighter than leather, and of being easy to manipulate into the attractive 'sporty' designs that buyers like for this type of product. In short, they look good for sportswear.
Synthetics are not able to mould themselves as well to the fate of the foot as leather. And the cheaper synthetic soles do not always last as long as they might. These considerations aside, they are well suited to use in sports sandals.
Buying Men's Sports Sandals on eBay
If you are thinking of buying a pair of sports sandals, the first thing to consider is what they will be used for. If you are a committed runner, and need footwear which is light, strong, and very well ventilated, a good quality pair of synthetic sports sandals would be ideal. These could be either strapped sandals or enclosed toe sandals, as both are capable of providing the support and protection needed. For lighter duties, you might consider a pair of sports flip-flops. There are many different designs of flip-flops, and they can be found to suit any budget.
High street shops often carry a basic selection of the different styles. Their choice may be limited though, as there are so many designs available, each offering slightly different advantages and limitations. Nowadays, many people overcome the limitations of the high street stores by shopping online, at retailers such as eBay. Here you can find a very wide selection indeed, spanning different styles, materials and price points.
On eBay it is also possible to buy well known branded sports sandals, both new and used. When searching for your ideal pair, you can choose the size, colour and type that most appeals. A simple search to start off with might be 'men's sports sandals'.
Conclusion
Sports sandals are intended to allow the wearer to enjoy his sports activities, while still keeping his feet cool and well ventilated. Before buying a pair of sports sandals, it is important to decide what they will be used for. If they are intended for serious sporting activity, the buyer may need one of the more substantial sporting sandals that provides adequate support and protection. This would include strapped sporting sandals, or enclosed toe sporting sandals. If, on the other hand, he is planning only light or occasional activity, sporting flip-flops or slip-on sandals may suit him best.
Although leather is normally the most desirable material for footwear, with sporting sandals synthetics are the most popular choice, due to their lightness, appearance, and general suitability. Plastic is popular for flip-flops and slip-on sporting sandals, and is a good option for budget buyers. The range of men's sporting sandals available in the high street can be rather limiting. Online retailers such as eBay are able to offer a wider selection, making it easier to find the ideal pair.