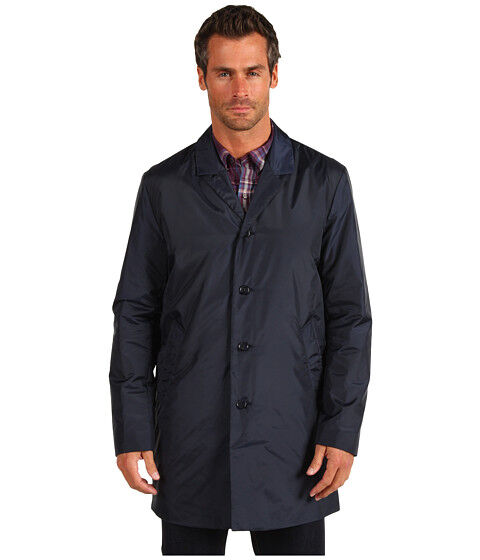 Men's trench coats, also known as overcoats, are knee-high and designed to combat cold, wet weather. Because they are functional and fashionable, trench coats are perfect for wearing over professional clothing or suits. Most of the fabrics used are heavyweight materials such as leather and wool. They are waterproof, windproof, and generally very warm. The extra-long length of the trench coat helps keep people warm as well as protects clothing from getting wet or damaged. Their classic look is familiar all around the world as one of the most distinguished looking coats.
The coats are very versatile and can come with various extra features such as belts, pockets, vents, or storm flaps. Regardless, they have a certain professional style that cannot be matched by any other outerwear. There are a number of decisions involved when selecting a trench coat. How the coat fits, its style, the material, and its colour all determine how casual or formal it is. The purpose of this guide is to assist men in finding a trench coat that is ideal for their lifestyle.
History of the Trench Coat
Trench coats originated in the British Army as optional outerwear that only officers were allowed to have. They were a more practical replacement for the large and heavy serge greatcoats that were worn at the time. The invention of trench coats has been credited to Aquascutum as well as Thomas Burberry who both submitted designs between 1859 and 1901.
By World War II, multiple countries including the United States, Soviet Union, France, and Germany had adopted the trench coats for their military. Since the weather was often so bad, countries began allowing their troops to wear the coats into battle, but they soon learned that the long length of them inhibited movement and they were replaced by field jackets that had a similar appearance to trench coats, but shorter. From then off, trench coats were worn mainly by officers at the rear of the battle who were not engaging in the fight.
During the early 1940s the trench coats typically had ten large buttons, were double-breasted, and came with cuff straps, shoulder straps, a belt, and raglan sleeves. After the war, civilians began wearing the coats in professional settings, often with a fedora or an ushanka.
Fitting a Man's Trench Coat
How a trench coat should fit depends on what it will be worn with. These coats are designed to be the outermost layer of clothing. In other words, it is perfectly acceptable to wear them over another jacket or large sweater. If the purchaser intends to have a lot of clothing underneath the trench coat then they need to get a larger size that can accommodate the extra layers.
For a clean-cut and professional look, trench coats should never be too baggy. The shoulders of the coat should extend 0.5 to 1 inch past the natural shoulder to provide space for extra clothing. The sleeves should be 2 to 4 inches longer than the shirt or jacket sleeves, and the hem of the coat should be around 2 to 3 inches above the knee. Typical trench coats are 37 to 45 inches long. Lastly, for a professional look, the coat needs to be somewhat hourglass shaped with a nipped waist. The straight-cut trench coats that fit too loosely appear more like giant sacks that coats.
Styles of Trench Coats
Despite the fact that it has been over one hundred years since they were invented, the classic style of trench coats has changed very little over time. This makes purchasing one a sound investment because they have never gone out of fashion. The following chart lists the few design features that the coats may or may not come with.
| Trench Coat Design Features | Description |
| --- | --- |
| Cuff Straps | Straps with a buckle around the wrist area. These are used to keep cold air and moisture from getting up the sleeves |
| Detachable D-Ring Belt | A belt that can be adjusted to provide room for a firearm or other utility items |
| Double Breasted | Double breasted coats button in two different places. They have a classic look to them but they also provide extra warmth due to the fabric that overlaps in the front |
| Epaulets | Shoulder straps that were originally used for strapping military ranking onto the shoulders. They have no practical use in the civilian world but they are still considered to be trendy |
| Raglan Sleeves | Raglan sleeves have one continuous seam that runs up to the neckline. They are more relaxed and loose fitting than sleeves that are sewn on in pieces |
| Single Back Vent | The purpose of the back vent is debatable. Some believe that they allow the person wearing the coat to get some indirect air and prevent sweating, while others believe that they were created to give soldiers more flexibility and room to move. Regardless, they are considered to be fashionable |
| Storm Flap | A storm flap covers the right shoulder on men's trench coats. Its purpose is to stop the rain that rolls of the shoulder from entering in through the right breast fold of the coat |
The most traditional trench coats have all of the features listed above. However, the more urban coats have a straight-cut, contemporary look with few added features.
Trench Coat Fabric
Trench coats are usually made with one of three different materials. How thick the fabric is, its color, and its texture determine how formal the coat is as well as how functional it is.
Cotton
The cotton used for trench coats is woven with poplin and twill weaves. It is unfortunately not as warm as wool is but it is tougher and can be water resistant if treated. The biggest advantage to cotton is that it is very affordable. It can be formal, though not as formal as the wool or leather, but its disadvantage is that it easily wrinkles.
Leather
Leather trench coats are heavy and warm but also less breathable. They are very durable, waterproof, easy to clean, and overall functional. The price of leather is high though, making these trench coats less common.
Wool Gabardine
Wool gabardine is a densely woven fabric that is durable, waterproof, formal, and surprisingly lightweight. Usually the coats are lined with silk or other fine material that is soft and comfortable. Gabardine trench coats are considered to be very high-end and most are rather expensive.
Where to Shop for a Man's Trench Coat
Men's trench coats are generally a high-class item, so the more professional ones can be found in larger shops that sell name brand items. The time of year will dictate what kinds of coats are available. Lighter weight ones are sold during the warmer, rainy seasons, while the heavy duty coats are available during the winter.
The only difficulty with shopping for seasonal clothing is that shops usually stock their apparel before the season begins and then switch them back out before the season is over with. This means that in order to find a warmer coat during the winter, men actually will need to shop for them during the autumn or in the very beginning of the winter season. Since the majority of people forget to shop ahead, a lot of them find that it is easiest to go online and find the trench coats on websites like eBay where they can view a large selection of coats as well as shop for them any time of the year.
How to Purchase a Man's Trench Coat on eBay
eBay is home to thousands of products that are sold all year round. This makes it easy for shoppers to find what they need at any time, without exception. There are a few ways to find men's trench coats on eBay. The easiest way is to search is by typing what you want into the eBay search bar. For example, you can enter 'Men's Trench Coat', 'Leather Trench Coat', or 'Wool Trench Coat'. After the page refreshes with the listings, you can then proceed to narrow them down by selecting your colour of choice, the brands you are interested in, the size of the coat you need, the material, and you can enter in your price range to eliminate the ones that are outside of your budget.
Conclusion
Thomas Burberry had just the right idea when he created a coat that was highly functional as well as very fashionable. His invention was so spot on, in fact, that it has lasted well over a decade with very little decline in popularity at any given specific time period. The durable construction, attention to the details that help retain warmth, and the fact that it helps to protect the wearer's clothing make it one of the most contributions to the clothing industry. Any man that lives in a climate that is wet or cold should have one of these lovely garments as a piece in their wardrobe. With the information provided in this buying guide, it is now an easy and painless process to go shopping for a trench coat because men now have a more clear and positive idea of what is available, as well as what they want.