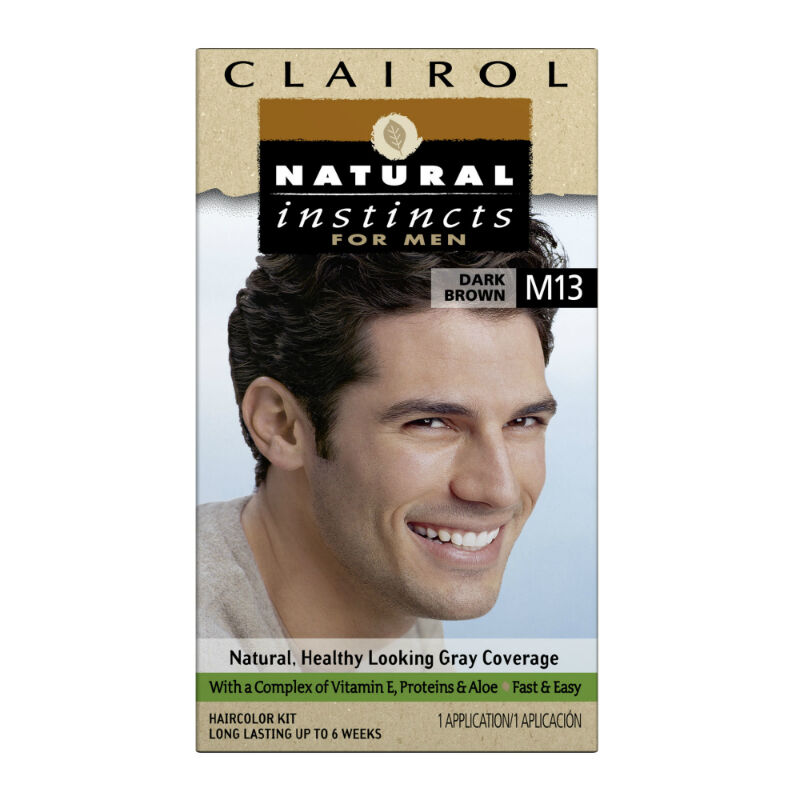 It is far from unusual for men to colour their hair. A lot of men colour their hair to cover those stubborn greys that creep through. Other man colour their hair simply for a change in their look. The men's beauty industry is huge, and growing. Even if a man finds themselves shy of colouring their hair, eBay offers a selection of natural-looking colours for a subtle, even finish, along with everything needed to colour hair in the privacy and comfort of the home. This guide will explore the best ways for men to successfully colour their hair.
Types of Men's Hair Colour
When purchasing a box of hair colourant, it will typically consist of a bottle of developer, a tube of colourant, gloves, instructions and in most cases, some kind of aftercare conditioner. The instructions talk people through the application process and advise of any necessary safety precautions, so pay close attention. Although there are, a number of colourants that will come boxed with everything needed to complete the application. Such as:
Permanent hair dye – Permanent hair dye is the most commonly used colourant, for quick and lasting results, offered in a range of colours and shades, from sandy blondes to jet blacks.
Semi-permanent hair dye – Semi-permanent specifies depending on brand and colour how long it is designed to last. Typically, it will be 6-8 washes. This type of colourant is suitable for men who would like to test a colour out before permanent application. It also comes in handy for those who like to experiment with their colour, making frequent changes. Semi-permanent hair dye causes less damaged to the hair with less harsh chemicals as permanent hair dyes.
· Other types of men's hair colourants include:
Shampoo in hair dye – This is a simple and effective way to cover greys. With an easy shampooing application, it specifically targets greys for subtle coverage, typically lasting up to six weeks.
Instant dye – Instant dye is perfect for one night fixes. Maybe there is an important meeting or party being attended and a man wants to look his best. Instant dye comes boxed with an applicator brush that allows men to tackle those grey areas individually.
Things to Consider When Colouring a Man's Hair
There are many things to consider the process of colouring anyone's hair. The main concern is safety. Before starting, own colour and hair type/condition must be considered. Although men may seem less likely to put heat and harmful chemicals on their hair than women may, that is not to say that men cannot have damaged or weak hair. In addition, the condition of the hair, the desired colour must be considered.
Although most things in the world of hair colour are in fact possible, jumping from jet black to ice blonde will be somewhat difficult, if not impossible in one attempt. There are things that can cause grave damage people's hair, for example, bleaching already very brittle and snapped hair. In which case, it will be best to use treatments to regain hair's healthiness.
Accessories for Colouring a Man's hair
The option not to colour straight from the bottle is made easy with eBay's selection of colouring accessories . Here is a quick breakdown of additional equipment a man may choose to purchase in the application of hair colouring:
| | |
| --- | --- |
| Tinting Brushes | Tinting brushes are used to apply colour evenly throughout the hair. Typically, they are all once size, buy vary in colour, simply for appearance sake. They are easy to wash after use and reuse for a later application. |
| Mixing Bowls | Colour and developer and any colour enhancer go into the mixing bowl and are mixed with a tint brush. They are a great way to monitor how much colour left throughout application. Some are available with measurements on them. They are also east to wash after use and reuse. |
| Highlighting Cap | Highlighting caps are suitable for men who wish to have just streaks of colour through the hair. Colouring hair is not always necessarily an all over change. Subtle changes are sometimes desired. Highlighting caps have small holes to pull hair through and colour on the outside of the cap. Typically, the end of a pin comb is used with this. |
| Peroxide | Peroxide is used as a type of colourant for blonde hair, but can be used for more intense and in-depth colour changes. It can be used to remove a dark colour to apply a lighter colour, for example, going from black to light brown. Peroxide comes in two halves; cream and powder . |
Aftercare for Colouring a Man's hair
Any chemicals put onto hair are going to change the condition, whether good or bad. Typically, colouring hair causes some damage, varying depending on the products used and the condition of the hair. This is where the importance of treatments comes in.
eBay offers a huge range of shampoos and conditioners designed specifically for coloured and or damaged hair. In addition to those, there are treatments, such as:
Oils
Conditioners
Shampoos
Once a man's hair is coloured, it is not unusual that he would like to show it off. eBay offers a range of styling products and trimmers for a perfect finish.
Buying Men's Hair Colour and Accessories Online
Buying anything online gives people the opportunity to find what they are looking for when it suits them. Before even using eBay to purchase hair colour, the internet allows people to explore information on shade and beauty brands, browse images of people who have used products of interest, and even watch tutorials of how to apply hair colour. There may even be horror stories of people who have made mistakes. Don't be alarmed; just be sure not to make the same mistakes. This is why it is important to follow all guidelines and instructions carefully when using products such as hair colourants. When these things have been explored, eBay makes it easy to find products of interest in separate categories. Categories including:
Brushes & Combs
Shampoos
Gels, Mousses & Sprays
Conditioners
Using eBay to Buy Men's Hair Colour and Accessories
When looking for men's hair colourant, start the search by selecting the Health & Beauty option. From the filters shown, click on the Hair Care & Styling Tools option. On the next list brought up, eBay gives a specific option for Hair Colourants. All shades and types will appear within this category for users to explore. There will also be other related options if a search for products, aftercare, or styling tools is needed. It is simply a matter of filtering the way through.
Some items will have a "Buy It Now&" option, others may require auctions against other users. There are various other filters to make purchasing easy, such as delivery and postage options.
Be as detailed as possible in the search, if desired colour or shade is known, don't be afraid to simply type it into the search box.
If interested in a colourant or accessory of some kind but require information that is more detailed, contact the seller personally. There is an option to send direct messages available. Copies of these messages can be sent to the email address attached to an eBay account for future reference or easy access.
Buying Safety Considerations
Some people feel that there is a stigma in using the internet to buy products. It is actually a really safe and secure process. There are also precautions in which users can take to ensure the highest level of that security. If interested in a hair colour or product from a seller, have a look at their transaction history. Users accumulate stars as a way to identify how many transactions they have made, whether buying or selling and they feedback they have received from those transactions. Read a seller's feedback if negative; there may have just been a one off problem with a minor detail that will not discourage you from buying from the user. Users are not given the option to hide any feedback from other users, so all of the information read is viable and worth consideration.
Conclusion
With plenty of product options and such easy filter routes, eBay provides everything a man needs to successfully colour their hair. Take time to look at shades and types on offer. Consider trying a semi-permanent colour first. If liked, it is easy to come back to eBay to purchase the colour in a permanent dye.
Like a lot things, it is initially a question of safety. Be sure to consider hair type and condition and be sure to look at the range of treatments available for aftercare and reconstruction. After all considerations have been made, it is easy to pick out what products are needed to make the change/application. With a range of colours available at affordable prices, and a broad selection of other tools and accessories to choose from, there will be no problem successfully finding what is needed to complete the process. Be sure to become familiar with eBay's terms and conditions.