The maxi dress was there in the 1940s in black and white films, in full volume with the hippies in the 1960s and 70s, now here it is again, floatier and sexier than ever. Flattering, forgiving, comfortable and sexy – follow our tips to find the perfect maxi for you.

Table of Contents
Find your style
– Perfectly Petite
– Cool and Tall
– Voluptuously Gorgeous
– Peachy Pear
Inspirational looks
– Earth child
– Bohemian chick
– Out to lunch
– Queen of Rio
The bits you can't see
Finishing the look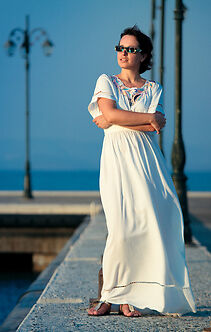 Find your style
Style

Small women can get lost in a maxi dress or feel smaller than they actually are. So you need to make yourself look taller. Make sure the dress fits snugly, so it follows your shape, rather than something that just hangs like a tent. A trick on the eye is to wear a

v-neck dress

. These look lovely on a smaller figure, show more flesh and make the silhouette seem taller.

Fabric Big prints will make you look even smaller, so either go for ditsy prints or solid colours. Dark colours or skin neutral will make you look taller.

Accessories The obvious instant fix is to wear heels. It's a quick and easy solution and can be very effective. Try not to oversize your accessories – scale them to your size.
Style Its all about making the most of what you've got. Giving the appearance of curves can be done with styles with a waistline or choosing a figure-hugging dress. Halter-neck dresses are great for women who worried about the lack of a cleavage. Belts and cardigans are a definite soft and sexy look. Tying a knot near the bottom of the dress can break up the length – if Sandra Bullock can do it so can we!

Fabric Look out for diagonal stripes as these can give a curvy appearance. Again, round or swirly shapes fabrics will exaggerate your curves. Jersey fabric clings to your figure and can give a very elegant look.

Accessories Jewellery in proportion and flat shoes.
Style Empire line options are timelessly beautiful for women with a fuller figure. Thin shoulder straps and a plunging neckline can bring attention up, away from bums and hips. A v-neck is particularly effective. However, if you worry about your arms being on show, capped sleeves can help to make you feel more confident. A little cardigan can also do the trick when coving arms and not look to smothering. Never try to hide your figure – a nicely fitted dress will always enhance your natural shape better than trying cover it up or change it into something else.

Fabric – Big bold prints can look amazing, especially vertical prints as these have an elongating effect.

Accessories – Lucky girls... anything goes.
Style – An empire line and low neckline will draw attention away from an hourglass or pear shape. A high, cinched-in waistline may also be very flattering. If you have an hourglass figure then an A-line halter neck would definitely give a flattering line.

Accessories – A low neck line always deserves stunning jewellery to complement your assets.
Earth Child
Warm summers days, floaty dresses, wooden beads, bare feet, daisy chains, smudged eyeliner and floppy straw hats. Celebrities like Sienna Miller wear this look beautifully.

Bohemian Chick
Be inspired by the likes of Kate Moss and think about tousled hair, layers, vests, army jackets, glass beads, boots.

Out to Lunch
Perhaps a belt, a cardigan or jacket, pumps, a little scarf, a feature necklace and a magnificent handbag.

Queen of Rio
Enjoy a summer evening out with bright colours, hair accessories, loads of jewellery, wedge shoes or sandals.

Don't go to all this trouble and then leave the most important thing till last. You cannot wear a maxi dress without suitable underwear. Invest in a backless, strapless or crossover bra. For plunging neck lines you'll need a good push-up bra. You won't want VPL spoiling your look so consider your knicker options carefully!
So once you have been out and brought your dress, its time to ham it up with the all important accessories. The Maxi dress is like a blank canvas. Yes, it can be worn completely on it's own, but the versatility shouts out "Hey, have fun with me!" "Dress me up, dress me down, layer me, belt me." The possibilities are endless. Wedge heels or chunky sandals always complement the look.

A belt or a cardigan tied at the waist like a ballet dancer is lovely. It can also look very sexy if it looks incidental. Cardigans, denim and blazers can either dress up or down a maxi dress, depending on what look you are after. They also cover your back if you're not particularly fond of that part of your body. Under layers work well too and can give confidence to ladies who may not want large amounts of flesh showing. Still figuring it out? Now Daily has some ideas how to achieve celebrity glamour with a maxi dress.
---