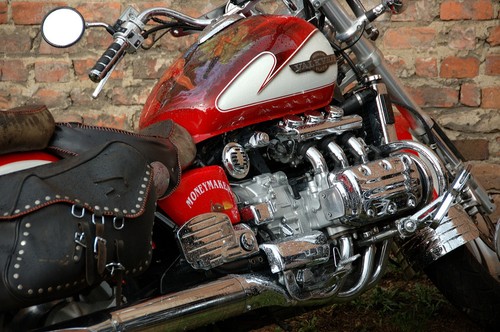 Founded shortly after World War II, Honda Motor Corporation has become the largest motorbike manufacturer in the world. Honda gained worldwide recognition in 1958, when the company unveiled its tremendously popular Super Cub. Since then, Honda has built a deout customer base that places a high demand on models, such as the CBR, CRF and Gold Wing. Honda's technological prowess has produced some the highest-quality motorbike parts in the world, giving the company's customers the capability to replace motorbike parts with parts that restore their motorbikes to near mint condition. Honda represents the leading internal combustion manufacturer in the world.
Honda motorbike owners have several options when it comes to finding replacement parts for their motorbikes. They can shop online at a parts store, or visit a local bike breaker to analyse the Honda motorbike parts in stock. However, eBay provides the most fertile ground for finding Honda motorbike parts. Before Honda motorbike owners venture into the Honda motorbike parts market, they should learn about the prominent Honda motorbike parts and the components that comprise each part.
An Overview of Honda Motorbikes
Many motorbike enthusiasts are familiar with Honda's street and dirt bikes, which have been featured on myriad sports telecasts. ESPN's X-Games have further enhanced the celebrity status of Honda street and dirt bikes, however, Honda street and dirt bikes only comprise one product line of a growing base of motorbike models. The increase in Honda motorbike model variety means an increase in the variety of Honda motorbike parts. For instance, recent Honda motorbike innovations include the ST1300 sport tourer and Gold Wing models.
Honda constructs a cruiser line that includes replacement parts for the VTX1800, VTX1300, Shadow, and Rebel models. Honda has recently expanded into the scooter and crossover markets, which adds to the number of replacement parts available for motorbike aficionados. Honda manufactures three full-on scooters and two motard type models. For beginners and trail riders, Honda produces a line of CRF air-cooled four-strokes. A full line of ATV and UTV products completes the list of Honda motorbike models. The ever-expanding inventory of Honda motorbikes requires motorbike enthusiasts to perform extensive research on the specific models for which they need replacement parts.
Types of Honda Motorbike Parts
Motorbikes operate with a wide variety of similar parts. However, each motorbike manufacturer produces proprietary motorbike parts coveted by motorbike enthusiasts. Honda ranks near the top of motorbike manufacturers for the quality and longevity of their motorbike parts. However, Honda has established a reputation for specialising in motorbike brakes, suspensions, engines, transmissions, and wheels. Some of the part innovations created by Honda's consumer motorbike models has transferred into Honda's motorbike racing business. Consumers who want to buy Honda motorbike parts should learn about how the five most important Honda motorbike parts function.
Brakes
As is the case with other motorbike manufacturers, Honda produces two independent brakes on a motorbike. One set of brakes control the front wheel and another set of brakes control the back wheel. Honda is one of the few motorbike manufacturers that lined brake technology on some of its models. Line brakes apply friction to both wheels at the same time using one brake control. In dual brake systems, the front brake is more effective than the rear brake, and hence, front motorbike brakes wear down quicker than rear brakes. Since over two-thirds of the stopping power of a Honda motorbike derives from the front brake, consumers should pay closer attention to Honda's front brake specifications. Honda motorbike brakes can either be drum or disc. As with automobile brake systems, Honda motorbikes are predominantly constructed with disc brake systems. Disc brake systems provide superior braking power, especially in dangerous, wet conditions.
Suspension
Contemporary Honda suspension designs connect the motorbike's two wheels with the chassis. However, Honda chopper-style motorbike owners should be aware that Honda uses a rigid frame to connect the wheels, while foregoing rear suspension. Honda builds the front suspension into the front fork and uses a swingarm to support the rear suspension. The rear suspension is where Honda motorbike owners can find shock absorption motorbike parts.
Engine
Virtually every Honda motorbike model operates on a gasoline internal combustion engine, with some smaller scooter models running on electricity. Rising petrol prices has prompted Honda to explore diesel engine technology, but Honda motorbike enthusiasts should focus on shopping for gasoline engine parts. Pistons represent an important Honda motorbike engine part, since they determine the breadth of a motorbike engine's power. Honda motorbike engines operate with one to four cylinders in a vast number of layouts. The most prevalent engine configurations that Honda motorbike owners should be aware of include the single, twin, and in-line triple engines.
Transmission
Most contemporary Honda motorbikes operate on sequential manual transmissions, which riders control by manipulating a foot lever. Some of Honda's motorbikes and scooters possess continuously variable transmission technology. Consumers should concern themselves with the manual foot lever, as that part wears down quickly due to constant use. Another transmission part, which is one that can be expensive to replace, is the clutch that regulates engine power. Honda typically manufactures motorbike clutches in an arrangement of alternating stacked plates. Honda motorbike owners who live in regions that require constant stops can plan on replacing the clutch sooner than motorbike owners who live in rural areas.
Wheels
Honda constructs motorbike wheels with either high-grade steel or aluminium. Therefore, Honda wheels provide long-lasting durability. The advent of one-piece motorbike wheels has augmented motorbike wheel longevity. Only dirt bike owners need to be aware of possible wheel deterioration because of the rough terrain that exposes the wheels to moisture and considerably strong impacts. Commuters and cruise motorbike owners only need to check on their wheels once per month. If a wheel breaks down, Honda motorbike owners have three places to search for replacement wheels.
Crash Bar
Honda constructs many motorbike models to include bars to protect the bike if the bike should fall on hard pavement. Some Honda models hide the bars behind protective plastic covers. Therefore, motorbike shoppers who are interested in purchasing a Honda motorbike that includes a crash bar should look for an extended area on either side of the motorbike where the crash bar may be stored. Motorbike experts recommend that beginners buy motorbikes that include crash bars. Since Honda is one of the most popular motorbike brands, Honda sales representatives typically suggest crash bars for beginners who may not know how to stand a motorbike.
Shock Absorber
Honda has earned a reputation for building motorbikes that have some of the finest shock absorbers in the motorbike industry. The company's rear suspensions absorb road bumps and ensure motorbike stability on sharp turns. Honda allows motorbike enthusiasts to adjust shock absorbers to provide varied types of soft and hard rides. Motorbike enthusiasts typically adjust shock absorbers for soft rides over rugged terrain.
Where to Search for Honda Motorbike Parts
Even though Honda motorbikes are noted for their sturdy construction, Honda motorbike owners eventually have to find replacement parts to maintain their motorbikes in prime condition. Finding Honda motorbike parts in the UK can be difficult, because local motorbike shops typically stock a limited supply of parts; however, Honda motorbike owners do not need to despair. Because of the brand's worldwide popularity, Honda motorbike enthusiasts can go online to find a wide selection of high-quality Honda motorbike parts on eBay.
How to Buy Honda Motorbike Parts on eBay
When consumers think of eBay, they picture an online shop that features common household products, such as electronics, furniture, and kitchenware. In fact, eBay hosts myriad sellers who offer motorbike parts and accessories, and the list continues to grow with each passing year. The key to finding the right eBay Honda motorbike seller is to specify keywords that are input into eBay's search engine. You can type "Honda motorbike parts" into the search engine, but to reduce the time you spend on an eBay search, try typing keywords, such as "Honda motorbike front sprockets" or "Honda chain guard". Once you find a seller who piques your interest, click on the seller's product page link to learn more about the Honda motorbike part.
eBay runs a unique programme that matches its best sellers with Honda motorbike part buyers. The top-rated sellers have earned reputations for selling superior products at reasonable prices. You may find one of eBay's Top-Rated Sellers who offers bundled Honda motorbike parts at discounted prices. Another way to analyse a seller's eBay resume is to review the feedback that customers leave on the seller's product page. Look for sellers who have garnered high praise for selling motorbike parts over the past year. The brand is not as important as the seller who possesses experience in the motorbike parts market.
Conclusion
There comes a time when even the stoutest motorbike requires part replacements, and that is the case with high-quality Honda motorbike parts. Despite the company's reputation for constructing top-of-the-line motorbike parts, Honda customers inevitably must shop for replacement parts. The question for Honda customers is where to shop for the parts. Do they visit a local bike breaker to see if they can get a good deal on a Honda motorbike part? Should they visit an online parts store? While both option may bear fruit, the best option is for Honda motorbike owners to shop for Honda motorbike parts online at eBay.
Consumers should ask many questions before they make a Honda motorbike part purchase, such as ascertaining the reason why the seller has a part for sale. More importantly, Honda customers should garner a thorough understanding of the most requested Honda motorbike parts. They should study the intricacies of a Honda motorbike brake system, as well as learn about the number of tiny components that comprise the gasoline powered internal combustion engine. The reason for the detailed knowledge is that Honda customers can save money replacing motorbike part components, instead of paying for an entire Honda motorbike part.