absolutely love to decorate and style my home. No sooner have I done one project then I want to move on the next one as inevitably decor and paint starts to look tired when four people and two cats live in one little house. This year we have done two quite large projects, in the form of our living room and a complete bathroom renovation, as well as re-decorating our bedroom.

However next year once we have saved up a little money there is another project I would love to do. For ages now we have been toying with the idea of putting Mads and LL in a joint room. Part of me thinks this is a bad idea, mainly because they sleep so well at the moment and I would be worried about that aspect of it, but we also are desperate for space. Before the girls came along we had a spare bedroom and a lovely little study and we do miss having that space- at the moment our desktop Mac is in our living room which isn't ideal and I work from my laptop on the dining room table.

Our ideal plan is to put the girls into LL's room together as it is a little bigger and get our study back- it would be great to have a space to do work during the day and the evenings as I work from home and we potential have exciting plans in 2015 for Mr E as well. I have visions of creating a gorgeous little room for them, with a lovely bunk bed for them both and making it a great shared space that they will love. However it all just depends on costs and time really, as at the moment LL is still in a cot and I am in no hurry to move her as she sleeps from 7pm until 8am the next day.

I have lots of ideas for their bedroom, but one theme I am thinking of is rainbow colours. I absolutely love colour and our whole house is super bright and cheerful. I look at this photo of them both and I wonder how I could incorporate rainbow colours into their new room.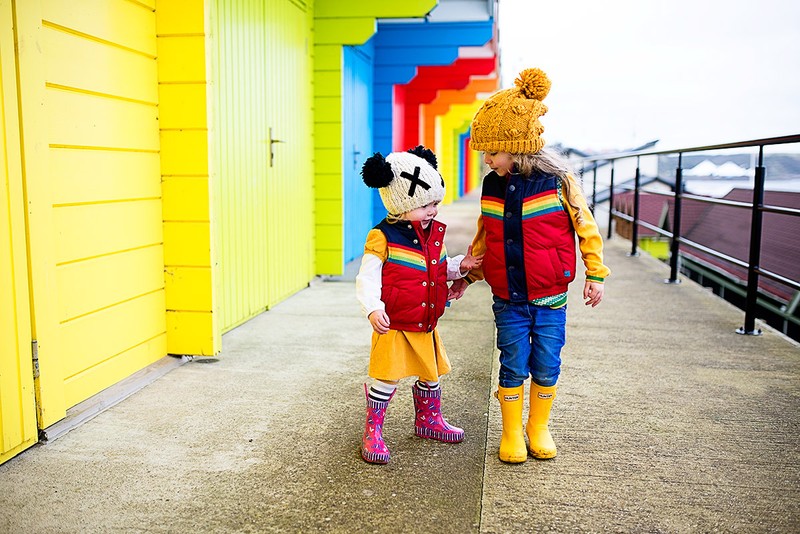 I already have lots of collections set up from a few months ago, including my cosy living room inspiration one, but I also have now set up a rainbow bedroom collection. It works in very much the same way as pinterest, I use it to collate items into my wish list and then use it as inspiration for when I am planning.

I love some of the things I have on there so far...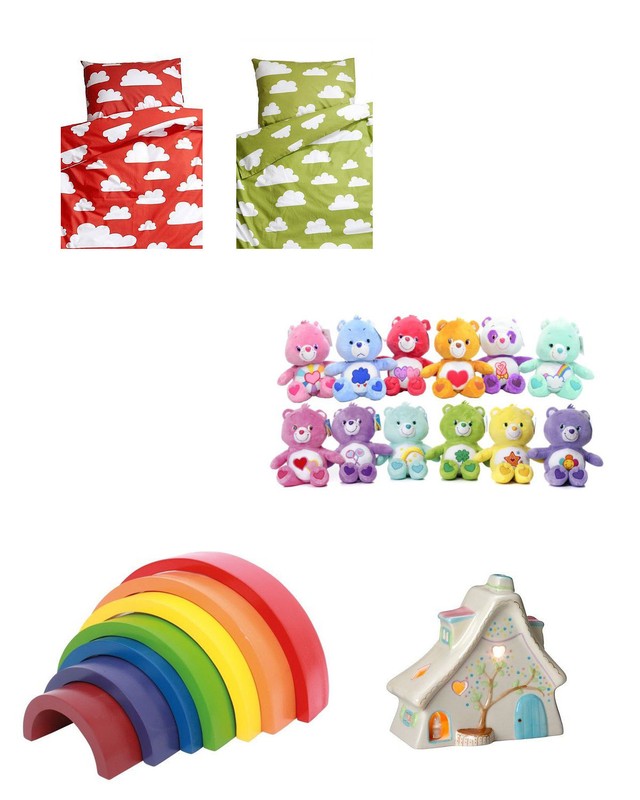 1. I love
Farg Form
and Mads already has one of their lampshades in her current room, but I love the idea of getting them matching duvets but in different colours for their bunk beds- these ones are super cute and come in a variety of different colours.
2. Who doesn't love the
Care Bears
? Mads and LL already have a care bear each but I thought about getting a couple more so they can sit on the top of their wardrobe in the colours of the rainbow. Although they have far too many stuffed toys as it is- the charity shop is going to be doing well off us this Christmas. Mean Mummy.
3. I have seen this
cute rainbow ornament
on some other cute blogs and shops- I think it would look great in their joint room!
4. I had a night light like this when I was little and I just love this
cottage one
.
Those are just some of the things on my rainbow collection but I am adding to it daily. Does anyone else's children share a room? Do you find they keep each other awake? We are so torn about what to do!