a SHORT HISTORY of Mercury Glass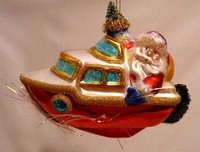 Silvered glass, also know as Mercury Glass (or sometimes, Varnish Glass) is double-walled glassware with a silver coating inside the walls, similar to the silvering on a vacuum flask liner. The first patent for silvered glass was taken out in 1849 by Hale Thomson and Edward Varnish in England. Shortly afterwards, in 1855, Thomas Leighton of the New England Glass Company took out a patent in America. This article is primarily about silvered or mercury glass from Europe.
The demand for silvered glass led to production in glass-houses in England, Germany, France, Belgium, the USA, and Bohemia, many with their own production processes. In England Edward Varnish and his partners sold silvered glass for only about ten years. They had a major display at the The Great Exhibition in the Crystal Palace in 1851.
The main production from about 1860 onwards came from glassworks in the Bohemian forest. Huge quantities of silvered glass left the factories at Iglau and Haida, where the whole region was geared for its production.
In Germany this type of glass was known as Bauernsilber - farmer's silver or peasant silver. In England it was often called poor man's silver.
The most common mixtures used to make silvered or mercury glass were solutions of silver nitrate with some form of glucose. At Whitefriars Glassworks in London they made silvered glass for Edward Varnish and Hale Thomson using silver nitrate mixed with grape juice.
Each manufacturer had their own recipe, which was a closely guarded secret. The silvering liquid was poured into the space between the walls of the glass vessel through a hole in the bottom, and it adhered to the glass. The residue was drained off, the inside dried, and some form of seal placed over the hole. Other finishing techniques included glass or metal discs or plugs, and the integrity of the finished ware depended to some extent on the seal.