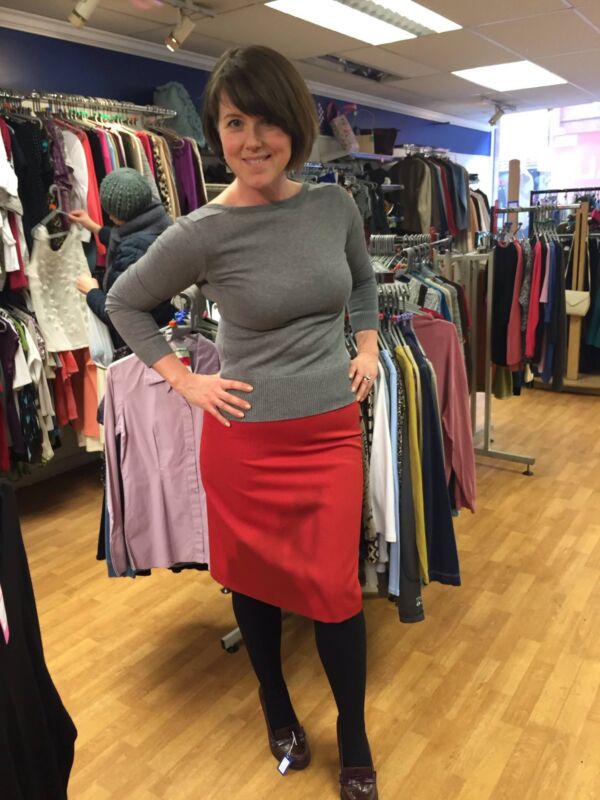 When Caroline Jones' fashion-loving mother, Mary, passed away from breast cancer in October 2014, she decided to celebrate her life by wearing a different pre-loved outfit every day, raising more than £36,500 for Cancer Research UK.

"Today I'm wearing a beautiful pair of navy wide-leg pinstripe trousers from Toast, a merino wool cardigan – which I'm wearing backwards – and a navy and red aztec-print scarf," says Caroline Jones from Harpenden in Hertfordshire. "I think the trousers alone would cost around £95 new, but I picked them up for £6.95 in my local Cancer Research UK shop."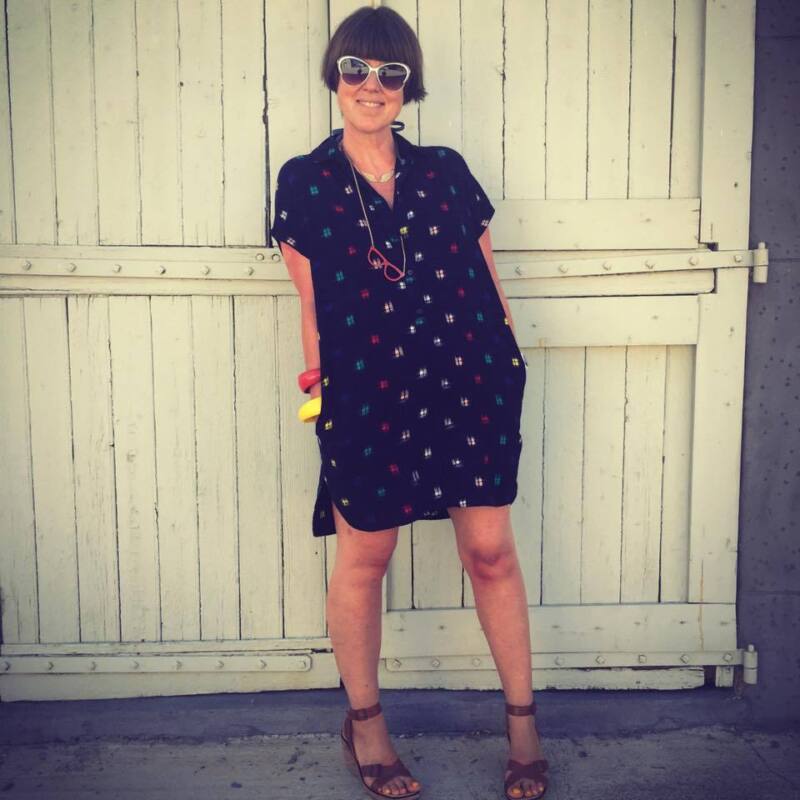 While many of us have those days where we just want to throw on a hoody and jogging pants, since 1 January 2015, 47-year-old Caroline's wardrobe has been a dressing up box. Each day she'll style up a new outfit using charity shop finds and post a picture on her Knickers Model's Own social media pages.

With thousands of followers on Facebook, Instagram and Twitter, and appearances on the One Show and Loose Women, what started life as a small fundraising campaign has captured the imagination of people around the globe, something Caroline describes as "amazing and overwhelming".
The Birth of Knickers Models Own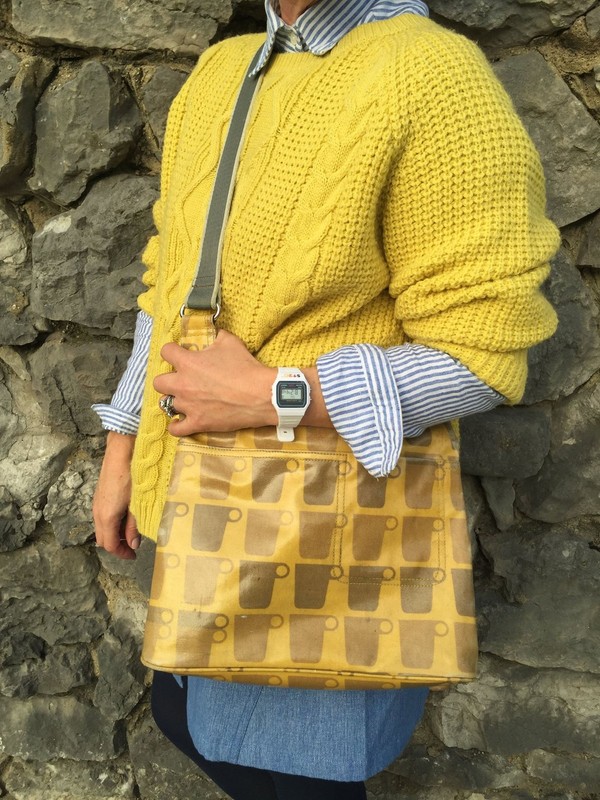 The idea came to her on New Year's Eve 2014. "My mum, Mary, sadly passed away in October. We were very close, and Christmas was hard," says Caroline. "On New Year's Eve, I spent an hour on my own having some quiet time. I thought I've got to get over this overwhelming sadness, and fundraising seemed like a positive thing to do.

"At 11.30pm I wrote my fundraising page, pledging to wear a different charity shop outfit every day for the whole of 2015. I thought it was an idea mum would love. We'd always shopped together, we both loved fashion and finding second-hand bargains, so it seemed a fitting thing to do."

As for the name, "I chose it because the word knickers made me laugh and I wanted the whole thing to be fun. It's one of those captions you always find in fashion magazines, 'shoes models own', only in my case it's the underwear."
Who's Going to Take the Pictures?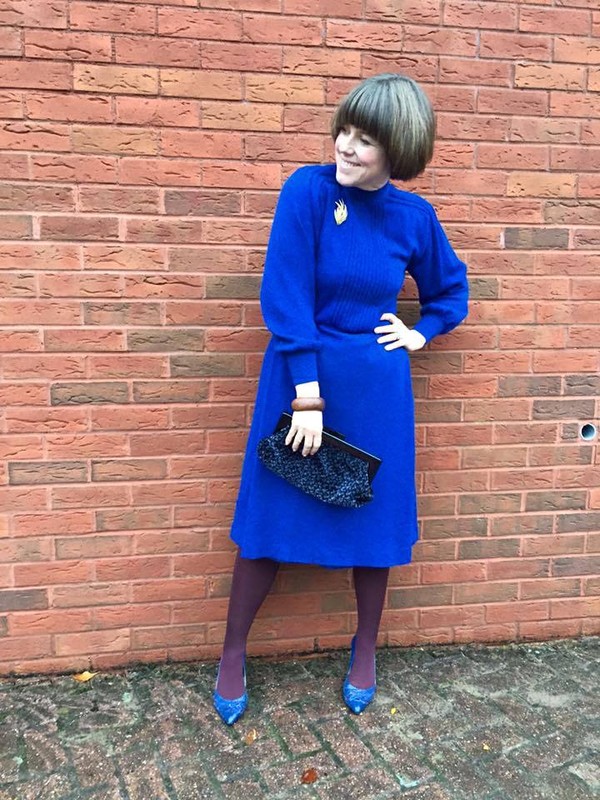 For the first few days, Caroline wore second-hand pieces she already had in her wardrobe, then she started visiting the local Cancer Research UK shop, where Mary had volunteered for more than 13 years, to find new outfits.

"It suddenly dawned on me that I'd need people to take my photos as well," she laughs. She roped in friends, family – including her three children, Mary, 12, Connie, 10, and Matthew, 8 – and even asked strangers on the street to take the snaps on her phone and started posted them online.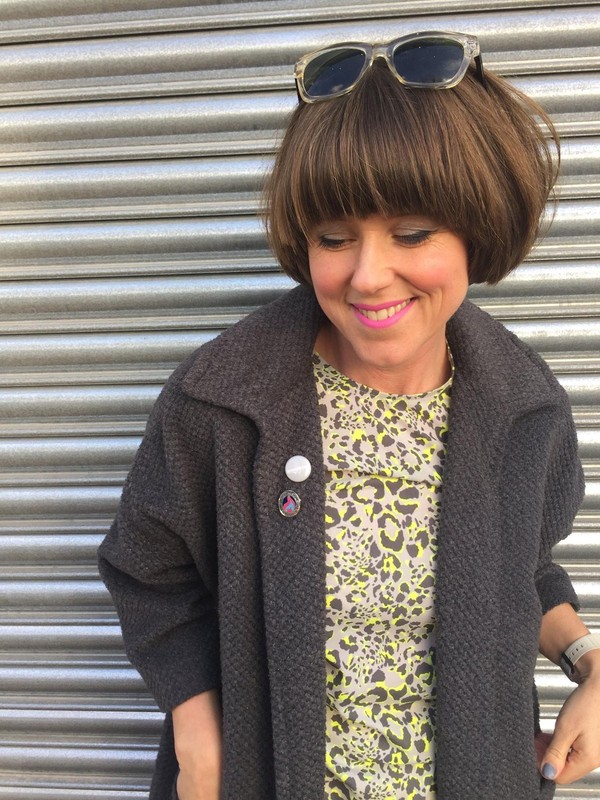 The idea was to create a new look each day. "Mum always wore colour and had nice earrings and scarves, she was always interested in what I wore," she says. "She gave me the green light to experiment with new looks and I knew she'd be right behind the campaign, texting me and helping me pick out outfits.

"Mum and I would spend hours talking about what she wore in the Sixties and that decade is probably my default look, but I also love the Eighties, I love strong colour, I don't wear black and I try not to default to jeans."
Reaching Fashion Lovers Across the Globe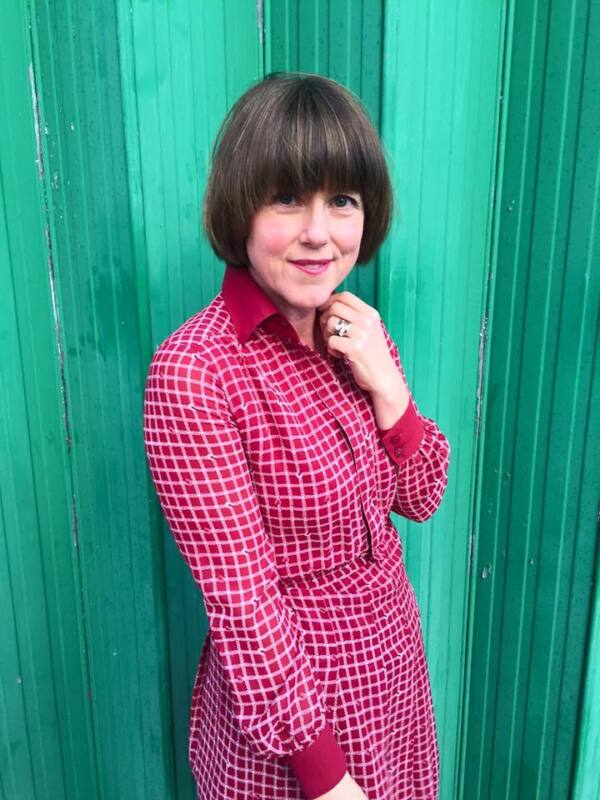 When Caroline started she only expected her friends and family to be seeing her pictures, but the press soon picked up on her story and she was featured on the BBC website and the Daily Mail. Within a week of beginning the project, more than 100,000 people had seen her photos.

"It was overwhelming, I had followers from the US, Singapore, and Australia, and people from across the world were donating to my fundraising campaign. The generosity of people I've never even met is amazing.

"The interactions on social media have been a great support network too. People say looking out for the outfit each day is a bit of fun and lifts their mood. I think they like the fact that I'm a real person with lines and wrinkles, there's no airbrushing. I'm showing you can have an individual look and style yourself on a budget by visiting your local charity shop, you don't need to rely on the high street all the time."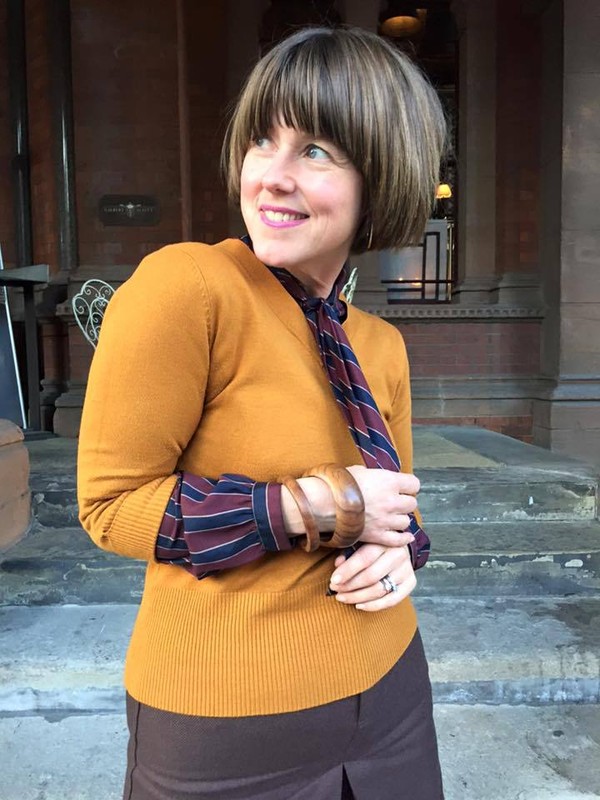 While Caroline has worn everything from vintage ballgowns to Armani knits, she says it's impossible to pick a favourite. "I've loved every single outfit, although I think mum would particularly like the cream dress and hat I wore to Ascot as she liked to see me dressed up, and we used to go to the races together."

While donations have formed a large part of her fundraising, in November, Caroline held a fashion show in Harpenden and sold many of the items she'd worn, raising more than £2,600. She also set up a pop-up store with Cancer Research UK on eBay, selling some of the pieces she loves, with an amazing response and a huge following.

Caroline reached her target of £36,500 on 10 December – £100 for each day of the year. She's won a Justgiving award for Creative fundraiser of the year and has been lucky enough to visit research centres and see the amazing work Cancer Research UK scientists are doing to tackle cancer, funded by public donations.

December 31 2015 will be the last day of the campaign and Caroline's final outfit is a secret but it's something she's very excited about, promising it's going to be "a bit special".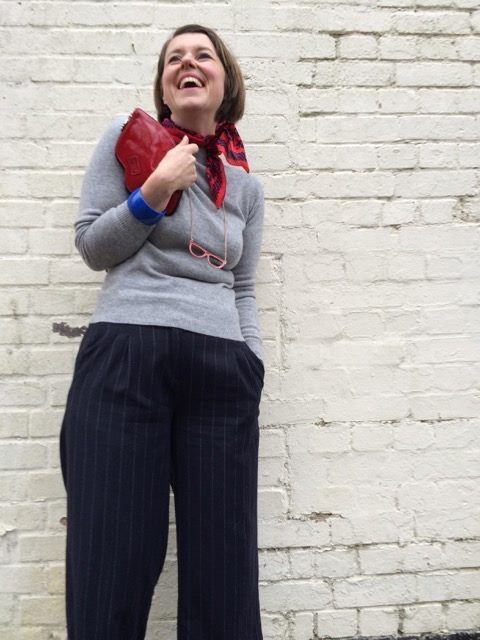 As for what she'll be wearing on 1 January, "Oh it'll definitely be something pre-loved," she laughs. "And I'll still be popping up on social media. I'm lucky enough to be writing a book capturing my journey with all the proceeds going to Cancer Research UK, so you haven't seen the last of me yet."

While Caroline's campaign may be ending having raised much-needed funds for charity it's also helped her with her loss. "Knickers Models Own has been about living my life and being happy, because that's what my mum wanted me to be. I still have my private grief but creating a cool outfit happens to be something I love, and if that brings someone else five minutes of happiness then I'm happy too."

Caroline is supporting Cancer Research UK's campaign to beat cancer sooner. Cancer is happening right now, and you can do something to help right now. Visit cruk.org to find out more.
eBay for Charity: Raising £20m Every Year for UK Charities
Here's an amazing stat. £38 is raised every minute on eBay.co.uk for UK charities thanks to amazing ideas just like Caroline's.
eBay for Charity
was established in 2006 and helps charities of all sizes to raise funds by trading on eBay. eBay connects millions of buyers, sellers and charities around the globe, empowering people and creating opportunity through Connected Commerce. To find out more,
head to the eBay for Charity page
.