At one time or another a lot of us have been a victim to someone selling counterfeits,Some think its OK to produce and sell counterfeit goods,They say what harm does it do? well apart from the damage to your purse or wallet there is you skin to think about,most counterfeiters will not have quality or safety tested their goods,also when legitimate companies produce their goods they pay taxes and the revenue from this goes to helping schools hospitals and public services,Most countefeiters ill gotten gains go towards funding terrorism and other dubious activities.
Firstly I am going to talk about MAC pigments
A genuine MAC pigment always has a sticker/label with its name on in the top right hand corner of the carton/boxes top,there is NOT a number there are no MAC pigments called A08 or A12 they all have names IE Frost,Golden Lemon,Teal ETC.
If you look at the back of the carton you will see POLVOS CON PIGMENTOS the fakes have POLVOS CONPLGMENTOS.
Flip the box onto its base and you should see a barcoded sticky label you should not see a label printed onto the box or nothing at all,also be aware that some seller`s may remove these labels to stop shop returns if that is the case you will find some sticky residue.
Also the cartons have a slightly different feel and lustre to them
When you take your jar out if you flip it over it should have a silver label if its a standard pigment on this should be its name and 3 digit batch code which tells you when it was produced the PRO pigments have a clear label with again the name and batch code.
The base on counterfeit pigments is always thicker than that on genuine ones
Also on the base of the jar is some embossed writing you should find COLTAINER III a couple of small digits the fakes dont have this
What is a batch code?
these are used to determine the month and year of produce for example with MAC cosmetics
The first digit stands for how many batches were made that month ie A= 1st run B=2nd,c=3rd run of the month
The middle digit =the month of produce ie 1 for Jan 2 for Feb 3 for March and go up in number order until October which becomes A Nov =B Dec =C
The last digit stands for the year eg 6=2006 7 = 2007 8=2008 9=2009
The print on the jar should be clear and uniform and not overly bold as found in some counterfeits
When you take the lid off you should find a clear disc/seal, on this should be COLTAINER III a couple of small digits the fakes dont have this their disc is blank
As for the actual powder the fakes are getting better,unless you own a particular colour it can be hard to tell when swatching your powder
This guide just gives some pointers on what to look out for
Below are pictures comparing genuine and counterfeit MAC pigments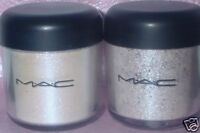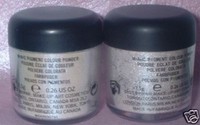 Real Fake Real Fake Counterfeit jar base and carton The real thing complete with labels
note the thick base on the counterfeit pigment
Below is a comparison of cartons
Fake Real
I will update this as I get further information if there is something you feel should be added just let me know